Baselines & Targets
The Baselines & Targets page is used to input and review students' progress baselines & targets, be it School, National or Teacher targets
Students > Assessments > Summative Assessments > Input > Baselines & Targets
Click on the top filter section to select the Academic Year, Students/Cohorts, Assessment & Grade set you want to view/enter marks for. Click save changes and this will amend your filter options.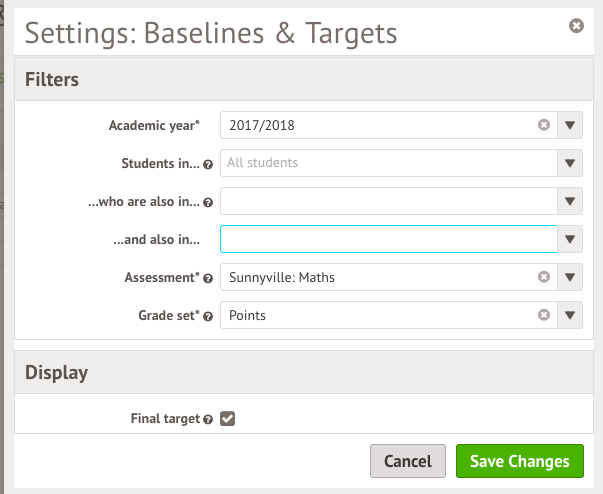 Option 1: Individually. Click into each box and inputting the desired baseline/teacher target.  
Option 2: In bulk. Select the appropriate individuals using the tick box next to the student's name. Clicking on the pencil icon at the top of the table, and selecting 'bulk set baselines' as seen below.

This function works in the same way for setting teacher targets which replace the default of the year target that is calculated automatically based on data that has been entered to date.
There is the choice to see both Teacher and School Targets.  Teacher Targets (if set, are 1st Priority), otherwise the School Target (if a calculation rule has been defined and a target can be calculated, 2nd Priority). 
If students had marks entered for the Summer Term in the previous academic year, for the same subject, using the same marking scale, baselines will automatically be populated using the final mark awarded the previous academic year.
Note: Targets can be overwritten by clicking back into the relevant cell and selecting the desired grade.
As there are several targets to choose from, simply hover your mouse pointer above the column title and a tool tip will pop up with a description on the target in question.

The same can be done with the individual data cells, therefore when hovering your mouse pointer above a data cell, a tool tip will pop up with information relating to the data in question.
Click on the link to download these instructions as an easy to print PDF
For more information, you can watch a video about setting up Baselines and Targets, click here.
Haven't found what you're looking for? Check out our video playlists or our FAQ for more information.
Want to learn more about a specific aspect of Arbor from a specialist? Join one of our webinars.