Go to School > Meals. You will be taken to the Daily Summary page where you can see totals for today's meals.
Using the menu on the left-hand side, you can navigate to pages that show the meal timetable, Meal Balances for students and staff, see dietary requirements, see a variety of Meal Reports and make any changes to your meal setup if necessary.
Permissions
Finance: View - See balances, and be able to access the Payments area of profiles.
Finance: Administer - Manage and make top-ups.
If you don't have permission, you'll need to ask your admin team to give you permission using these instructions.
Meal Balances
Select this option to view Staff or Student account balances.
Click into the filters box to choose the settings you want to view e.g.change the account status to show just 'Accounts Owing', for example, or accounts for students from one class only.
Recording Payments
You can either record payments from this same page or from the student profile.
To do so from the Meal Balances page, click the payment option from the right-hand menu:

When clicking on your option, you can record the details of the account, bill payer, amount, when paid and any extra info.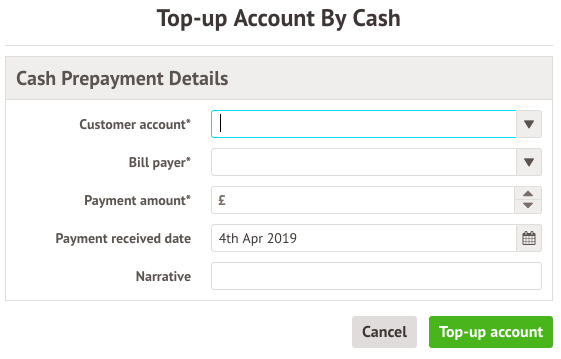 Recording Payments from the Student Profile
At the bottom of the left-hand menu of the Student Profile is the Payments section.
Click on this to expand the menu and you will see accounts for Clubs, Meals, Trips and any other Customer Account Types for students.
For each account, you can see at a glance if the student's account is in credit or owes money.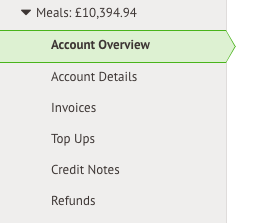 To add a payment, click one of the Top up or Pay by buttons.