To access the Guardian Profile, go to the Student Profile of their child, and scroll down to the Family Guardian Contacts section. Click the name of the guardian.
In the slide over, click their name again.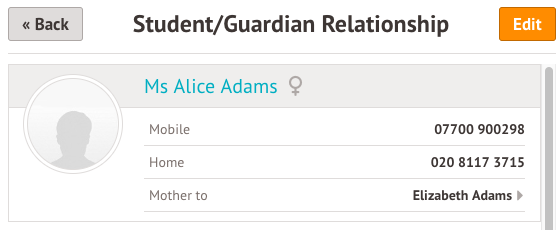 You can also search directly for the guardian in the search bar.

Identity
The identity section shows the guardians 'name' and 'relationship to pupil' information including collection details.

Any information with the 

 symbol to the right of it can be amended. To edit the details click on the specific part and update the slide over accordingly. 
To mark a guardian as deceased, click the row containing 'Date of Birth' and click the 'Mark as Deceased. 

Contact Details
In the contact details part of the profile, the guardian's contact details can be edited. Click on the contact and update the slide over accordingly.

To add another email address, phone number or address, click the (+) Add button. A pop-up will appear with the options listed.

Select the relevant option and add the requested information and save
User Details
This section shows the guardian their login details for the Parent Portal.
We recommend getting the Parent to change their own password. Send them a link to do this by clicking the Reset Password button. 

To change the password, click the Change Password button. A slide-over will appear, enter the current password, add the new password and click on 'Change Password'.