To import a CTF go to School > Data > Import > CTF Import.
Click +Add and select the report to upload. Please note: only select an intake season if this CTF contains new students.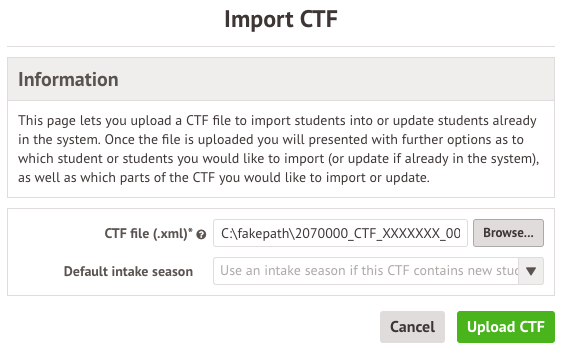 You will be taken to the Import Overview. Here you can click individual students to check they will be mapped correctly if they already have an existing profile on the system.

When you click the individual student, you can choose to override information on the student's existing profile if one exists.
You can check each field, and choose which ones to update.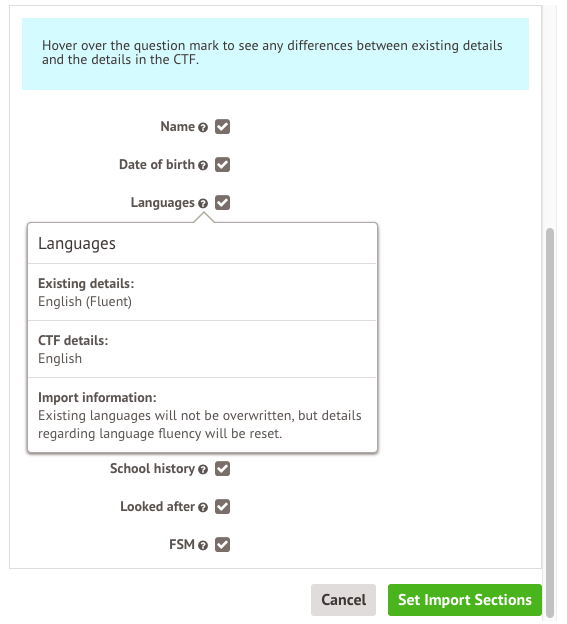 The updated student will then be marked green.

If you would like to set what fields will be updated in bulk, click the Bulk Set Import Sections button.
Preventing duplicate profiles
CTF imports can sometimes create duplicate profiles if the student profile being imported does not have a UPN. In this case, the CTF import will not match to that student, even if other fields match (eg. name, DOB, address etc).
To prevent this, students will be flagged as 'New student' when a new profile is created by the CTF import.

You can then choose the student whose profile you want to import the data in the CTF into.