Once all of the End of Key Stage results have been entered you can export them in multiple ways: 
Downloading the Mark Sheet

Exporting the results via CTF

Downloading the results, per student, via PDF
Downloading the Mark sheet
To export the mark sheets for each SAT go to Students > Assessments >DfE Assessments.
The dashboard will load and click on the year group, within the key stage.

The slide over will load and click on Input Marks to view the completed Mark Sheet.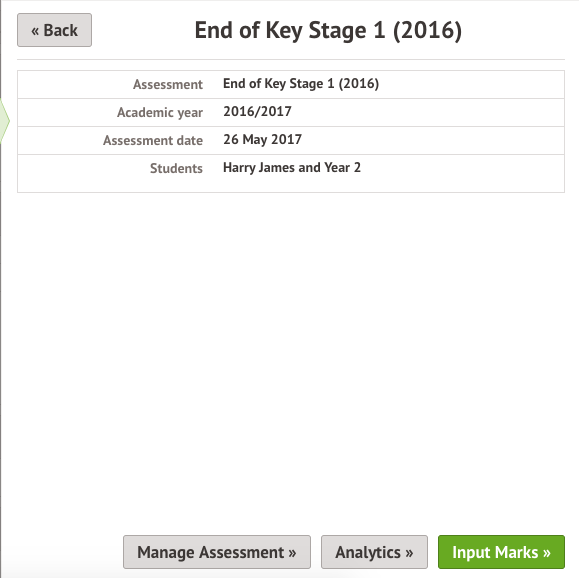 The mark sheet will then load. Click on the Download button and choose the format you want to download the mark sheet in.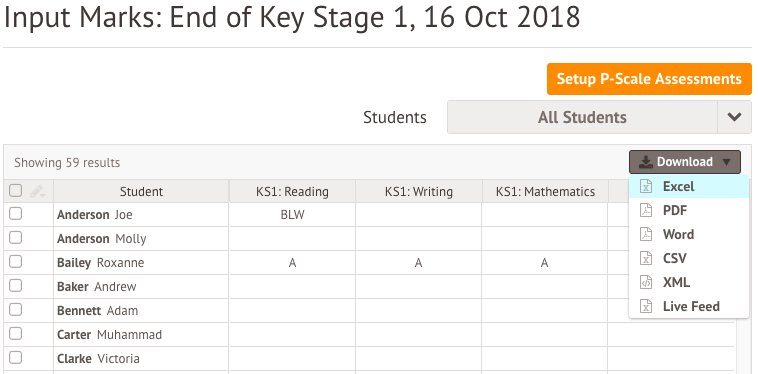 Exporting the results via CTF 
To export the SAT results via CTF go to Students > Assessments >DfE Assessments > Export Results.

Click +Add in the Current Assessment Results CTF Exports section and update the slide over with the data you want to export.
Export Type - Choose which test you want to export. It iss important to note that each CTF is titled Partial CTF because these files will only contain the assessment results and are therefore not as detailed as a students CTF.
Destination - Here you need to choose whether the CTF will be sent to either the Local Authority or the Testing Agency.
Year Group - We suggest leaving this part blank if you want all the students that took the test are chosen.
Include only students enrolled on - This section automatically chooses the current date however you might have a student that has un-enrolled since the test was done. Make sure that the date reflects the enrolment date you want for all students.
When happy with the settings, click the green Export button.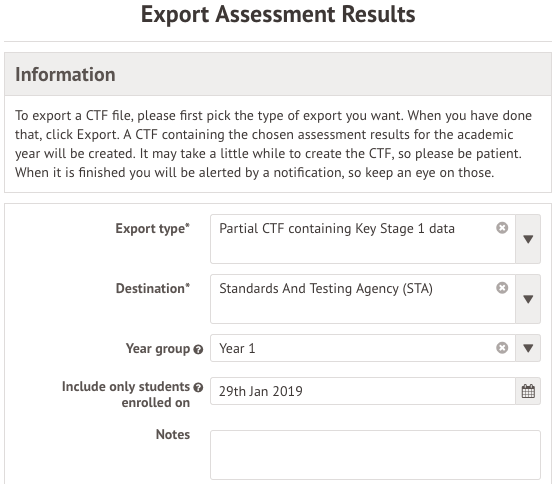 The file will be listed on the current assessment results CTF page once completed. Check the status, if there is an error click on it to view what information might be missing.
Once any errors have been resolved, re-generate the file by clicking back on the +Add button. 

If the file status shows Ready for Download, click the file. Click Download in the slide over.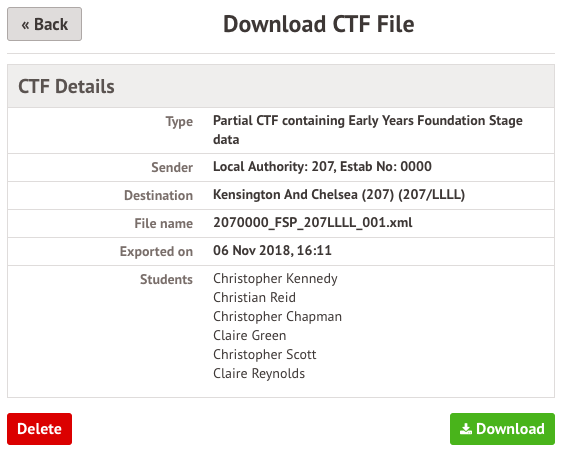 Downloading Student Results in Report Card Format 
To print out the results to send to guardians you will need to print out the end of year reports. To access these go to Students > Assessments >DfE Assessments > Export Results.
Click the End Of Year Reports button on the right-hand side of the page.

Clicking on it will load a slide over, its important that the notice is read as it explains when the results should be available to download. 
Bulk Generate Reports - This section is to generate a specific SATs report for an entire year group.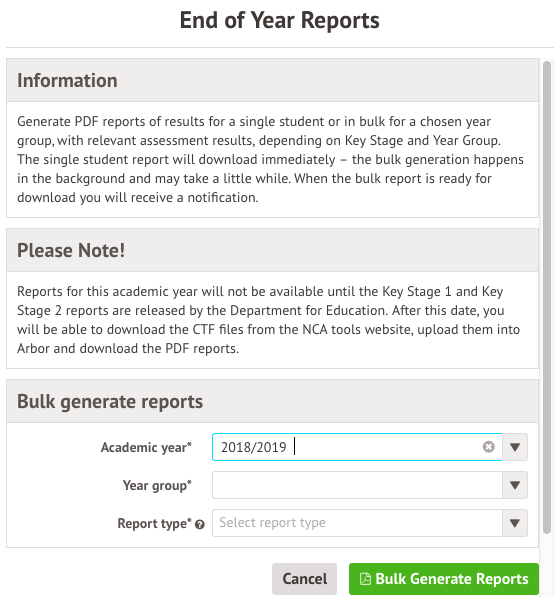 Download Report for single Student - This section is used to generate the report for one individual student.