Note: Before setting up a user-defined field, check with the customer team that the item you want to track is not an already-present feature in Arbor.
What are User-defined fields?
User-defined fields let you track that little bit of extra information on a student, staff or guardian profile. This can be something specific to only your school or a general piece of information, such as shoe size.

This function will show the information needed to be tracked in the 'Other' section on the profile.
How to set up a user-defined field
1. Go to System> User Defined Fields
2. Click on '+Add'
Related to - Select the type of record the user-defined field should be associated with. Select if you would like this field to show on Students, Staff or Guardian profiles.  This cannot be changed once the field has been created.
'Field Type' - Allows you to choose the type of options the field will allow. For example, choose Boolean to set answers to Yes or No. Your options are String, Long text or Boolean. This cannot be changed once the field has been created.
'Field name' - For example 'Ipad serial numbers'.
'Identifier' - An optional field that lets you set an identifier for the field that is different to the label used for the field
3. Click 'Create'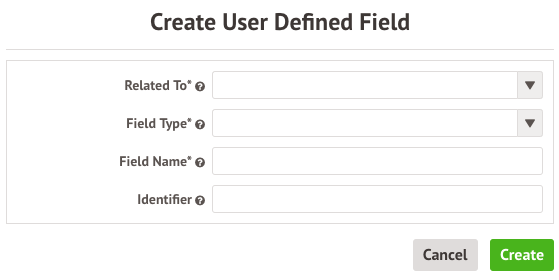 4.  To delete a User-defined field,  click on the row containing the field and click the Delete button.