The Enrolment section of Arbor can be used to see which students are enrolled in which students groups and take a look at the demographic breakdowns of each class.
Viewing the number of students enrolled in each subject or class
Go to Students > Enrolment > Academic > Courses > Table View.
On this page, you can view how many students are studying each bottom-level course, then export this to Excel or Live feed to find the total studying each subject.

Viewing which classes each student is enrolled in
Want an easy way to see which students are in which courses and top-level subjects? Go to Students > Enrolment > Academic > Courses > Memberships to filter by student group or course, check for gaps, or download the whole table!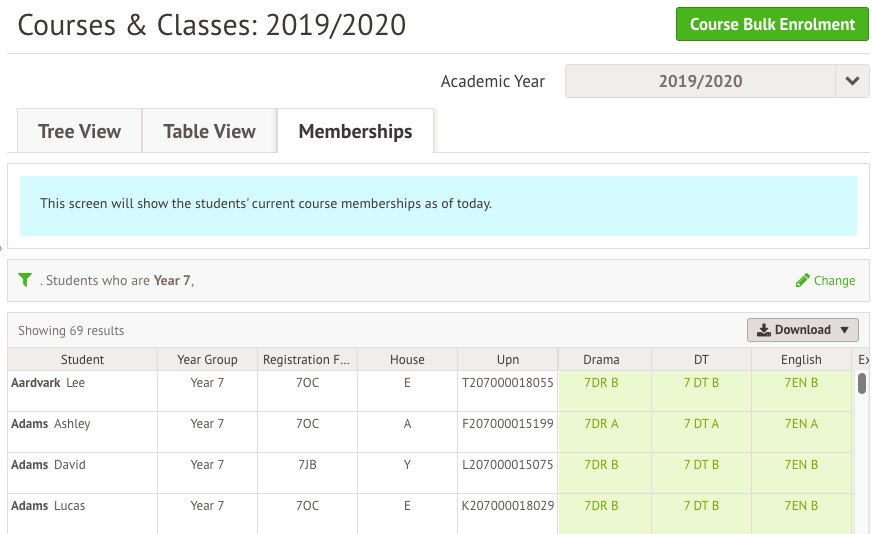 Viewing overall enrolment statistics
The Statistics section in Students > Enrolment > Statistics allows Leadership and Administration teams to perform analysis on enrolment statistics when looked through different demographics.
By default, the Statistics page displays a record for All Enrolled Students alongside the total number of enrolled students. This report may be amended to provide the required information and specify how this is displayed by clicking the filter.

Choose the time-frame of data you would like to look into, specify the cohort of students to consider, and assign a grouping option if you want to group by certain student groups.

Use the download button if you want to export your report.

Overviews of specific student groups - years, registration forms, classes, houses or teaching groups
To view overviews of any of these student groups, go to School > Enrolment and select the group type from the left-hand menu.
For all of the groups, you can see the ones you have set up for this year (use the drop-down menu to see different years), and the number of students enrolled.

Click into a group to view more details. This will take you to an overview of the selected class, where you are able to view information such as academic leads, timetable, and students enrolled in the class. For example, here is an overview of a year group.
The

Registration Forms

section lists any classes associated and linked with the particular year group. This registration form may be reviewed through a slide-over by clicking on the class record.
The

Automatic Enrolment

section highlights any student enrolment group that has been linked to the year group.
The

Heads of Year

section lists any staff members that are linked with the year group. Add a new head of year by clicking +Add. Edit current heads of year by clicking on the record within the section and then on Edit.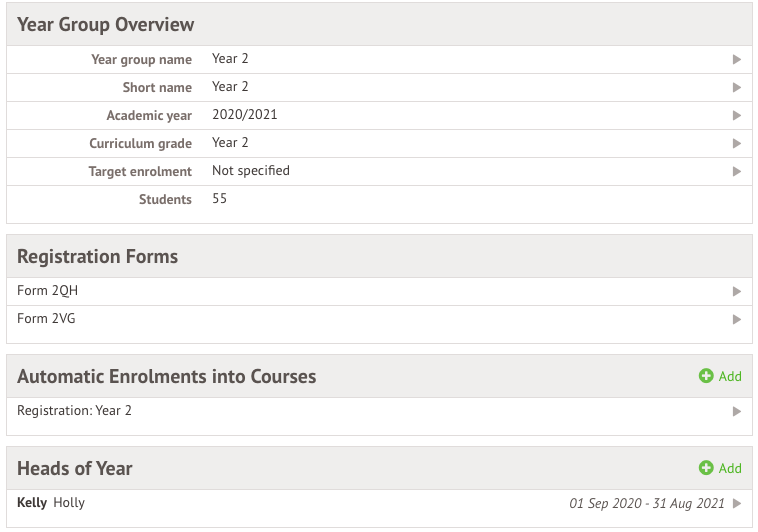 The Former Students section lists any students who are no longer enrolled in the group.
The Current Students section lists all students in the group today. You can add new students by clicking +Add. You can also unenroll students or move them to a different group in this section. Just tick the students to edit, and click the blue pencil icon to choose an option.

Viewing demographic breakdowns of a Registration Form or Class
You can easily see the demographic makeup of a class within your school.
If you're a teacher, select the lesson from your calendar.
If you're an admin, you can:
Go to Students > Enrolment > Registration Forms > Dashboard > Select a Registration Form > Demographics
Go to Students > Enrolment > Courses > Select Course. Click down through the modules until you can select a lesson.
Go to School > Programmes > Courses. Click down through the modules until you can select a lesson.
Go to Students > Attendance and select the lesson to view a breakdown for, clicking Lesson Overview in the slide over.
Select Demographics from the left-hand menu.
The Demographics page provides a set of statistical analysis on the particular registration form selected.
The view may be filtered by gender through the drop-down menu at the top of the page.

Demographics displayed are focussed on gender, ethnicity, birth months, native languages, FSM eligibility, SEN, Looked After (In Care) and Child Protection statuses.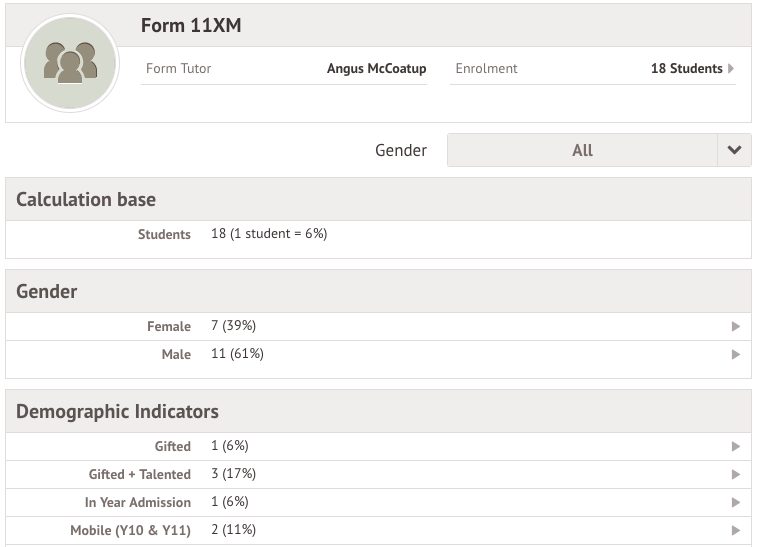 To view the students that make up a particular demographic, click on the arrow beside the demographic field. A slide over containing student names and profile pictures will appear.
You can add the students to an intervention fro this slide over, or take other actions. Student profiles can also be quickly accessed by selecting the student name.