The Custom Report Writer allows you to put the data you have within Arbor into a variety of reports. Custom Report Writer allows you to build your own reports.
The 'All Reports' page is the Custom Report Writer 'home page'. All the reports that you have created or that have been shared with you can be found on this page.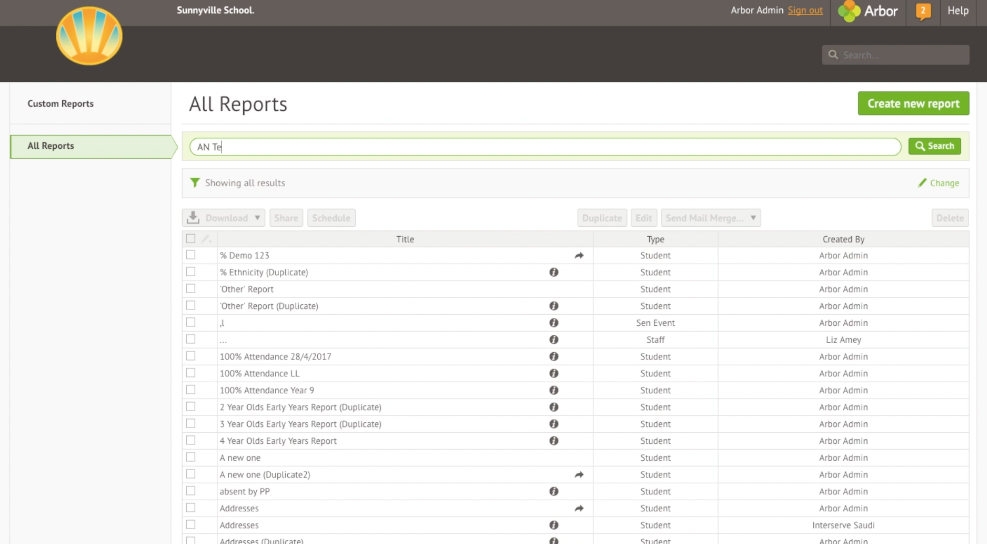 You can apply filters to locate reports and you can also search reports that have been shared with you. The filtering option is expanded by clicking on the green funnel or the pencil in the grey bar just below the search box.

Reports may also have information icons beside them to allow you to quickly see at a glance whether they are Scheduled Reports (these will have a calendar icon beside them). When you hover over the icon this allows you to easily see when this report is scheduled to run.

Shared Reports have an arrow beside them and the small 'i' icon indicates that the report may not have been fully set up, or there may be missing data.
On the 'All Reports' page, you can also edit, delete, schedule, download or share a report, create a duplicate or even send to mail merge if necessary. Select a report for the action buttons to become available.

Super User
The Custom Report Writer: Superuser Access permission allows you to access all custom reports in your school, even if they haven't been shared with you - especially useful for when staff leave! You can also delete and edit reports.
The permission is automatically assigned to Head Teachers managed by Arbor, but can be given to other users as needed. Click here to find out how to assign Ad-Hoc permissions to your staff.
Why not join in the conversation in the Arbor Community?