To set up your In-house Exams, go to Students > Examinations > Setup

Ensure you have:
The school's Centre Number

The name of your school's Exams officer

Qualification offering
When a school is first starting with exams they will need to navigate to: Students > Examinations > Setup > Qualification Offering > +Add
You can view all Qualifications under their relevant headings at: Students > Examinations >  Qualifications. This tab will allow you to view Qualifications breakdown in EDI/Non-EDI.

It is easiest to search for the exam by entering the QAN code. Click in the Award/Unit drop-down and select the exam (this should match the QAN code entered precisely) and "Add Offering".
Candidates
Candidates are added via Students > Examinations > Candidates > Internal

Click the +Add button to add candidates in a variety of ways (by name/year group/course).
Occasionally schools may host 'external' or 'private' candidates. These can be added in the same way.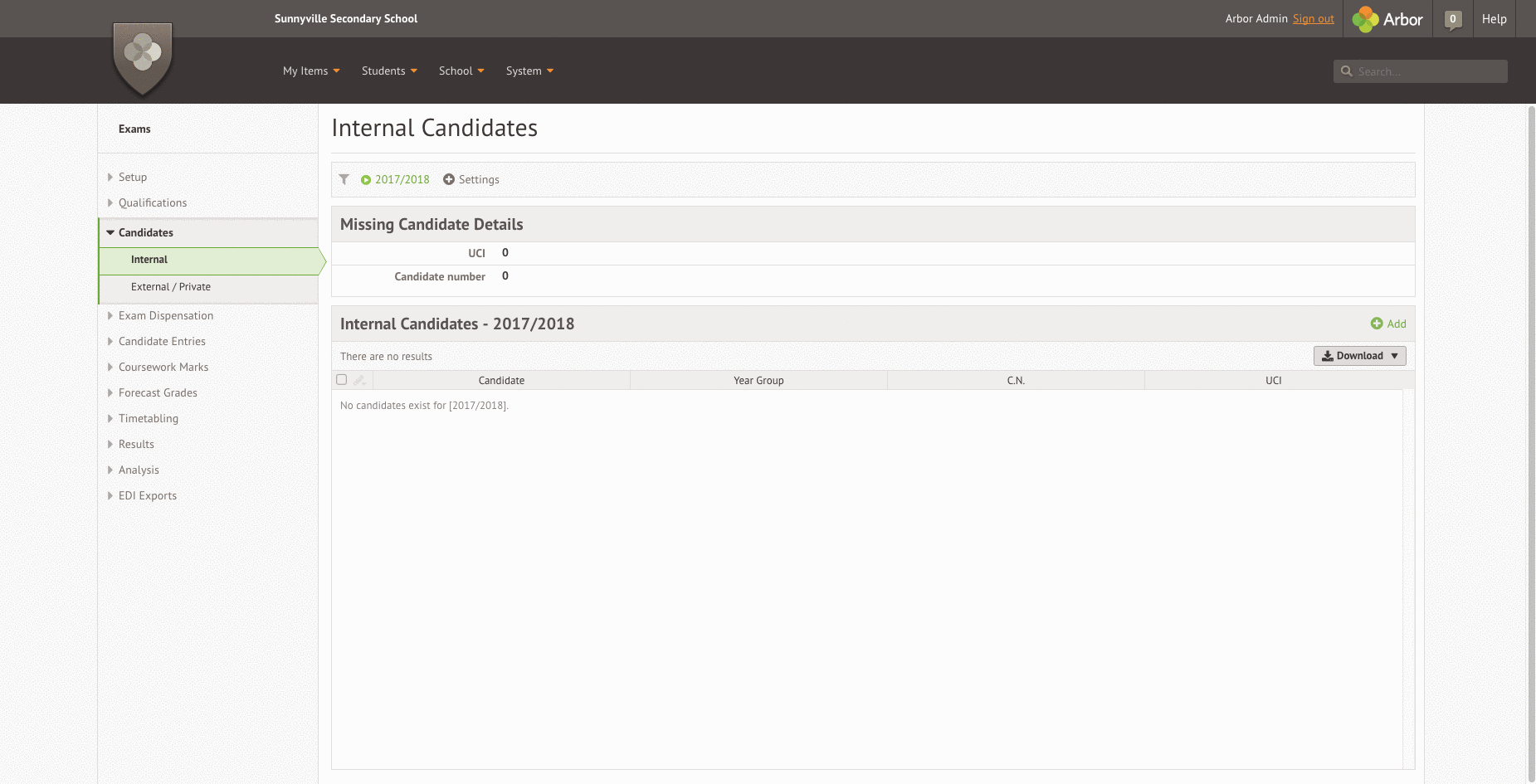 Candidate labels can also be printed from this screen once candidates have been added.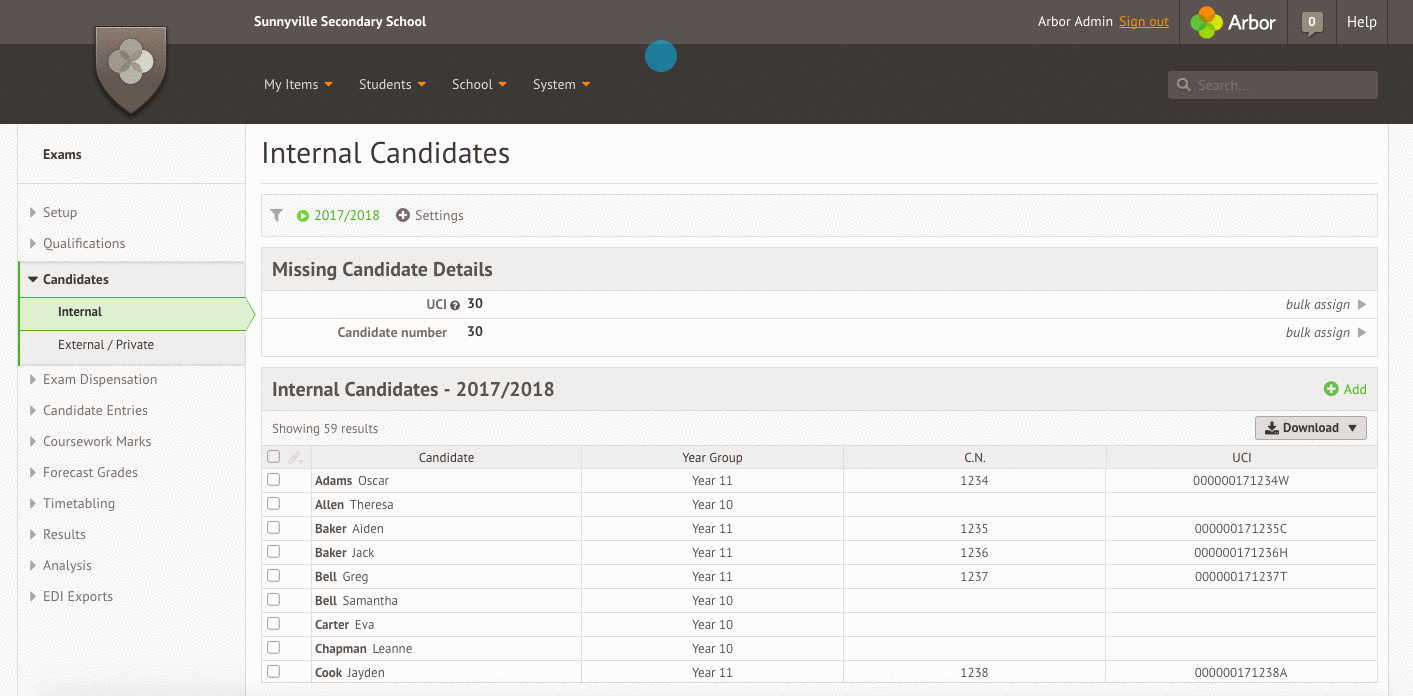 Candidate UCI and UCN
If the students do not already have a UCI or a Candidate number then they can be assigned on from Students > Examinations > Candidates > Internal. Alternatively, if they already have one they can be edited from this screen.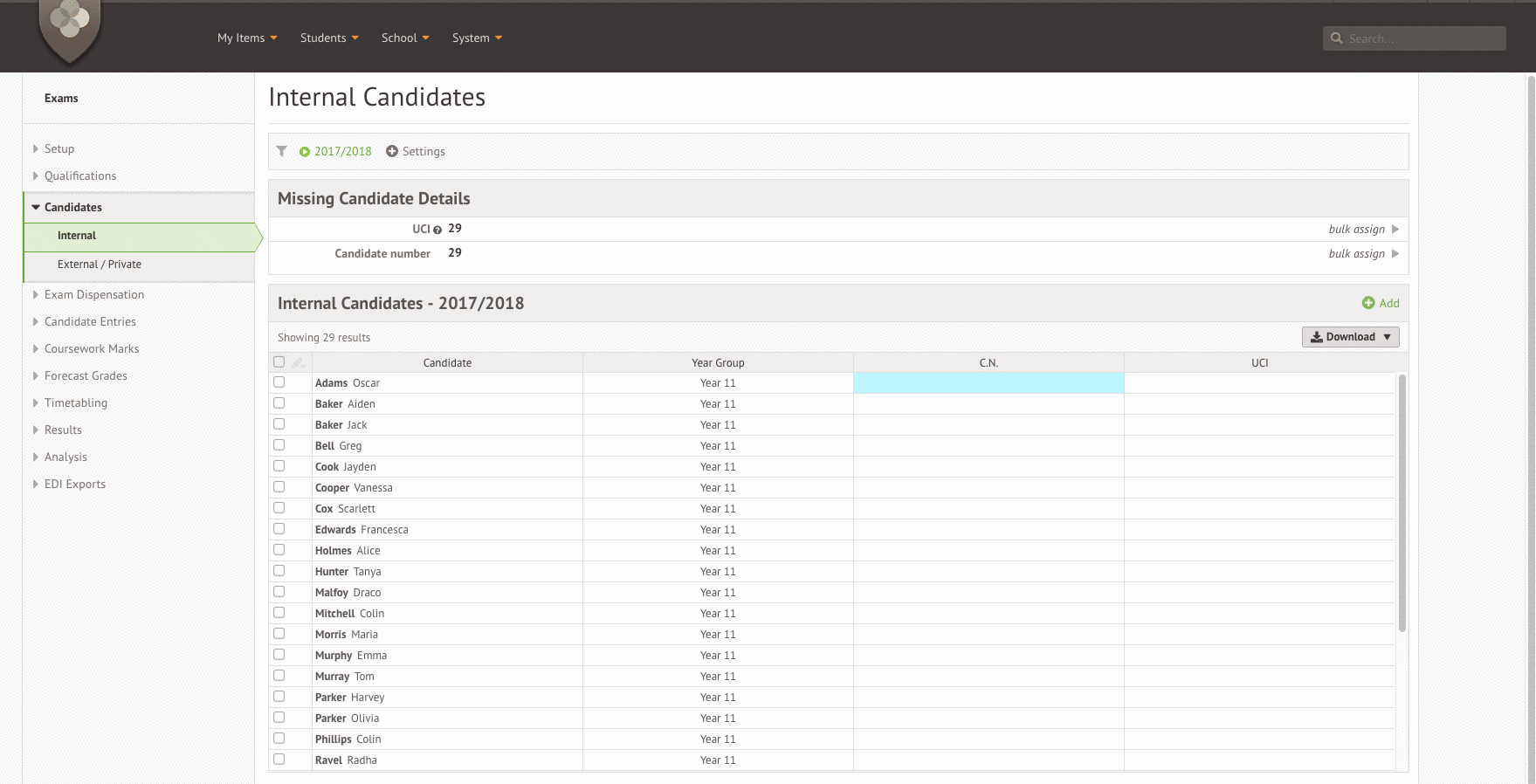 Access arrangements
Once candidates have been added to the exams module then you can record access arrangements in Access Arrangements.
Students > Examinations > Access Arrangements.
Click the green Add New Access Arrangement button and fill in the slide over to add a new Access Arrangement.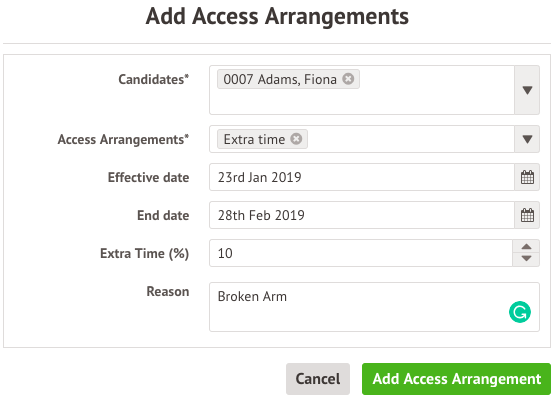 Choose candidate entries
Students > Examinations > Candidate Entries > EDI
This will show the qualifications you added earlier. By clicking into each you can add candidates to the exam.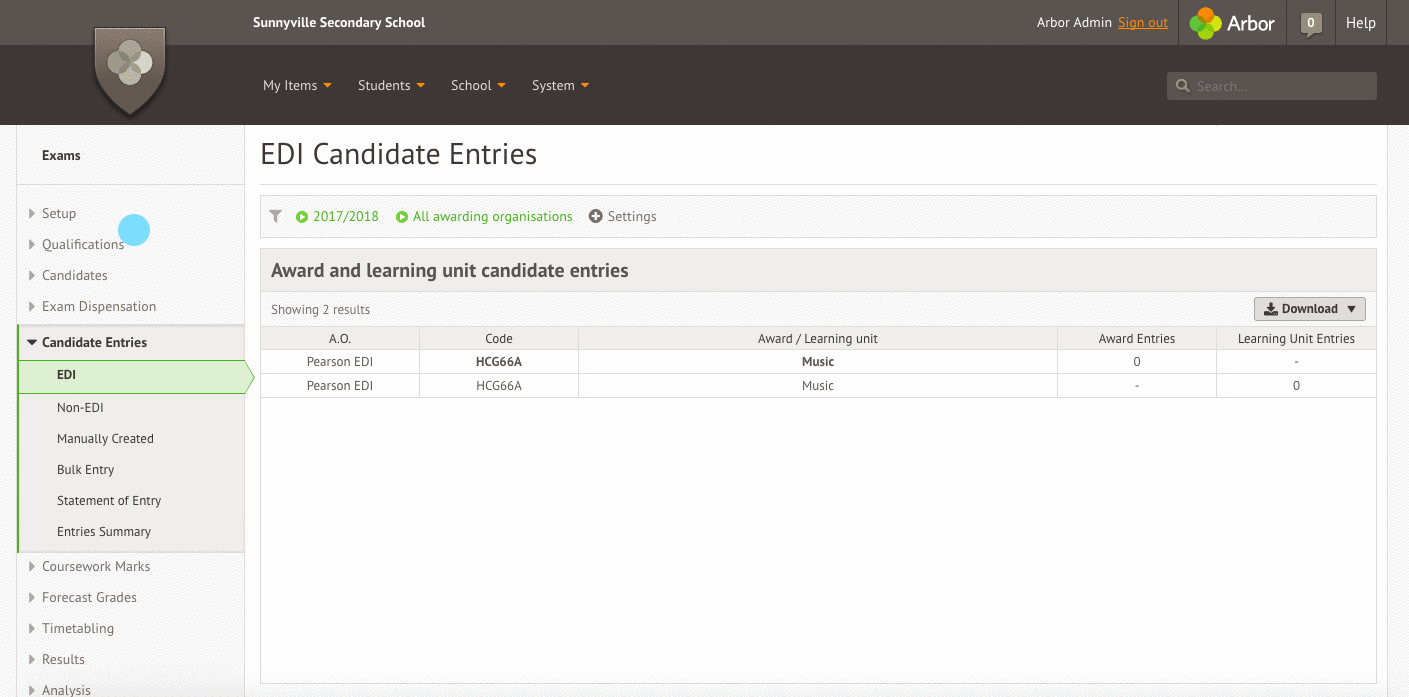 Bulk entry
The bulk entry feature can be used to adding candidates to exams quickly.
Students > Examinations > Candidate Entries > Bulk Entry
The steps must be completed in sequence order.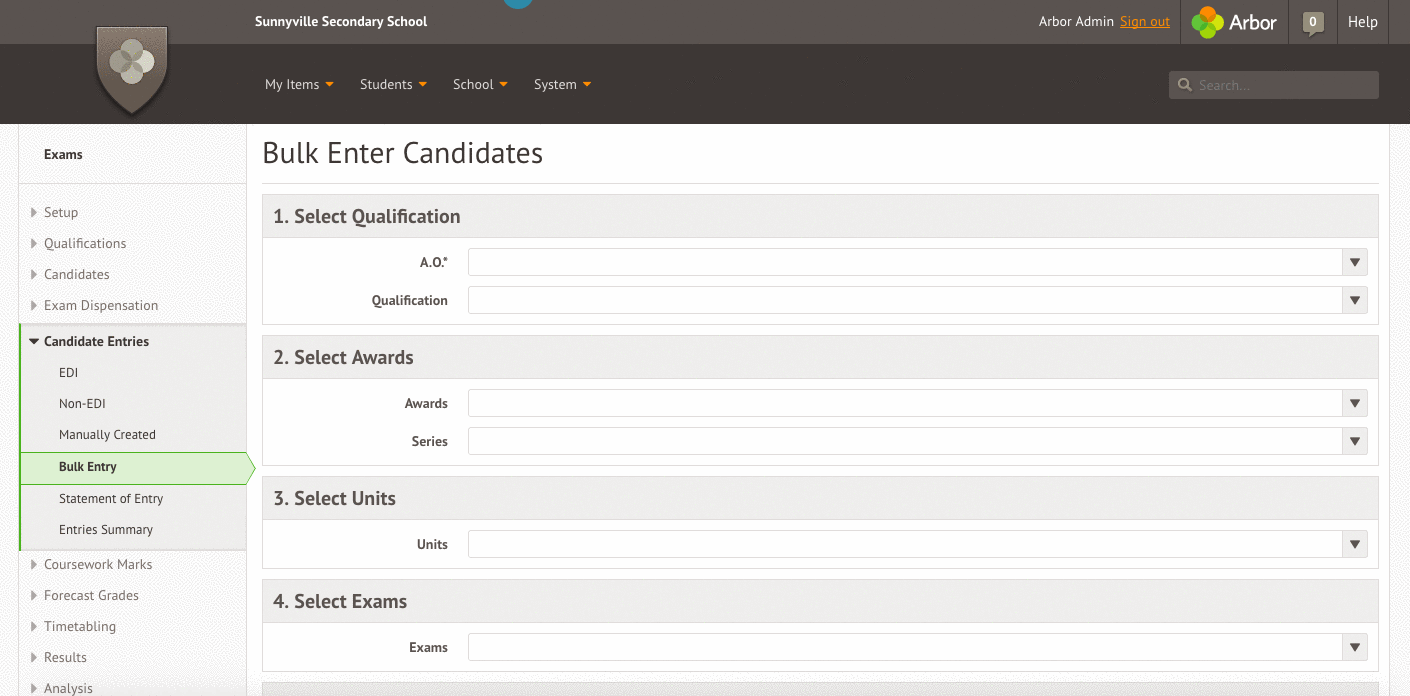 Entering coursework marks
Some exams have a coursework element which makes up one (or more) units (pieces) of the course towards the student's qualification.  
Where this unit makes up part of an exam it will appear here Students > Examinations > Coursework Marks > Overview and schools will need to navigate here to enter the candidate grades. Candidates should already be linked to the exam by this stage.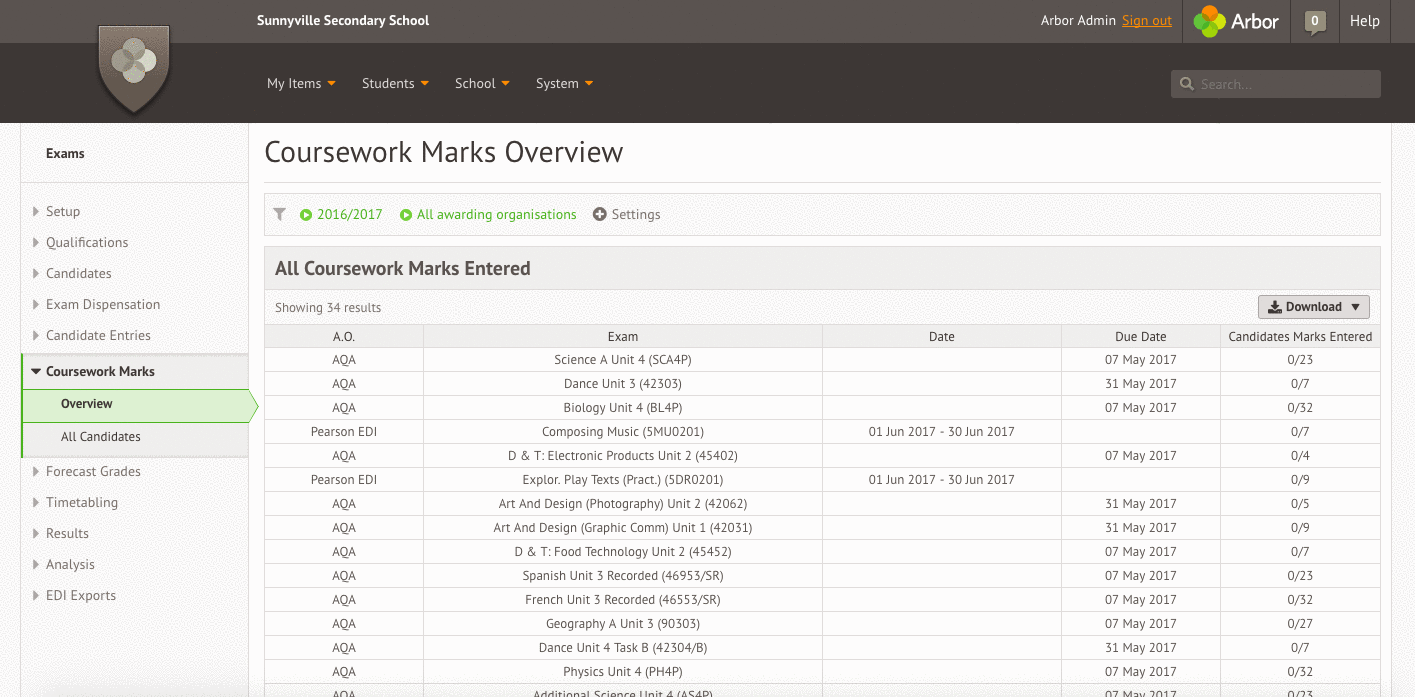 EDI Export
Once you have added exams and added candidates to them, you must create and export an EDI file out of Arbor to then submit to the exam boards. 
Exam entries are not automatically sent from Arbor to the exam boards. You will need to export them and upload them to the exam boards directly.