If your school has students in year 12 or year 13, you will need to provide information on their programmes of study and prior attainment. For more guidance on making sure you've set up your programmes of study correctly, see this article on our Help Centre.
For how to resolve the three main errors around Programmes (also known as Learning aims), and the four main errors around prior attainment, see your Census Guide. These errors must be resolved in order to submit your census successfully.
You may also encounter post-16 queries in your DfE validations section, such as the ones shown below. These do not have to be resolved, but if you do not resolve them, you will need to supply a reason why they should remain when submitting your census to COLLECT.
Query 2708
Query 2078 arises when a student was not given a core learning aim last year.

You can resolve this by making sure you have set up all your programmes and programme instances for last year. Make sure the student has been enrolled in a programme that covers the last academic year. You may need to extend your programme instance back a year.
You can then make sure the student has been enrolled into it and it is set as their core learning aim on their profile in the Enrolment section.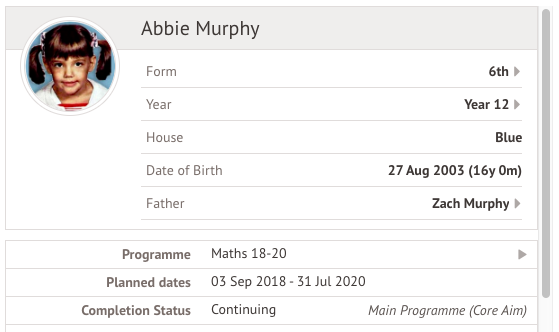 Prior Attainment queries 3020 and 3030
Queries 3020 and 3030 arise when the student has been given a prior attainment grade on the Census pages of D-G, 3-1, U or NR, and the student has not had a funding exemption recorded.
If this information is correct, you need not do anything here but will need to provide an explanation to COLLECT.
To resolve these queries, go to your generated census and click Prior Attainment on the left-hand side. Click the field to add the correct funding exemption code.
For more guidance on what value you should put in this field, see the DfE's guidance.