When do invoices need to be generated?
Meals
If you've set up meals in Arbor, a meal register is automatically taken each day, and invoices for meals are automatically generated as soon as the meal has ended. This means you don't need to invoice for meals as long as you have set everything up correctly.
Clubs and Trips
If you've set up any clubs or trips in Arbor, invoices are automatically generated when a partial payment is made. This could be when a parent signs their child up for a club or trip that allows voluntary payments, or no payments to be made towards it. You can manage these invoices from the clubs and trips pages. As such, you cannot generate ad-hoc invoices for clubs or trips.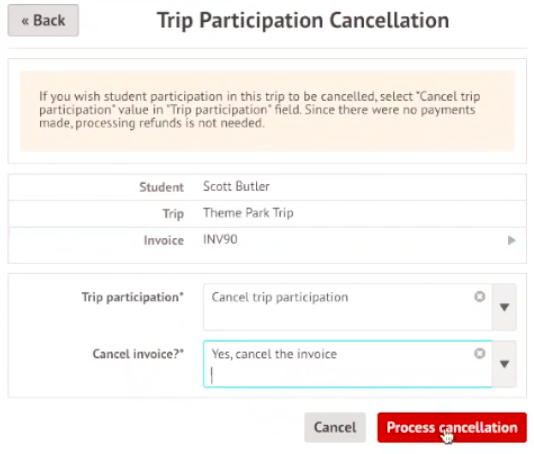 Other Top-up Customer Account Types
If you've set up additional Customer Account Types, these are top-up accounts which means they include a balance that can be added to or deducted from. To deduct from a user-created customer account type, you will need to manually generate invoices for this account.
How to add an invoice
Permissions
Finance: View

- See invoices, and be able to access the Payments area of profiles
Finance: Administer

- Manage and add invoices
If you don't have permission, you'll need to ask your admin team to give you permission using these instructions.
In bulk for students
You can easily generate invoices for Meal accounts and for other Top-up Customer Account Types in bulk for students from School > Payments > Accounts > Invoices.
Click the Bulk add invoices button and fill in the details in the slide over, then click Add invoices.
You'll then get a message when the invoices have been created, and you can see them on the customer account type tab.

You'll also be able to see or delete them from the student profile. Go to the Payments section of their profile, select the account and go to the Account Overview or Invoices pages.
For one person
You can easily generate invoices for Meal accounts and for other Top-up Customer Account Types from their Student Profile. Go to Payments and select the account to invoice. Select Invoices.
Here you can see all the automatically generated meal invoices. You can add a new invoice by clicking +Add.
In the slide over, add the invoice date, item and price, then click Charge for item to create the invoice.
The invoice will then be generated, and the price of the item will be deducted from the account balance.
You can then click the item to complete further actions, such as cancelling the invoice.