The Headlines
Customise your Target Judgement Rule colours
If you don't want to use our default colours for Target Judgement Rules you can now choose your own to show in Marksheets and Report Cards. If you have the Assessments: Administer permission, just go to Assessment Framework > Targets > Target Judgement Rules > Target Judgements and select the judgement to pick the colour in the slide over! To use your own colours, be sure to select a colour for every judgement.
Send follow-up communications
With the School: Send and administer school communications: Administer permission you can now send follow-up emails, SMS or in-app messages to recipients of previous Mail Merge communications. Just go to School > Communications > Email/SMS/In-app > Sent messages to select a message, then use the bulk actions to send a follow-up.
COVID-19 updates
We've released many new features this week to help all schools prepare for wider opening, which you can see in our central article.
Record new absence codes for children due to attend

Auto-fill blank marks with # (if closed) or X (if open to some students), or switch it off to manage attendance yourself

Generate the numbers required for the DfE's spreadsheet

See attendance and follow up with absentees all in one place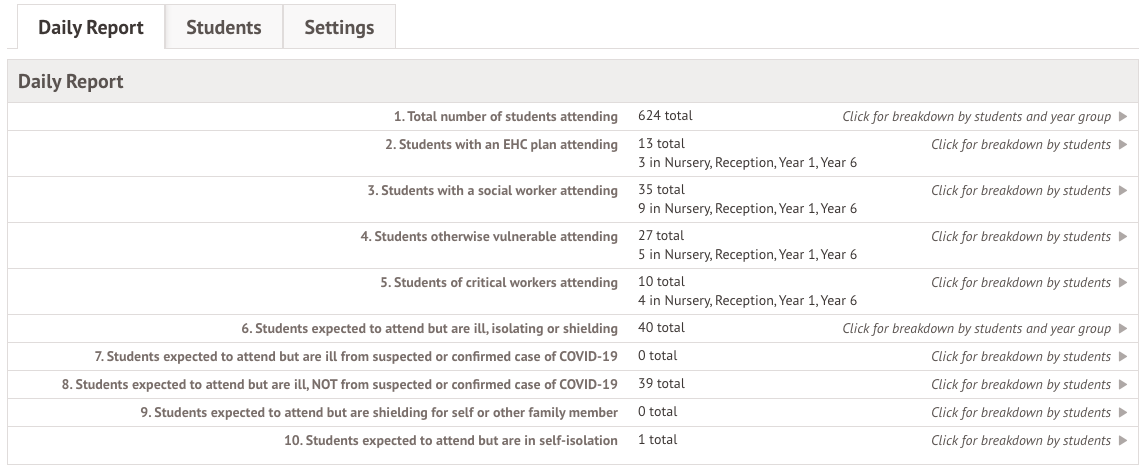 What else is new?
With the

School: Communications: Administer

permission you can now send Mail Merge communications directly to applicants. To see how, check out

this article

.

Add your signature to use it as a merge field when generating Mail Merge emails or letters by following

this article

.

We've tweaked the Live Feed creation pop up to make the process of

Saving

before authentication becomes enabled clearer. You'll also now see the URL and key after you save.

Improved the consistency of which colours are used in the

Grade Distribution

and

Attainment over Time

charts.

Attainment 8 Buckets and averages on the

Progress 8

page.

Send in-app messages to guardians from bulk actions all over Arbor - Attendance, Behaviour, Assessment, you name it!
Coming soon...
Assessments
More improvements are on the way, including new bulk marking options, importing marks from Excel and being able to set 'or' logic for School Assessment Measure rules.
Communications
We're working on the ability to include in-app messages in the communication log, and download the log for the whole school.
We publish a roundup of our releases every other Friday here. You can also see what else we're working on using our Roadmap.
To propose your own improvement idea sign up to the Community and check out our post Submit Product Feedback here!