What are working periods?
To get an accurate picture of how many working hours are impacted due to staff absences recorded, you can set up working periods for your staff members. Setting up a working period means that an absence will only count the hours that fall within a staff member's working period.
If a staff member's working period is defined as 8 am - 2 pm, 2 days of absence will be counted as 12 hours on the Statistics page.

If an absence is recorded outside of their working hours, it will not be included in the hours lost calculation.
Working periods FAQ
Do working periods factor in lunch breaks?
Working periods don't include lunch breaks, so a working period of 8am-5pm will be treated as a 9 hours of work. If you'd like to include lunch breaks or any other breaks in staff absence calculations, you'd need to set up multiple working periods.
In this example, the staff member works from 7 am-9 am, then 3 pm-5 pm so I have set up two working periods for them, one for the morning and one for the afternoon. Any absence recorded will then only take into account the hours specified within the working period, so for this example, a full day's absence would count as 4 hours missed.

How do working periods work with the Cover module?
If you're assigning cover, the working periods you've added to a staff member's profile will determine whether they're marked as available for cover.
If you're assigning the cover inside their working hours, and they're not already assigned to another event, they'll show as available.

If you're assigning the cover outside their working hours, they'll show as unavailable.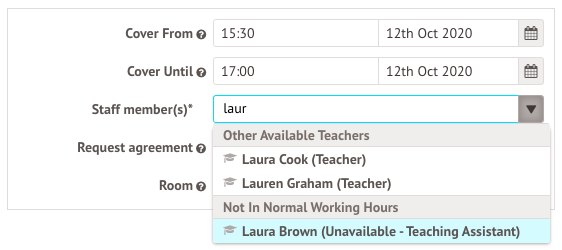 Can we add different working periods for Week A and B?
Please note that it isn't possible to define different working periods for each week if your school operates on a two-week timetable. You would need to instead create an event for staff to mark them as unavailable for cover.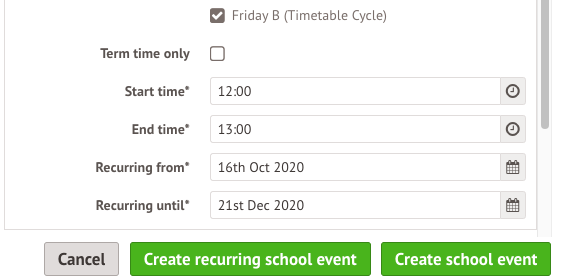 How to add working periods for a staff member
To add working periods for a staff member, you'll need to have the Staff Profile: Action: All Staff: Basic HR Administration permission. If you can't see the working periods section you'll get someone at your school to give you this permission.
To add a working period for a staff member, go to their staff profile and scroll down to click +Add in the Working Periods section.

In the slide over, you can select when the working period applies and select the days of the week the working period applies, then click Save Changes.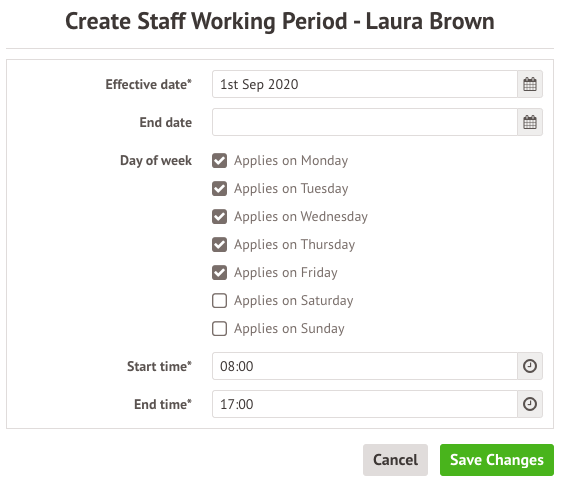 In this example, you can see the staff member works a half-day on Thursdays.