Occasionally you may need to temporarily move a class to a different room for a lesson, or for a longer period of time. For example, the normal classroom is undergoing maintenance. 
Moving a class for one lesson
The best way to move a class for one lesson is to visit the Lesson Overview and change the location manually.
Locate the lesson you would like to amend by clicking the lesson in your calendar,

or by searching for the class in the search bar and clicking the right class, then clicking on the next lesson.

You will be taken to the Lesson Overview. Click the location field to amend it for that single lesson.
Click the orange Edit button, select the new room, then click Change Location.


The lesson location will then be updated. Please note that this location change only applies to the current lesson you have amended and not future lessons.

Moving a class for multiple lessons
To move the class for multiple lessons, you have two options. We recommend option 2 as it is quicker for multiple room changes.
The first option is to repeat the process outlined above as many times as needed, clicking the next lesson to reach each lesson overview.

However, this process can become time-consuming if you have to change many class locations, or if the room is out of action for a week and you need to check which room is available.
The second option is to go to 
School > Timetable > Sites & Rooms > Room changes.
First, add the room that the lesson should be in, but is temporarily unavailable by clicking the Mark Room Unavailable button.
Update the slide over with the room that will be unavailable, the times and dates it will be unavailable for and a reason the room cannot be used, then click Save Changes.
The Changes Required tab will now show all lessons affected by the room closure.
You can change the room for one lesson by clicking the lesson and updating the slide over.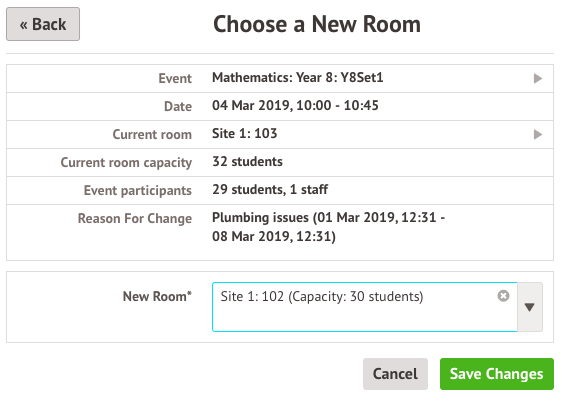 You can change the room for multiple lessons by clicking all the tick boxes next to the lessons you would like to select, and clicking the blue pencil icon.

Update the slide over with the new room, then click Save Changes.
This changes the room for all the selected lessons within the affected time period. The updated rooms will then appear in the Rooms Already Changed tab.
You can check if you have any lessons left to move by taking a look at the Periods of Room Unavailability tab.  Here you can see one out of two of the lessons have been moved, with one lesson yet to be assigned a new room.