In this article, you'll find common questions and answers around making and managing card payments. For questions about setting up card payments in Arbor, see our setup guide.
Making payments
Which cards do you accept?
We accept Visa and MasterCard cards. American Express cards are not accepted.
Are parents able to top up accounts via the Parent Portal?
Yes, once your accounts have been enabled and verified, your parents will then be able to top up their child's meal account and any ad hoc accounts you set up. They will also be able to pay for clubs and trips if you have created them in Arbor.
Can we take electronic payments in the office?
Yes, once you have enabled payments and they have been verified, you can take electronic payments. You can see how to do this in bulk here, or to top up an individual student's account, go to the Payments > Account > Top Ups section on the left-hand side of the Students Profile.

What is the minimum amount accepted for card payments?
The minimum amount for card payments we accept is £1 for Clubs and Trips or £2 for Meals and all other Customer Account Types.
Invoices
How are invoices raised?
When a meal is selected for a student the system will automatically generate an invoice. You can also create manual invoices for your meal or ad hoc accounts by following this article.
Are we able to credit invoices?
Yes, you have 2 ways of raising credits for invoices. If the invoice was raised for a meal you can go back into the meal register for the day and amend the meal choice, the system will then automatically raise a credit note.
You can do this by heading to School > Meals and selecting the date. You can then use the View Register button to view the students and change their meal choice.


You can also raise credit notes by cancelling the invoice for meals by navigating to School > Payments > Accounts > Invoices. You can then click into an invoice and select Cancel Invoice from the slide over.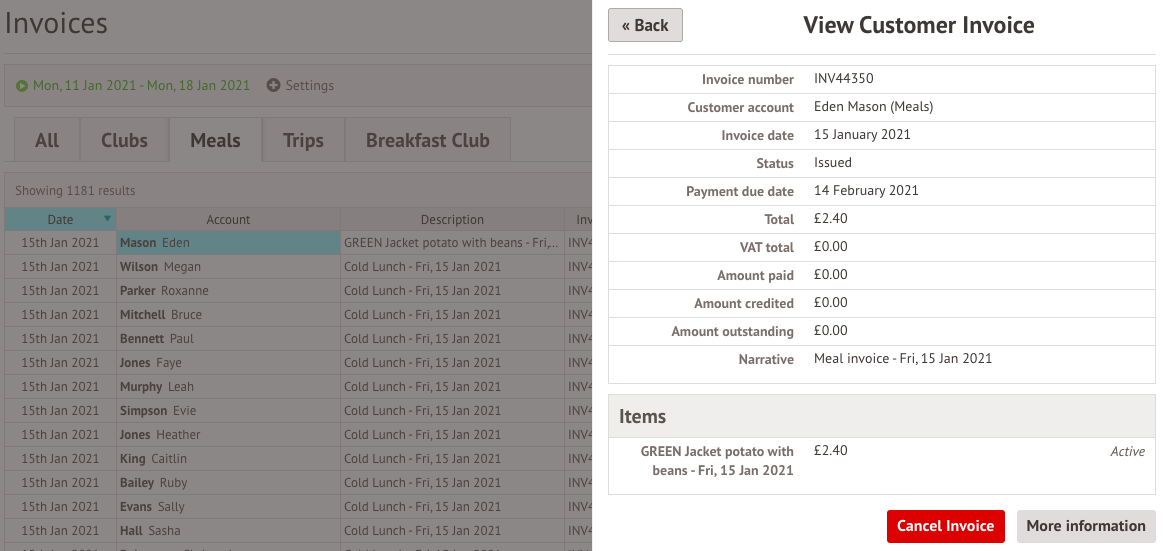 Payments on bank statements
How will I know which payout is from a school on my bank statement?
You will see 'URN=<School URN> PYMNT' (e.g. URN=123456 PYMNT). You can find your school's URL from the School > School Details page.
Why is there an extra £1.00 charge on the card statement?
When performing card payments, Stripe sends over a request to the issuing bank for either £0 or £1 authorization to verify that the card is issued and the bank will allow the payment to be authorised. Regardless of whether or not the authorisation is declined, Stripe reverses their authorisation request immediately.
However, even if the bank declines the authorisation, some people may still see an authorisation for £1 on their credit card statement.
This is not a charge, and it will disappear from the statement any time between a few minutes to a few weeks.
When will I see money from card payments on my bank account?
Arbor pays out funds received from card payments to bank accounts on a weekly basis, on Mondays (minus any refunds). Most UK banks deposit payouts into your bank account as soon as they are received, though some may take a few extra days to become available.
What should I do if the payout fails?
If your bank account cannot receive a payout for any reason, your bank returns the funds to the Stripe Connected Account created for your school. It can take up to an additional five business days for your bank to return the payout and inform us that it has failed. Should this occur, check the bank account information you provided was correct. If you have verified the information was correct, contact us.
Refunds
If I refund a payment, will the transaction fee be reimbursed?
Although refunds are free of charge, when performing the refund please remember that your school has already paid the fee for a corresponding card transaction. You will not be reimbursed this fee.
Which bank account will payment be refunded to?
The money will be refunded to the bill payer's card that was used for performing for a corresponding payment. This means that you cannot select any other credit or debit card to receive money when performing a refund.
How long does a refund take?
Refunds are issued immediately. However, it may take up to 3-5 business days for the money to come back to the bill payer's account.
What should I do if the refund fails?
A refund can fail if the bill payer's card issuer has been unable to process it (e.g. a card is expired). If a refund fails, we recommend refunding the amount by cash or cheque. The bank returns the refunded to Stripe and they return it to your school's Stripe Connected Account. This process can take up to 30 days from the refund date. Arbor then pays the refund to the right bank account in the next payout.