With our assessment features in Group MIS, MAT Assessment Leads can standardise the way you manage assessments across your trust. In this article, you'll find out how to align assessment and reporting periods across your trust, and analyse progress across your schools with our central analysis page.
Setting up your Group MIS reporting settings
Step 1 - Check your Data Sharing Agreements
You'll need to make sure you have an active data-sharing agreement set up between your Group MIS site and your school's sites to allow the data to be populated.
You can check they have been confirmed by following the instructions in this article.
If you don't have active data-sharing agreements for all your schools, you won't be able to see their assessment data.

Step 2 - Check your assessments and import custom assessments
To make sure all your assessments can be analysed, check all your schools' assessments appear on the Administration > Assessments > Assessment Framework > Assessment Catalogue page.
This page will show by default any assessments set up using our templates available in the setup process, such as Progress 8 or EYFS curriculum assessments.
To show any custom summative assessments on this page to allow you to analyse them, you must export them from the school's MIS then import them into your Group MIS. Use this article to export them, then import them using the Import Assessment Template button.

Step 3 - Add years and terms
To enable you to report on your assessments for different years and terms, you'll need to define the dates for them from Administration > Academic Years.
Click +Add to add an academic year.

Please note: You cannot delete an academic year once added, but you can click it to edit the dates. The end date must not overlap with the start date of the next year.

You then need to define the dates for each term. Click +Add to add a term.

Add three terms. Do not add 6 terms as if they were half terms - we will automatically create half terms for you for reporting.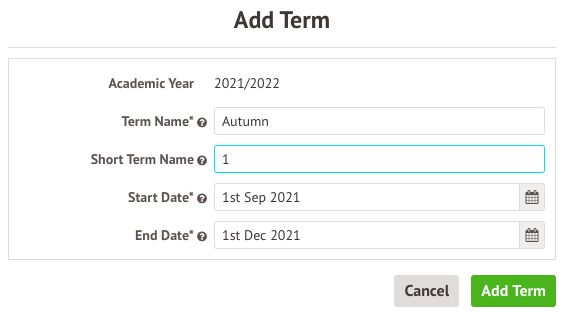 If you want to amend the dates or delete a term, click into the term and click Edit.
Step 4 - Check your Reporting Periods and reporting frequency
Finally, you'll need to check that your schools' assessments will fall into the right assessment period.
Arbor uses the end date of the school's assessment period to determine which Group assessment period it will fall into. In the example below, you can see that because the school Autumn assessment period ends on the 4th January, it will be pulled into the Spring assessment period on the Group MIS.
If you want to change the dates for each term, you'll need to return to the Administration > Academic Years > select year page.
You must also make sure that there isn't a gap between your terms. If there is a gap, any school assessment periods with end dates that fall between Group assessment periods will not be included in your analysis. In the example below, the Spring term assessment period ends on the 18th of April. Since this is between the end date of the Spring and start date of the Summer Group assessment periods, you won't be able to analyse any assessment marks recorded for that period.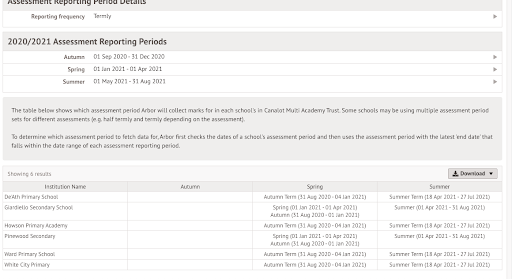 You can also change your reporting frequency from termly to half-termly.

This will divide each termly assessment period in half. Please note: You are not able to edit the date ranges for half-termly periods, but you can change the names.

Analysing your assessments
You can analyse your summative assessments of the same type across your schools from Analytics > Attainment & Progress > Analysis.
Using the Grade Distribution page
Using the filters, you can choose what assessments to look at:
Academic year - The academic year you'd like to report on.
Students in... - Select a specific year group, demographic, ethnicity or gender to drill-down into your data. You can combine these, to show students who are Year 10 and Femail for example.
Reporting period - Choose the reporting period (term or half-term) you defined for the Group MIS. You'll only be able to report on the marks that fall within this assessment period.
Assessments - Choose the assessments to analyse marks for. All your schools will have needed to set up the assessment on their site to be able to pull this information in.
Grade set - Select the assessment to be able to choose the grade set you want to analyse for.
Group by - Choose Curriculum Grade to see a breakdown for each year group.
Display baselines - Choose whether to include a grade distribution for your assessment baselines.
In this example, I have chosen to look at Year 10s doing computer science, compared to the baselines.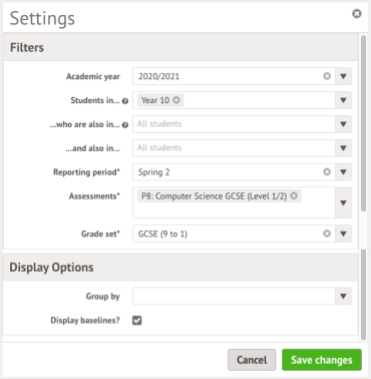 Click a measure to drill down to see the distribution for each school.
They will be ordered with the schools with the highest average mark at the top and the lowest average grade at the bottom. Please note: Blank marks and not required marks are not included.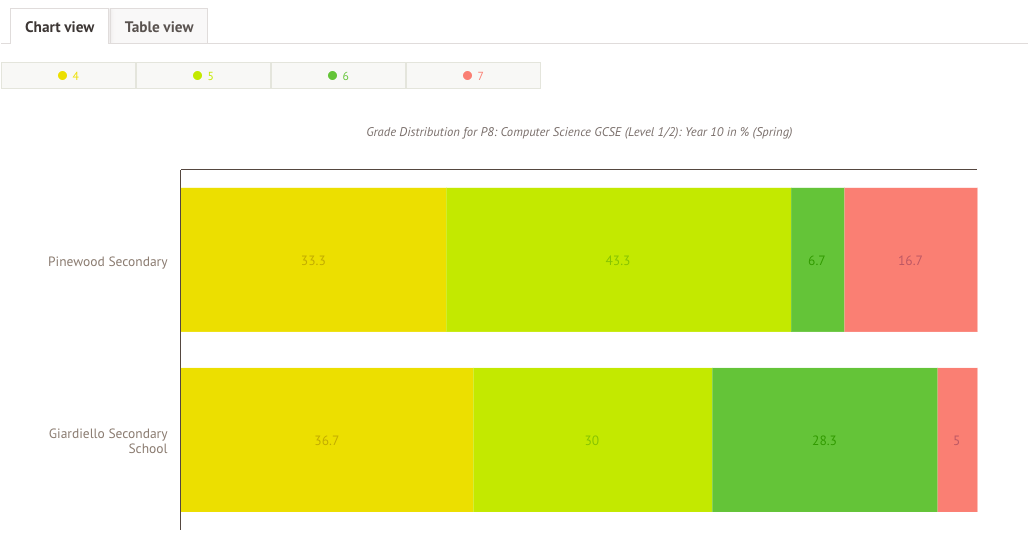 Toggle between the Chart and Table views to allow you to download or Live Feed your report.

Please note: Any filters you have applied at the top level will also apply to the drill-downs, so in the example above I am only looking at Year 10s. Click the Back button to change your filters and drill down again to analyse different data.