Before you send us your Bromcom backup, we need to confirm your migration date. If you haven't done this already, please contact your Project Manager/Coordinator to agree on a migration date.
Requesting a backup
Please request a backup from Bromcom for your specified migration date.
Uploading your backup
Logging in to your secure portal
Arbor will send two emails to your nominated data/IT lead (or the person taking responsibility for sending the data migration backup to Arbor). Please make sure that this person is clearly listed on your implementation workbook.
After your Kick-Off, you will receive two emails from Arbor:
The first email will contain a link to your schools unique secure portal and a username you will use to log into the portal.
The second email will contain the password to login to the portal.
You should expect to receive your access to our secure portal at a minimum of a week before your migration, so if you have not received these emails, please contact the Arbor Support Team or your Support partner as soon as possible.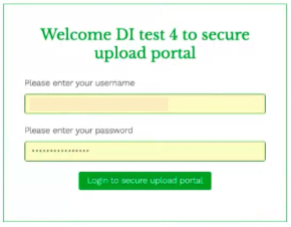 Uploading your data to the secure portal
Step 1 - Upload your school's Bromcom backup file
Click the upload box and select your backup file which you saved earlier. Tip: this will be either a bak, zip or 7zip file.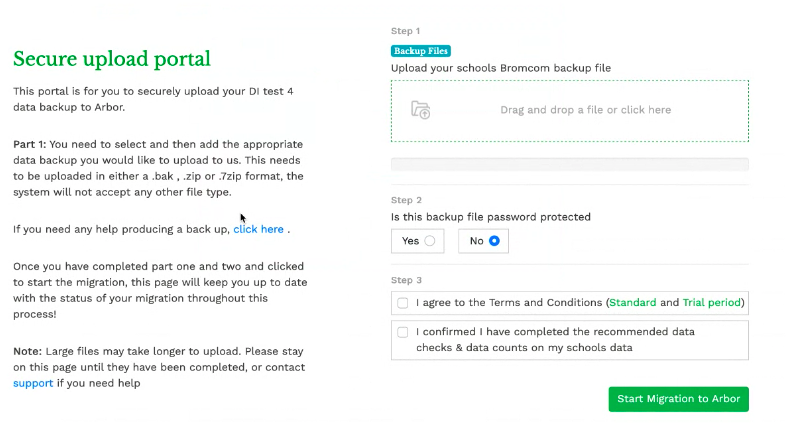 If this file is password protected, select 'yes' and enter the password into the password box.

Step 2 - Start your migration
Confirm that you have completed all the recommended data checks, then press the Start migration to Arbor button.

Now you just need to sit back and relax. Unless there is a problem (such as an incorrect password or corrupt file), the next you will hear from us is when your new Arbor site is ready!