Click the link at the bottom of the article to download a PDF version of this update.
The Headlines
Exams
We're rolling out so many improvements to exams it's hard to keep up! Here are our favourites this fortnight:
Unseat individual candidates, an exam paper, or everyone in an exam room using our

Unseat Candidates

buttons
See if any of your students have clashes in

Timetabling > Exam Clashes

. Easily resolve the clash by clicking the clash and assigning the student to a new Invigilation room
Choose whether to display

profile pictures

on seating plans
Improvements to the

Auto-assign Seats

functionality:

Snake

Vertical

or

Horizontal

Specify an arrangement pattern starting from

top left

(moving inwards to the right),

bottom left

(moving inwards to the right),

top right

(moving inwards to the left) or

bottom right

(moving inwards to the left)
New "

don't seat

" options to not seat candidates in particular rows or columns
Search by

Award Code, among other things,

on the

Candidate Entries

pages
We've improved the look of the seating plans so more seats fit on each page, and seats and text are now coloured black
Parent Portal Settings
We've updated the Candidate entry processes:
Choose whether to display each

Customer Account Type

set up on the Parent Portal. To choose your settings go to

Students > Parents and guardians > Parent Portal Settings

, scroll down to the Payments section and click the

Customer Account Type

. You can also complete this action from

School > Payments > Setup > Customer Account Types

.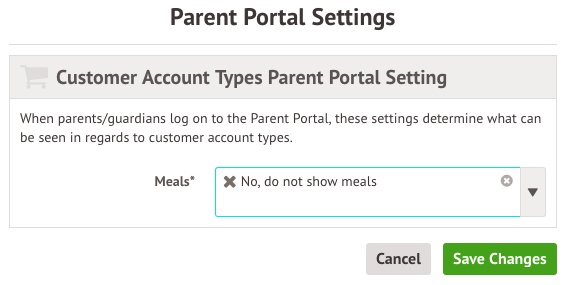 Toggle whether positive or negative

Incidents

are displayed to parents - great if you want to share your positive incidents automatically but not your negative ones! Note: both types of incidents will automatically be set as

Off

.

For more information on customising the Parent Portal, click here.
Assessments
See

Grade Distributions

for

Ad Hoc

and

Standardised

Assessments. We've also added some

group by

options to the chart so you can view, for example, boys vs girls.
We've improved how assessments are added to your

Assessment Policy

. Now just select your Assessment Type and Assessments from the drop-down menus!
What else is new?
View staff Contracted Hours alongside other allocations on the

School > Timetable > Staff > Teacher Hours

page. This is calculated from a staff member's Contract Post Salaries.

See guardians who are not linked to any students in

School > Data > Data Quality Dashboard > Guardians > Guardians with no linked students.

To delete the guardians, just tick the boxes next to their names, then click the blue pencil icon. You can also click their name to go to their profile and link them to a student instead.

Escalate a

Behaviour Incident

that happens in a lesson to the Second in Department, Head of Faculty or Second in Faculty.
Coming soon...
More exams improvements
More updates to Exams are on the way! This includes a new method for entering candidates by group or course, being able to copy seating plans and more easily manage Access Arrangements.
Assessments
We're adding more ways to customise assessments including showing when a mark was not required for the student or that they were absent at the time of assessment, and the ability to create Data Collection Policies, allowing you to set when certain assessment marks should be collected and by who.
Observations
We'll be introducing the ability to record, save and submit observations, e.g. lesson observations, using a template created by you. This includes creating your own gradeset, themes and strands to be observed.
Download Student List
We're updating our Download Student List functionality. You'll be able to easily choose which data to download and in which order - similar to the way you choose columns in the Custom Report Writer.
Hodder integration
Our integration will allow you to send student demographic data to MARK. You'll then be able to analyse your test results for PUMA and PiRA on our new School and MAT MIS dashboards.
Group MIS Permissions
We'll be making our Group MIS permissions more granular, allowing your staff to complete as many actions as possible while maintaining the correct levels of safety and data protection.
If you want to propose your own improvement idea, contact our Customer Support Team.
An article like this is published every other Friday in the Updates section of our Help Centre.