You'll need to send us your Bromcom backup on your agreed migration day. If you're not sure of your migration date, please get in touch with myonboarding@arbor-education.com as soon as possible. The team will be able to advise you of your migration date.
Requesting a backup
Please request a backup from Bromcom for your specified migration date.
Uploading your backup
Logging in to your secure portal
Arbor will send two emails to your nominated Project Lead. The emails can be sent on to another appropriate staff member/IT Lead if you will not be carrying out the upload yourself.
After your Kick-Off, in week 3, you will receive two emails from Arbor:
The first email will contain a link to your school's unique secure portal and a username you will use to log into the portal.
The second email will contain the password to log in to the portal.
You should expect to receive your access to our secure portal in week 3 of your onboarding journey, so if you have not received these emails, please contact myonboarding@arbor-education.com as soon as possible.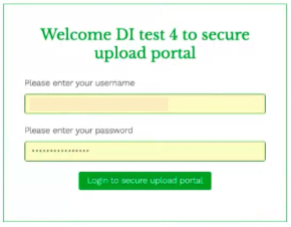 Uploading your data to the secure portal
Step 1 - Upload your school's Bromcom backup file
Click the upload box and select your backup file which you saved earlier. Tip: this will be either a bak, zip or 7zip file.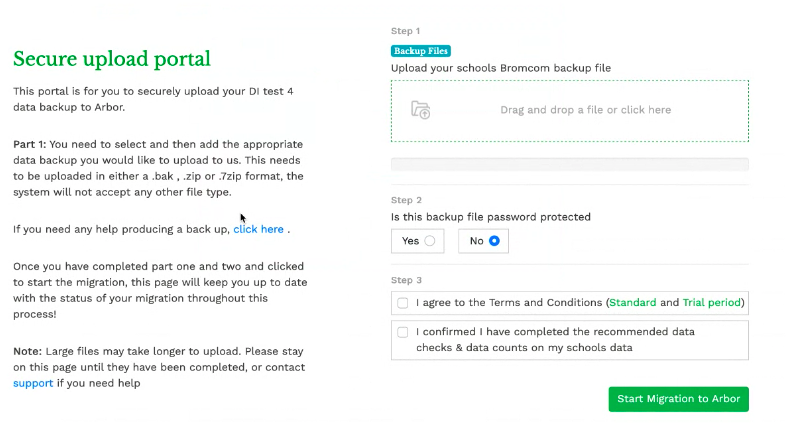 If this file is password protected, select 'yes' and enter the password into the password box.

Step 2 - Start your migration
Confirm that you have completed all the recommended data checks, then press the Start migration to Arbor button.

Now you just need to sit back and relax. Unless there is a problem (such as an incorrect password or corrupt file), the next you will hear from us is when your new Arbor site is ready!