Sometimes it may be necessary for a student to leave your class - for example, if they need to go work in another room or have a pastoral meeting. You can easily record that the student has left the lesson by adding an Ad Hoc Intervention for the student from the lesson dashboard.
You can either add them to the default Pastoral Intervention (created by Arbor) or another intervention type.
You can find out more information about Ad Hoc Interventions and alternative ways to add an Ad Hoc Intervention in this article: Ad Hoc Interventions
Select the class from your calendar. Select the students and use the bulk-action option Create ad hoc intervention.
Choose the intervention type. Your name and the start date/time will populate automatically. Fill out the estimated end time, and a location and note if required. Then click Create.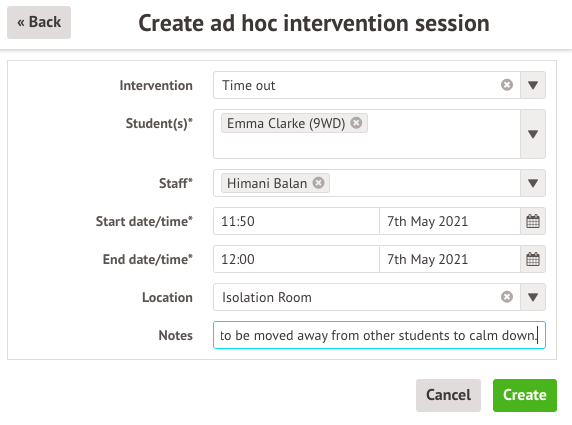 You will be taken to an overview of the intervention session. From here you can register the student, delete the session or add an additional note.
Use the Google back button to return to the lesson dashboard.

You'll see a note on the Lesson Dashboard about the student who is out of class.