Since the introduction of the new National Curriculum and the 'Assessment Without Levels' approach to monitoring a pupil's progress and attainment, schools have gained greater freedom to track pupils using their own frameworks in order to meet their specific needs.
We've found that schools adopt one of two frameworks for their summative assessments. These frameworks ensure you are using summative assessments effectively to track progress and attainment and generate reports for teachers all the way up to MAT strategy leads.
This article gives you a brief introduction to the two frameworks to help you decide which is right for your school.
The two frameworks are:
The rising scale (also known as the progress scale)
This framework takes a linear progress approach to assessment, allowing teachers to make a judgement on how much of the total curriculum pupils have understood by the end of each assessment period. The aim for each student is to progress towards the highest grade available, towards a maximum understanding of the curriculum by the end of the year or key stage.

This scale can be simpler to explain to parents as they can see what the student needs to work towards, and is most useful for schools wanting to measure the number of steps of progress, and easily identify students who require more support.
This framework takes a point-in-time approach to assessment, where the teacher judges whether an individual pupil is working at the required standard against the curriculum objectives which have been taught so far. Students are classed as making the expected level of progress if they achieve the same grade each assessment period, so a student in year 1 working at the expected standard (EXS) would also be expected to be working at EXS in year 2.

This scale is most useful to schools who wish to track students against age-related expectations across multiple years, as it can provide greater granularity for tracking against age-related expectations then a rising scale. It can be easier for teachers to mark, as there are fewer grades to choose from, and can easily be based on their judgement.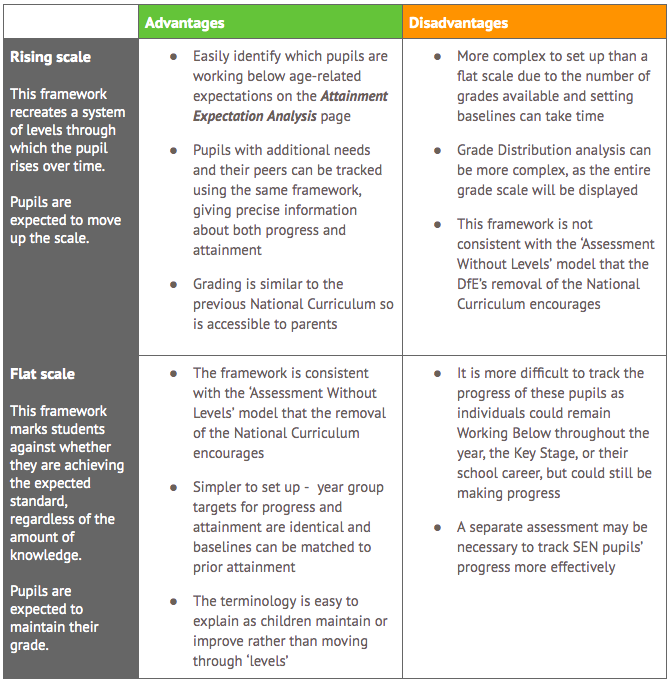 Now you've chosen your framework, take a look at these articles (including a printable version) for how to set each one or the other up on your primary school site: