Once set up, it isn't possible for school staff to delete a meal. If you instead want to delete a meal provision, visit this article: Can we delete a meal provision?
If you have set up a meal in School > Meals > Setup and want to delete it, you will not be able to click the Delete Meal button.

There are two options for resolving this:
Keep the meal for this year but do not use it. You will be able to choose to not copy it over into next year as part of your

New School Year Setup - Recommended
Remove all the meal set up for the meal - Not recommended
Step 1 - Remove students' meal choices
The first step is to remove all the meal choices in meal registers for all students. The easiest way to do this is to go to the Meals section for each student proofile.
Go to the Historic Attendance tab and tick the box next to the pencil icon. Click the pencil icon and select Bulk Delete, then confirm the deletion.
You'll need to repeat this for each student.

Step 2 - Delete the scheduled sitting sessions
Go to School > Meals > Setup > Meal Sittings Scheduled. Click into the scheduled session and click Edit.

Click the Delete Timetable Slot button, then confirm the deletion.
You'll need to repeat this for each scheduled slot.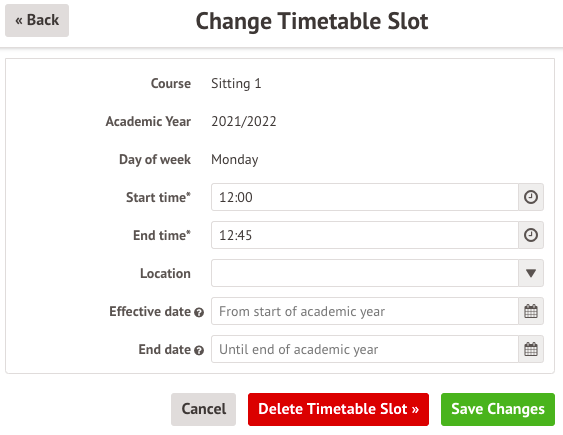 Step 3 - Delete the meal
Please email our support team with details of the meal you would like to delete and we will remove this for you.
We will not remove the meal if you have not completed the above process, as payment invoices will have been generated.