You'll need to send us a copy of your SIMS data on your agreed migration date. If you're not sure of your migration date, please get in touch with the onboarding team - click Contact Us in the top right of the Help Centre and select Onboarding, migration and moving to Arbor.
Remember, once your data is taken and provided to us, anything else that you add into your current MIS won't be in your new Arbor MIS, so you should agree on a cut off time with the rest of your school team before any data is taken.
Log into your SIMs Server
If your SIMS server is in your school, the steps below will need to be completed by accessing this server. You will need the "System Admin Credentials" to SIMS to be able to log in and download the backup. Normally the data controller at your school will have these credentials.
If your server is hosted by a 3rd party e.g. Capita SIMS/Support Partner, you will need to request they export the backup for you, in some cases you may need to go through their off-boarding department and sign a data release form.
Generating a backup
To create your SIMS backup, follow our instructions below. Performing a backup will not alter or remove any of the data you have in SIMS.
If you have stored documents, sometimes known as linked documents in SIMS, and you want these to be migrated into Arbor, you will also have to send us your Document Management Server (DMS) backup at the same time as your back up file. Make sure you tick the option to include your Document Management Server backup when you generate your SIMS backup.
Step 1 - Select the SIMS Database Management Utility
Go to Start > All Programmes > SIMS Applications > dbAttach.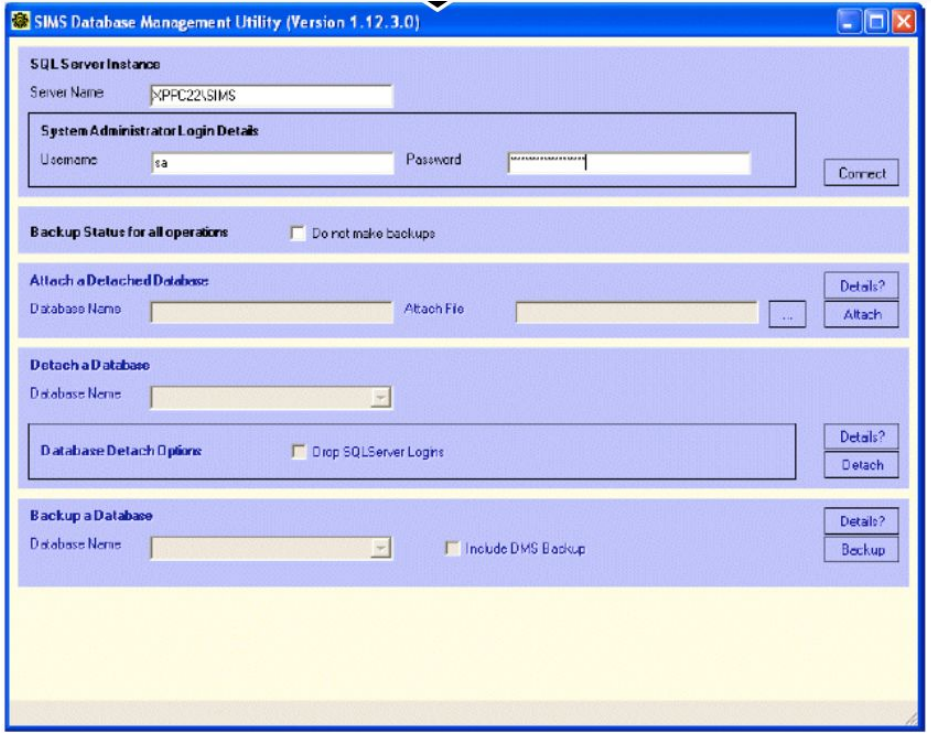 Step 2 - Enter the Server Name
Enter the server name of the SQL Server Instance e.g. <computername>\SIMS2005
If you can't find your SQL Server Instance:
Browse to c:\Program Files\SIMS\SIMS.NET
Open the file "connect.ini"
The SQL Server Instance should be listed after the field "ServerName="
Step 3 - Enter the Username & Password
Enter the SQL System Administrator Username (e.g. sa) and Password, the click Connect.
Step 4 - Including your DMS Backup
Select Database Name from the Backup a Database panel. dbAttach will check whether the DMS is being backed up.
If a DMS backup is running, dbAttach will display a message and provide the option to cancel the backup. Do not cancel this.
If no backup is taking place, you will see a tickbox 'Include DMS Backup', which will backup your SIMS Document Server. Tick this box.
Step 5 - Click the Backup button
Once you've selected your Database name and ticked Include DMS Backup (if applicable), click Backup.
If you ticked Include DMS Backup, a pop up will be displayed recommending that the backup is run overnight, as it might put a strain on your servers. Click OK.
We recommend performing this task during low usage hours, e.g. the late afternoon.
When you click OK, click the Backup button again, and once the backup is complete a message is displayed.
Locating my files
Backup file
Once your backup has been generated you should have a .bak file saved on your computer.
The size of your backup file depends on the size of your school, and how much data you have saved on SIMS. For Primary schools, this usually varies between 450MB and 1.5GB, and for Secondary schools, it may be up to 20GB.
The name of the file will contain the date and the word SIMS and must be in .bak format only, for example, sims_20170724_154816.bak
DMS file
Your DMS backup file will be saved to the backup location specified during the document server install. This can often be hard to find, you may not have set this up, or remember the path. However, it is listed in the document server config file.
This is the name of the server your DMS is installed on: C:\Program Files (x86)\SIMS\SIMS .net Document Server\SIMSDocumentServer_%ServerName%.config where %ServerName%
The name of the folder in this location containing the backups will be prefixed with backup.
Uploading your backup and DMS
Logging in to your secure portal
Arbor will send two emails to your nominated data/IT lead (or the person taking responsibility for producing your data migration backup).
After your Kick-Off Call, you will receive two emails from Arbor:
The first email will contain a link to your schools unique secure portal and a username you will use to log into the portal.
The second email will contain the password to log in to the portal.
You should expect to receive your access to our secure portal at a minimum of a week before your migration, so if you have not received these emails, please contact your Arbor Onboarding Team as soon as possible - please click Contact Us in the top right of the Help Centre and select Onboarding, migration and moving to Arbor.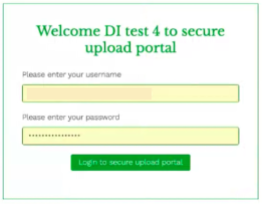 Uploading your data to the secure portal
Step 1 - Upload your school's SIMs backup file
Click the upload box and select your backup file which you saved earlier. Tip: this will be a .bak file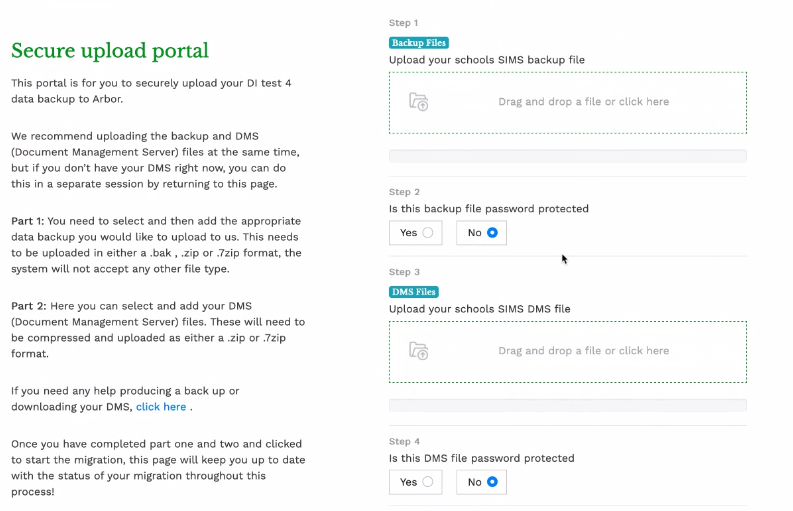 If this file is password protected, select 'yes' and enter the password into the password box.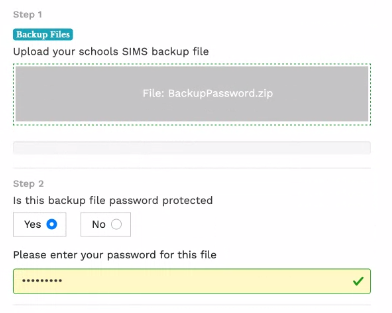 Step 2 - Upload your school's DMS file
If Arbor is migrating your attachments, click the upload box and select your DMS file you saved earlier. Tip: this will either be a zip or 7zip file.
If this file is password protected, select 'yes' and enter the password into the password box.

Step 3 - Start your migration
Confirm that you have completed all the recommended data checks, then press the Start migration to Arbor button.

Now you just need to sit back and relax. Unless there is a problem (such as an incorrect password or corrupt file), the next you will hear from us is when your new Arbor site is ready!