The 2-year-old basis for funding is missing or an invalid value for a two-year-old with funded hours.
The DfE states: 'All children become eligible for funded early education from the term following a child's third birthday irrespective of background or family circumstances (the 3 and 4 year old universal entitlement).'
If a child has started at your school during the term a which they have turned three, error 5235 will appear if you have recorded their Funded Hours, but have not included a 2-Year-old Funding Basis. This is because the DfE expect that only two year olds that meet certain eligibility criteria (i.e. economic eligibility, high-level SEN or disability, or being Looked after/adopted from care) would have Funded Hours in the term of their third birthday.
It will not be possible to clear this error without including a 2-Year-Old Funding Basis, but if you are unsure which basis to use or need further advice, we'd recommend contacting your Local Authority, or the DfE themselves.
If the student has funded hours, they will need to be given a funding basis - you can see more about this here: Bulk Update Funded Hours:
Go to Students > All Students > Bulk Update > Bulk Update Funded Hours
Click the student's name (this cannot be updated in bulk) and set the funding basis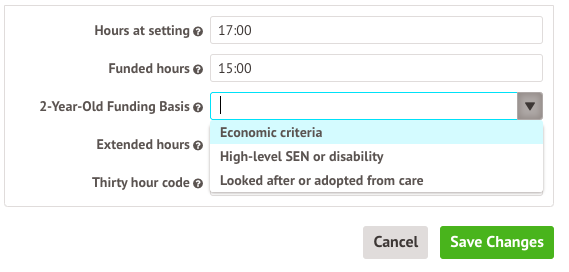 If the student should not have funded hours, these will need changing:
Go to Students > All Students > Bulk Update > Bulk Update Funded Hours
Click the student's name to edit the hours, or use the bulk actions to set the hours for multiple students as 0:00