You may have some students who attend part-time for the first few weeks before moving to a full-time timetable, for example, some Reception students. In this case, there are two options:
Option 1 - Students will only appear in the registers they are due to attend.

This option relies on you having a course set up in Arbor with separate modules for AM and PM registers for each day. When they are due to attend full-time, the students will appear on all registers.

Option 2 - The days and times students attend could vary at short notice. Students will appear in all registers to give teachers the flexibility to mark a student with an appropriate attendance code.
Head to School > Programmes > Courses. Check for a plus (+) next to the class that will be coming in part-time. If it's present click on it.
If you see something like this, you can manage enrolment into the registers in the same way as you would for Nursery students. You can see how to do this here: Enroling students in their registers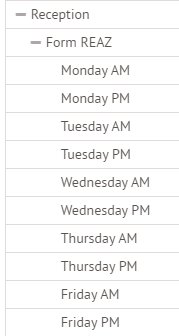 If you do not see a structure like this, you will need to manage this using attendance marks.
With this option, you can take registers as normal and enter an absence code such as X01 for students who won't be attending that day due to their staggered start.