We follow strict security requirements in the Arbor App because it contains personal data about students. This means you have to log into the app every time you use it.
The Parent Portal and Arbor App can't use fingerprint recognition (which defaults to the phone pin after 3 attempts). It also cannot autofill your password immediately.
However, you can use the built-in password manager on your device or browser. For example, on an iPhone, go to your AutoFill Password settings, and switch this on.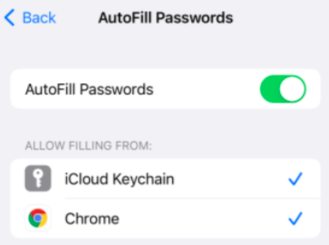 When logging in and inputting your password, you can click Passwords above the keyboard to add in your saved password.
Top tip: You may need to click back into the password field for it to be filled in.