Whether looking for a student, guardian, or staff member, the quickest way to find them (if you know their name) is by using the search box at the top right of your school site.
What can I search for using the Global search?
You can search for:
Names

Telephone numbers

Registration forms

Courses and classes

Houses

Year groups

Arbor pages that are accessible from the top menu
You can't search for:
Email addresses

Postal Addresses

Student or staff initials or abbreviations

Dates of Birth

Teaching groups

Programmes

Custom groups

Clubs

Interventions

UPNs
Top Tip for UPNs
To find a student's name if you've only been given their UPN, create a report in the Custom Report Writer with the students' names and UPN as columns.
You can then use your in-built tools to search for the UPN - Ctrl+F for Windows or Cmd+F for Mac. Alternatively, you can download the report into excel and search in there.
Using the search
Type what you're searching for into the search box. Start to type the name, and Arbor will start to filter the names containing the letters you type. Click the name you require.
Pressing the Enter button on your keyboard or clicking the View All Results button will take you to the full search. Go to All Results to all student, guardian and staff data stored in Arbor.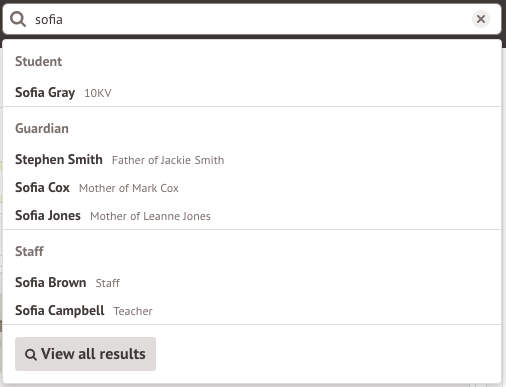 As well as being able to search for people, you can also search for courses and classes and registration forms. Just type the name in the search box.
Find Arbor pages by typing in the name of any page in the top menus you have permission to access. You'll also see the menu navigation to get there. If there's more than one path to get to the same page, we'll show both.
Searching for former students or staff
You can use the global search to find the profiles of historic students or staff. Just type in the name of the person you need to search for, then press Enter on your keyboard.

Once the search results page loads, click All Results on the left-hand menu.
The search will now show all results for your search, including former students and staff. You can click on the result you need to open up the profile.