There are a few steps to setting up an integration between your school MIS site and ParentPay.
Step 1 - Contact ParentPay
Before completing the other steps below, contact ParentPay to let them know you're moving to Arbor. This is because ParentPay has to complete some work on their end to prevent errors, and will need to prepare to send you an API request to approve.
ParentPay will be likely to ask you to upload a CSV file to enable them to map student IDs from your previous MIS to the new Arbor IDs. You can find a downloadable CSV export on your Arbor by going to School > Data > Export > ParentPay Export, which should enable ParentPay to complete the mapping.

Step 2 - Approve the API Request
ParentPay will send you a request in your MIS to share your data via API. Go to System > Partner Apps (API Users) > Pending requests.

Click the request to approve it.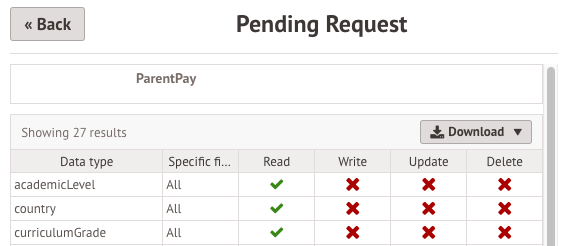 It will then show in your list of Approved Apps.

Step 3 - Sync your data
Whenever you update Student, Guardian or Staff information, you'll need to go into ParentPay and click a button to sync the integration and update the data in ParentPay.

Please note that for Pre-admission students (Applicants in Arbor) to be synced into ParentPay, their application status must be Enrolled. Any applicants that have a status of Newly Created/Offer Made/Offer Accepted will not be pulled through as part of the sync.


Here's ParentPay's guidance page on how to sync your data.