Should I store my nursery students on my MIS?
You may have nursery students who have not been enrolled in classes if you only use Arbor to record their information and not take attendance.
The DfE advises in their Early years census guide that 'children (aged 2, 3 and 4) attending a separate Ofsted registered provider on a school site on the early years census and not the school census.'.
As such, we advise that if your on-site nursery is a separate school legally, you should not record their student data on your MIS site. We advise each school to have its own Arbor site.
If you're not sure whether you should be recording your nursery information on the same Arbor MIS, contact the DfE.

If you've checked with the DfE and you're sure you wish to record nursery information on the same Arbor MIS, follow the instructions below to remove them from the census.
Excluding nursery students from your census
Go to the Student Profile of your nursery student and click Enrolment from the left-hand side. In the Enrolment Modes section click +Add.

In the slide over, change the Enrolment mode to Guest Pupil, change the dates to cover the whole academic year, then click Assign Enrolment Mode.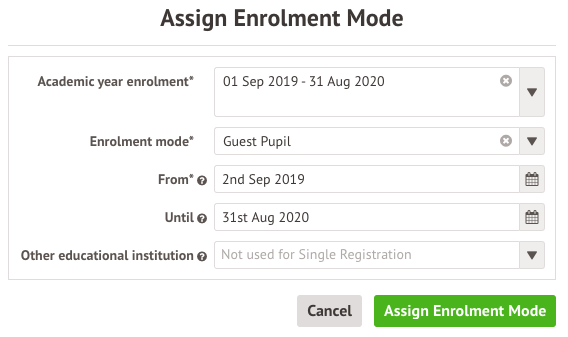 This will then count this pupil as a Guest pupil in your census, and so they will not contribute to your home student totals.
For any class you've changed students to guest pupils for, you'll need to adjust their student numbers in the census. Go to the Classes section of the census and select the class.

In the slide over, adjust the numbers of guest pupils and home pupils to the right number, then click Save Changes.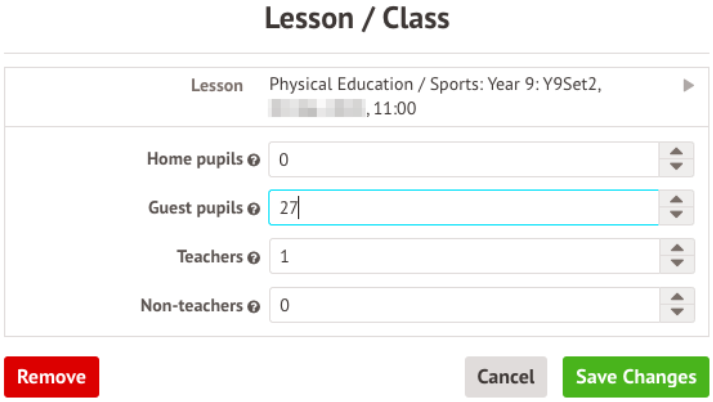 To remove your nursery classes entirely from the census, set all the numbers in this class to 0, then click Save Changes.
The lesson will then not be output in your census.