Once you've set up In-house Examinations, you can log students' results.
Permissions
You'll need the Qualifications: Administer All/My Students permission to add in-house exam results for students. If someone can't access a certain area, you can give them the right permission using these instructions.
Viewing scheduled In-house Exams
To see your In-house exams, go to Students > In-house Exams > Examinations. This page is useful for checking you have set up your In-house exams correctly before trying to enter results for them.
Top Tip: Book mark this page to be taken back to the same filter settings.

To edit the In-house exam or see more information, click the exam.

Adding a grade set
To input your results, go to Results > Results Entry on the left-hand side. Here you can see all the In-house exams that have already happened.
When you click the exam, you will be taken to a new page where you can add a grade set and see the past exam instances. Click +Add to Add the grade set.
You can add a pre-defined grade set, or create your own.
When selecting a pre-defined grade set, you will need to select the grade set, to preview the available grades, then click Create.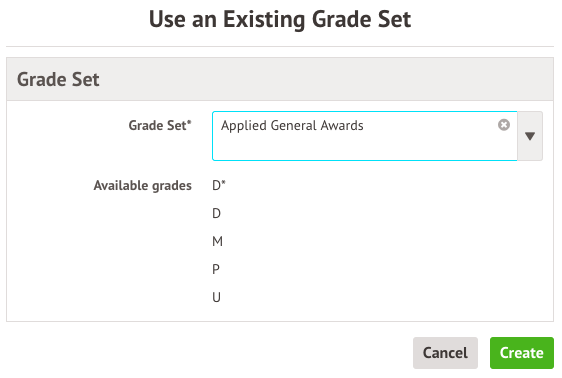 You can then see all the grades available by clicking the +.
You can edit the available grades by clicking Grades.
Here you can edit the grade names, add a short name and a value if applicable. You can also add a grade by clicking +Add. Click Save changes to make sure your changes are saved.
To delete a grade click the bin button, or to delete all grades in this grade set, click the red Delete button.
Please note that if a grade has already been assigned to a student, you will not be able to delete this grade option here.
When choosing to add your own grade set instead, you just need to define the grades, and a short name and value if applicable, then click Add Custom grades.
Inputting results
Once you have defined a grade set you can input results. Click the instance you would like to add results for.
You will be taken to the In-house exam overview.
Click the blank grade field to add a grade for each student. You can also select fields using your control key, then use the Bulk action button.
Analysing results
Go to Results Overview from the left-hand menu. Use the filters at the top of the page to choose the exam results you would like to analyse together. Click Save changes.
Using this feature lets you easily see any gaps where marks have not been entered, and identify students that are not achieving consistently or who require extra support.