Wherever possible, permission assignments should come from a business role at the school, rather than Ad-hoc permission assignments.
On Arbor you can add multiple permissions for a member of staff straight from their staff profile if you have the Permissions: Administer permission yourself. If you're a Head Teacher, Business Manager, School or HR Admin or Senior Management Team you'll have this permission already.
Go to the staff profile of user you want to add permissions to and select Roles and Permissions > Permissions from the left-hand menu, then 'Assign Ad Hoc permissions' in the top right-hand corner.

In the pop up select the permissions that you would like to add to the user.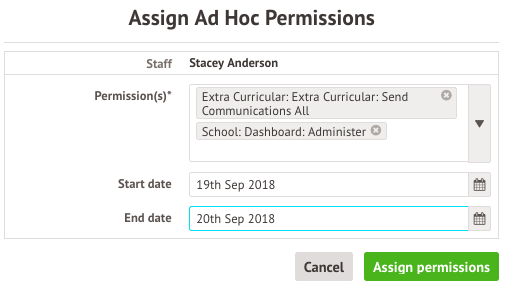 You can add permissions to a staff profile for a temporary period of time (e.g. temporary TLR). When assigning a new permission, business role or ad- hoc role; select an end date rather than leaving the position as ongoing.