All students in England and Wales are issued with a ULN when commencing study with a publicly funded training provider. This unique, 10-digit number is used to track learning records throughout the student's life. In your school census, you might receive errors if you haven't added ULNs to your student's profiles.

In the DfE validations sections you may encounter these errors:
1570- Unique learner number must be provided for pupils aged 14 and over on census day

1573- Unique learner number must be provided for pupils aged 14 and over at the date of leaving

1575- ULN format incorrect. Either number is less than 10 digits or the check digit is incorrect

1578- More than one pupil record with the same ULN

To correct any of these errors for a single student, you can click into the error in your Arbor validations section or go to the student's profile and click the ULN field in the Identity section.

For error 1575, the Unique Learner Number must be 10 digits long AND contain the correct check character. To check the check character is correct:
Multiply the individual digits by their weights e.g. digit 1x10, digit 2x9 etc

Add the results of each multiplication.

Take away 11 until you are left with a number less than 11.

If this number is 0

,

then reject the ULN

Subtract this number from 10 to get the check digit.

Bulk adding ULNs
Important notice
Before completing this process, make sure that every student has a UPN. This ensures that duplicates are not created when the student data is reimported.
To correct error 1570 in bulk, you can use our export and import process. Go to School > Data > Export > CTF Export and select the ULN tab.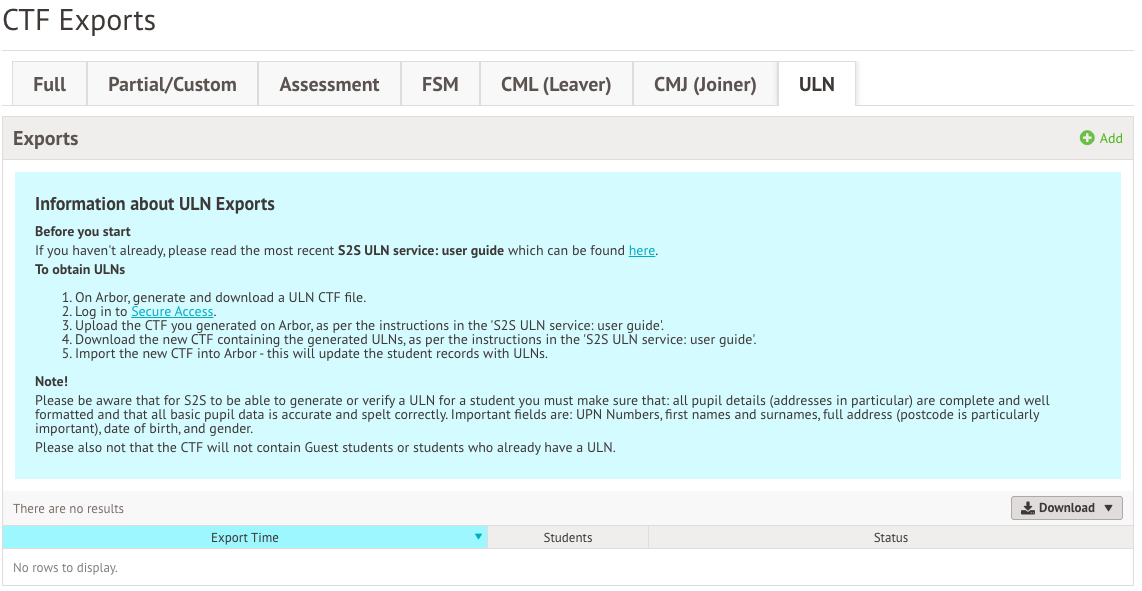 Click +Add in the top right to create a new CTF export.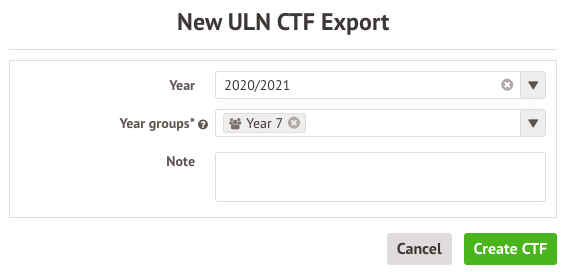 Once the CTF is ready to download, you'll get a notification in the top right of your Arbor site. Click this to download the CTF to your computer.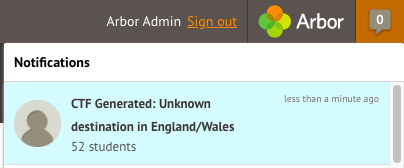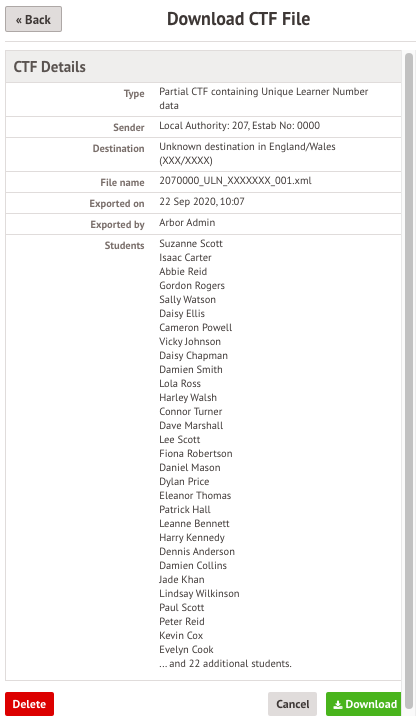 Don't open the file - you can use the finder tool to find the file in your folders.

You'll then need to take a look at the S2S ULN service: user guide to import your CTF, then download the new CTF containing the generated ULNs, as per the instructions.
You'll then need to import the new CTF into Arbor - this will update the student records with ULNs. You can do this from School > Data > Import > CTF Import. Take a look at this article to see how to complete your import.