Before importing your file, please read the guidance below to ensure you're completing the process correctly depending on when you're importing the file.
Importing for next year for the first time
If you go to School > Programmes > Courses and change the drop-down menu to show the next academic year, there will be nothing created on this page.

You'll need to refer to Step 6 of your New School Year Setup guide here, and follow the guidance for Option 1. You will need to either:
Complete steps 1 to 8 in order, to copy courses and classes from the previous academic year,then import your timetable, then promote your students - this will copy the course structure from the previous academic year.

Skip steps 1 and 2 and move straight to step 3 to import a brand new timetable for that academic year - this will create a new course structure in Arbor from the information in the imported TimeTabler file.
We recommend the second option, as although it takes longer to promote the students, any subsequent imports or changes you do will be quicker. You can then continue from step 4 to promote student enrolments from their classes this year into next year.

Replacing next year's import
If you want to make significant changes to the timetable you've imported for next year before the academic year starts, you may want to completely replace the timetable in Arbor and import from TimeTabler again.
Step 1 - Make your timetable changes
Make the changes you want in TimeTabler. Make sure that:
the first day of your timetable file is the first day of the academic year

all start and end dates are correct in the TimeTabler export - there can be no overlap of dates

the days of the week are defined in the TimeTabler files.
Step 2 - Remove your timetable for next year from Arbor
As long as you have not yet begun to take attendance, you will then need to delete the existing incorrect timetable slots in Arbor.
Go to

Timetable > Timetable Administration > Timetable Slots. Make sure you have selected the year you will be importing for in the filter. Click the boxes to select all the slots.
Click the Bulk action button to select Delete Timetable Slots

.

In the slide over, click Delete and confirm the deletion.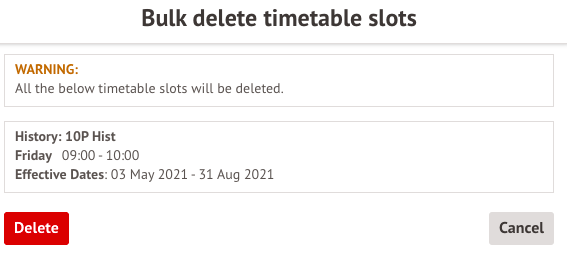 Step 3 - Check the timetable has been deleted
Once the timetable slots have been deleted, wait at least 30 minutes. This is so all lessons in the background will have been deleted. Check there are no lessons scheduled for a few example courses from School > Programmes > Courses.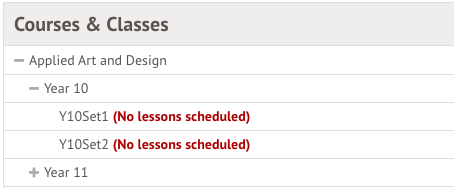 Step 4 - Import your new timetable
Once you have checked that your old timetable has been removed, you can then import the new timetable.