What is a Business Role?
Adding a business role to a member of staff will assign that member of staff the associated permissions. This is not directly linked to the role detailed in the staff member's contract.
New staff that have been added manually will need a business role in order to access Arbor. Current staff can have additional 'Ad hoc' business roles to cover further access that is necessary for them to complete their tasks.
Please note, you are not able to create your own Business Roles, but you are able to change the name of any existing Business Role!
If a staff member is missing from your search or staff lists, it might be because they're missing a business role. When we migrate your data over to Arbor, we map contracts to the closest business role we can find.
If you didn't record the staff member's contract in you previous MIS, we won't have been able to allocate the staff member a business role. You can find them using these instructions, and then give them a business role.
Adding a Business Role
1. Head to the member of staff's profile by searching using the search bar or browsing via the 'school' tab and staff area

2. Scroll down to 'business roles' and click '+ Add'
3. Select and assign a role to their account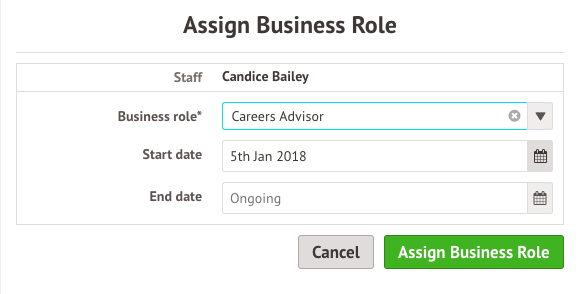 It is possible to add an additional role to a user's profile if this is a role they may be covering for a temporary period.
When assigning a new business role or ad-hoc role to a temporary member of staff, select an end date rather than leaving the position as ongoing.
Top tip: In order for permissions associated with their new business role to take effect - the staff member will need to log out of Arbor and back in again.