Please note that this process is for enrolling your nursery students in registers during the year, such as after migration. If you wish to set up your nursery registers for next year, you'll need to follow these instructions.
As nursery-age pupils are not required to attend school full time (25 hours of education a week), you'll need to reflect when they are not required to attend in Arbor. Making sure Arbor knows whether a nursery student is due to attend ensures your attendance data remains accurate. One of the ways you can manage this in Arbor is by using Attendance Patterns.
Attendance patterns can be assigned to students to tell the system when to include them in attendance registers. Using this method, you can include students in all morning roll call registers, all afternoon roll call registers, or both morning and afternoon roll-call registers. For example, if you give a student the 'Mornings only' attendance pattern they will appear in only the morning registers for their nursery class every day of the week.
You cannot use attendance patterns for students who do not attend during the same times every day of the week. For example, a student attends all day Monday-Wednesday but doesn't attend Thursday or Friday, or a student attends afternoon only on Monday and mornings the rest of the week. In this case, you would need to enrol students into their registers manually, using these instructions.
Preparation
In order to enrol students correctly, you must have first set up all your courses and modules correctly. For example, for nursery students, you will need to have set up morning and afternoon modules for each weekday.
If you are a primary school, you would go to School > Timetable > Timetable administration > Schedule registration Sessions.

However, your modules will have been set at the beginning of the academic year (or upon migration), because scheduling registration times for Nursery automatically creates the modules. In this case, you can skip to the section below on 'Enrolling Students'.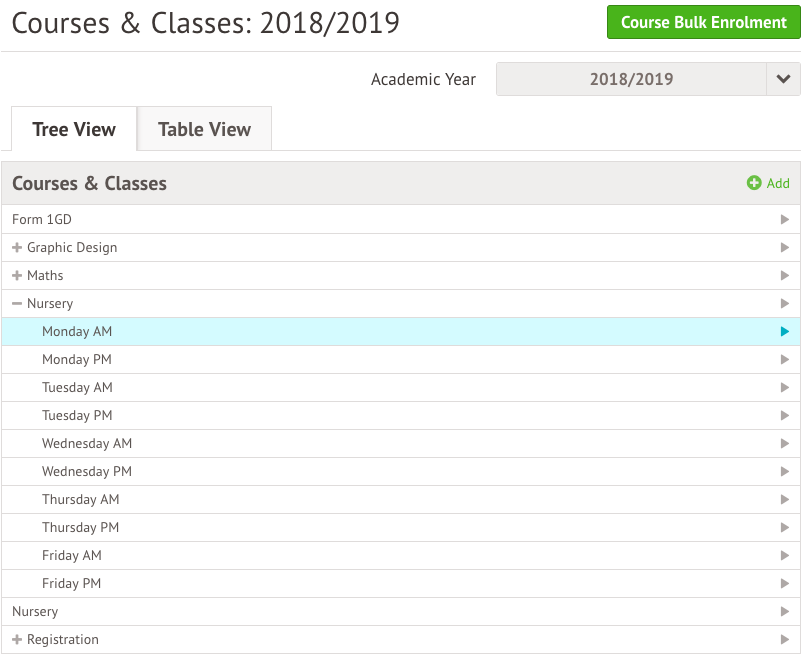 If you have not set up the classes, go to School > Programmes > 20XX/20XX Courses and click +Add to add a New Course with a relevant title
Click into that newly created course which should have '(No Lessons Scheduled)' and click +Add.

Label the Module Monday AM, then click Add Module.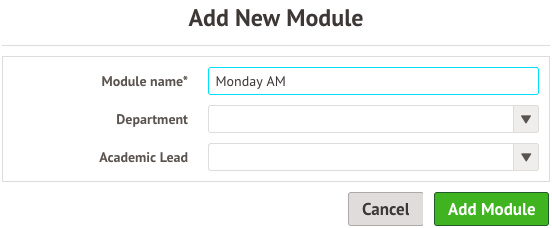 Within each module, you'll need to schedule the register.

Head back to the parent level component to review and continue to add the modules for Monday PM, Tuesday AM etc.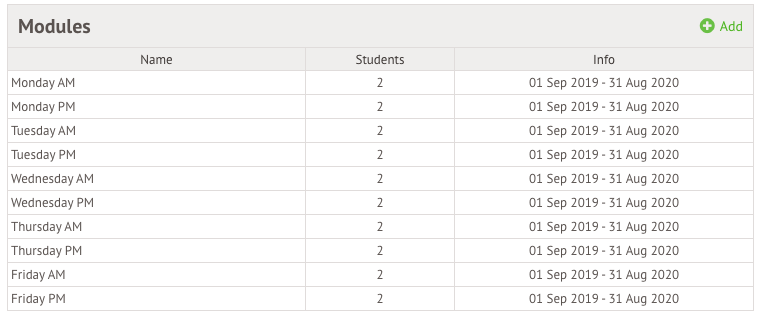 Adding an Attendance pattern
First, make sure the student has been enrolled in the right year group and registration form. You can do this from the applicant area if they were added as an applicant, or from their student profile. Thismeans they will be automatically added to all your AM and PM roll call registers.

To change their attendance pattern so they only appear on the register at certain times, go to Students > Enrolment > Year Groups > Select class > Attendance Patterns.
Use the Bulk Set Attendance Patterns button to bulk set attendance for any students who do not have an attendance pattern.
Select the enrolment start date and pattern, then select the students this applies to. Once you are happy, click the green Set attendance pattern button.
The Initial attendance pattern will run until the date in the Until field has passed. Then the student's attendance pattern will automatically change to the 2nd attendance pattern.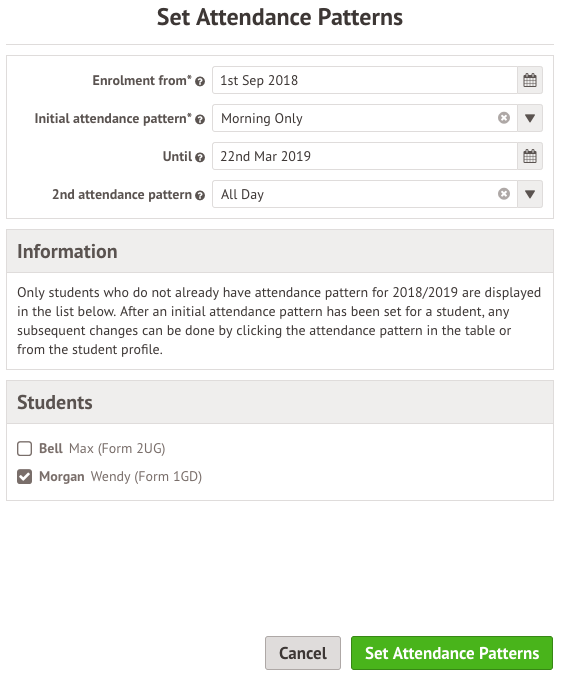 The students you selected will then have their attendance patterns set up.
To change an existing attendance pattern you'll need to delete it then add a new one. Click the Attendance field then click the Delete button in the slide over.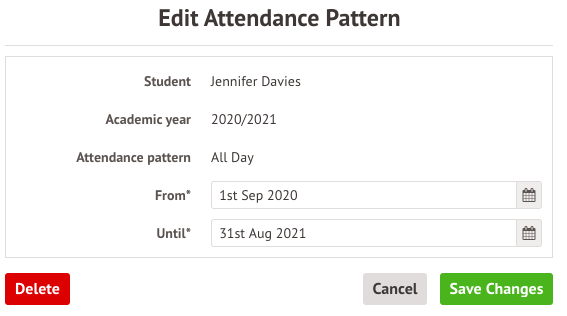 After an initial attendance pattern has been set for a student, any subsequent changes can be done by clicking the attendance pattern in the table or through the Enrolment section on the Student Profile.