Frequently Asked Questions
What are the webinars about?
Each session focuses on a different module, each webinar has a set agenda and will be done live by one of our customer success managers. The sessions are no longer than an hour and each one will train the school in a different area of the system. 
Who should attend?
Everyone at the school is welcome to join our webinars, we do however suggest joining the ones that deal with a module your users are using. This article suggests whether teachers, SLT etc should be joining a specific session, and also has information about what is covered in each session.
Is there a schedule?
Yes, we have created a detailed schedule for our webinars which can be downloaded. As we are constantly updating the schedule due to seasonal requirements we kindly suggest you review it often. 
Click here to access the schedule
How can I prepare?
Block some time out in your calendar, grab yourself a pair of headphones and head to a quiet space where you'll be able to focus. We cover a large amount of information during the session and don't want you to miss anything!
During the session, ask any questions you have using the chat window and your trainer will answer them at the end.
Please ask your IT team to whitelist the website. 
How do I join the session? 
Signing up to a webinar
You can sign up to webinars in advance and we can now send you a recording of the session as soon as it's finished!
Sign up to as many webinars as you like - great for getting up to speed if you're new or just need a quick refresher if you've been with us for a while.
Step 1: Click the link below to sign up to the webinar.
https://app.livestorm.co/arbor-education-1
Step 2: Click Register Now for the webinar you would like to attend (If you can't see the webinar you're looking for, return nearer the time to sign up).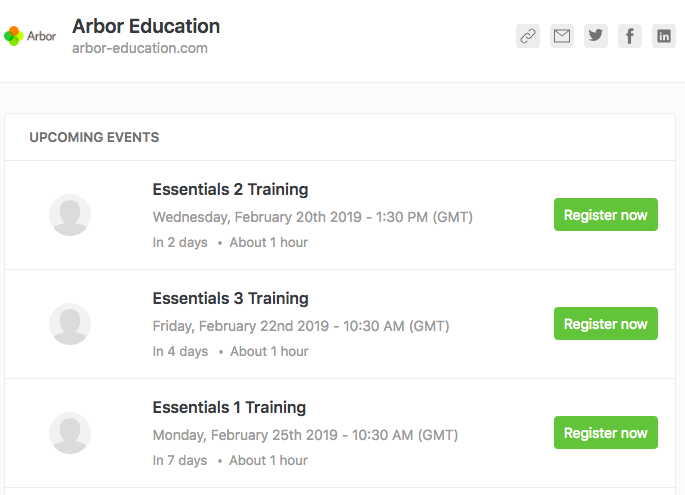 Step 3: Enter your email address to register for the session. The recording of the session will be sent to this email address. Alternatively, log in to your account.
Step 4: Click the button in the email we've sent you to access the webinar.