Completing the Spring School Census - Wednesday, January 15th at 10 am
We're putting together the rest of the schedule for next term now, but you can watch all our past webinars in this article.
Frequently Asked Questions
What are the webinars about?
Arbor delivers regular seasonal webinars to support schools at key points during the academic year. Each webinar has a set agenda and will be done live by one of our Customer Success Managers. The sessions are no longer than an hour.
Who should attend?
Everyone at the school is welcome to join our webinars, we do however suggest joining the ones relevant to your school. For example, if you're an Isle of Man, Interserve or Independent school, you won't need to join our Census webinars.
How can I prepare?
Block some time out in your calendar, grab yourself a pair of headphones and head to a quiet space where you'll be able to focus. We cover a large amount of information during the session and don't want you to miss anything!
During the session, ask any questions you have using the chat window and your trainer will answer them at the end.
Please ask your IT team to whitelist the website.
How do I sign up for and join the session?
Signing up to a webinar
You can sign up to webinars in advance and we'll send you a recording of the session as soon as it's finished!
Step 1: Click the link below to sign up to the webinar.
https://app.livestorm.co/arbor-education-1
Step 2: Click Register Now for the webinar you would like to attend (If you can't see the webinar you're looking for, return nearer the time to sign up).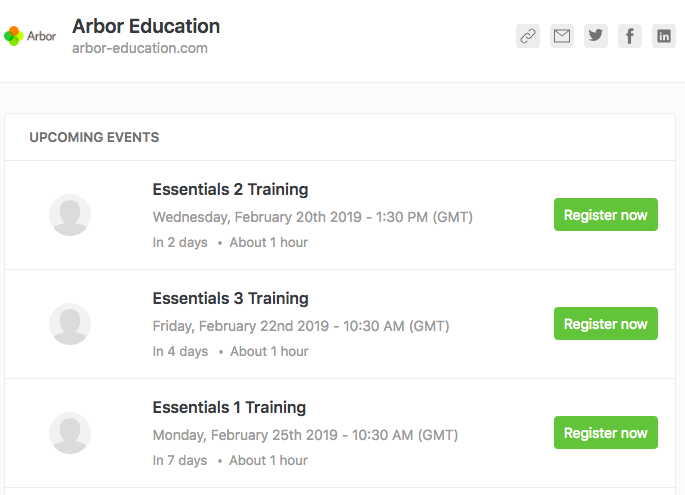 Step 3: Enter your email address to register for the session. The recording of the session will be sent to this email address. Alternatively, log in to your account.
Step 4: Click the button in the email we've sent you to access the webinar.