This article will go through a few key places where you can view aggregate analysis for attendance, behaviour and assessment. To report more in-depth, you can use the Custom Report Writer.
How do the filters work?
On each main analysis page, you can view the figures across your whole MAT MIS, or for just the schools you are associated with.
To look at specific schools or clusters, add them to the filter, then click Apply filter.

My Homepage
On your homepage, you will see your group average calculation for each headline measure. By default each measure will display with a national average comparison - this can be amended to give a comparison to the Outstanding school average.
You are able to click on any measure and view more detail for each. This includes downloadable tables for each school and each demographic group's performance against the measure. For more information on what is shown, see the sections below.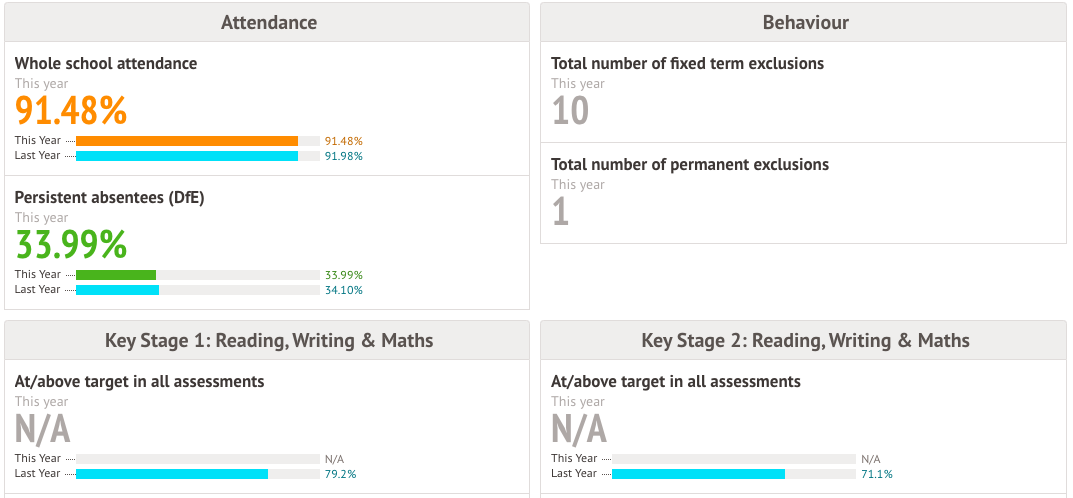 Analytics
You can access a variety of Key Performance Indicators that show data from all parts of your MAT MIS by clicking the Analytics drop-down menu and selecting Group Context, Attendance, Behaviour, Attainment & Progress, or Staff/HR.
You can see further details of the Staff HR area here.
In these pages, you will see a reminder if not all of your schools have shared their data with you. It is important to set up your data sharing agreements to ensure the data shown in your infographics is an accurate representation of all your schools.

Hover over an infographic to view more information.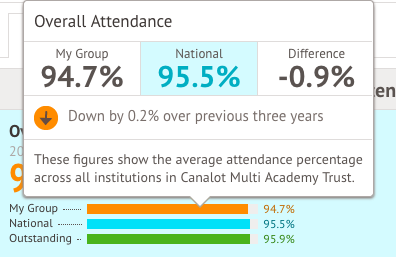 You can click on each infographic to view a more detailed breakdown of a variety of groups' data.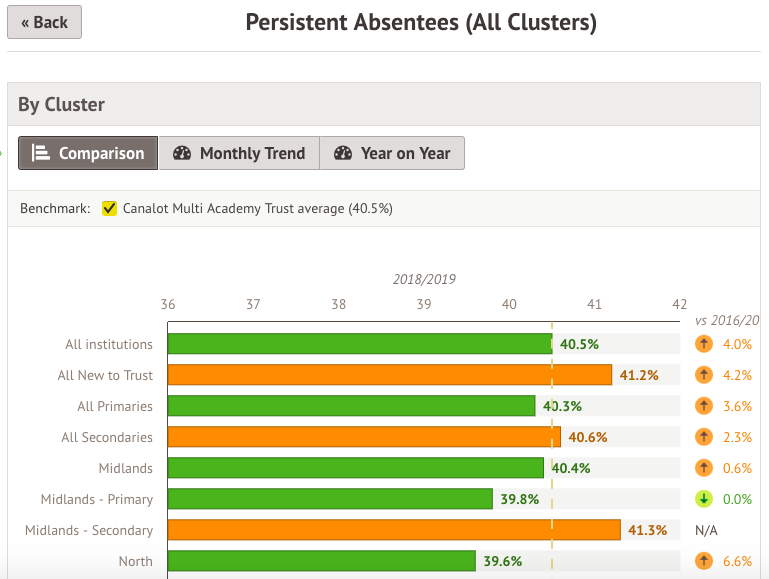 Click 'Monthly trend' or 'Year on Year' to see your progress over time.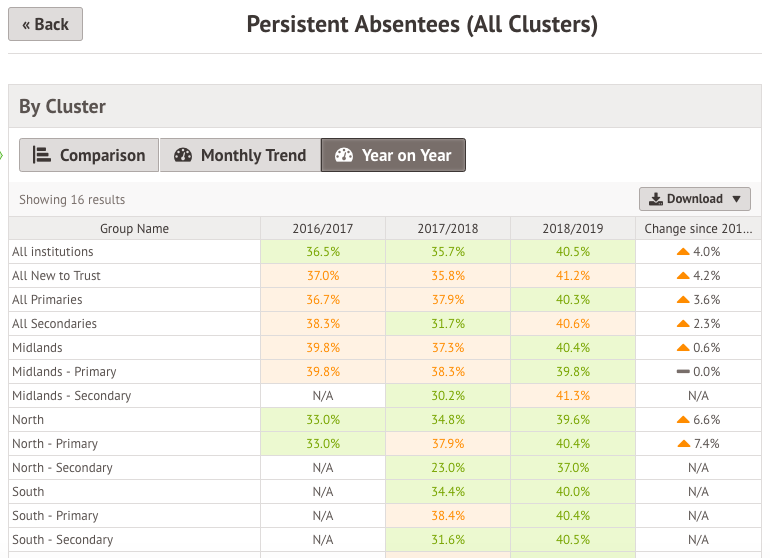 Click the All Measures tab to view this data in a table on a school by school basis. You can download this information by clicking the grey button.
Attendance
Drill down into your attendance data all the way from MAT-wide averages, through your data split by school or demographic, all the way down to individual pupils.
Identify which students are affecting your averages and view their attendance for today, then jump directly to their student profile on the School site (you'll need to have permission to log into a school site).
Drilling down into Attendance on the MAT MIS
At any level, you can use the Comparison tab to view totals for each group.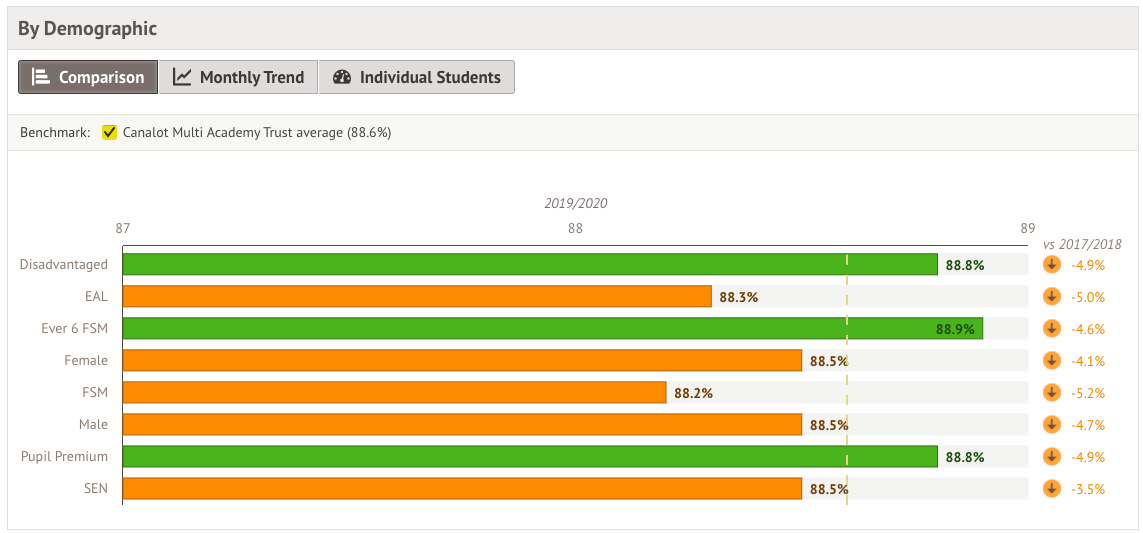 You can view a table of your monthly or year on year trends.

You can continue to drill-down through the levels until you reach a list of the students making up that group. Top Tip: click the column headers to sort the students highest > lowest or lowest > highest attendance to identify which students are impacting your averages.

You can click into an individual student from here to see their attendance slide over. You can see the school and the student's basic details and the student's attendance for today so far.
If you can log into the student's school you'll also see a green View student profile button. If youclick this you'll be taken directly to this student's profile on the school site.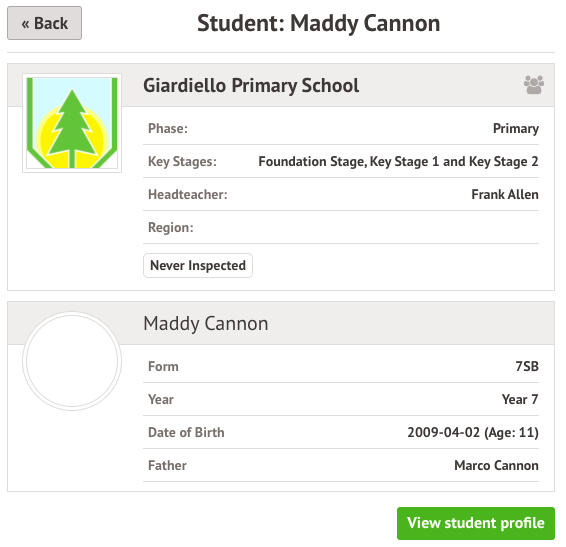 Creating a monthly attendance report in the Custom Report Writer
Go to Analytics > Custom Report Writer and click Create New Report.
Select our Attendance By Year Group (YTD) report then click Create report from template.

In step 2 click Next to report on the whole year.

In step 3 click Skip Setup Wizard, then click Save & View Report.

Want to make changes to report, such as seeing an average for each school? Click the Edit button and remove the existing Year Group grouping.

Add in the new grouping and click Add Grouping. You may also wish to delete this column from your displayed columns (so it doesn't show twice) and edit the name of your report before you click the Save & View Report button again.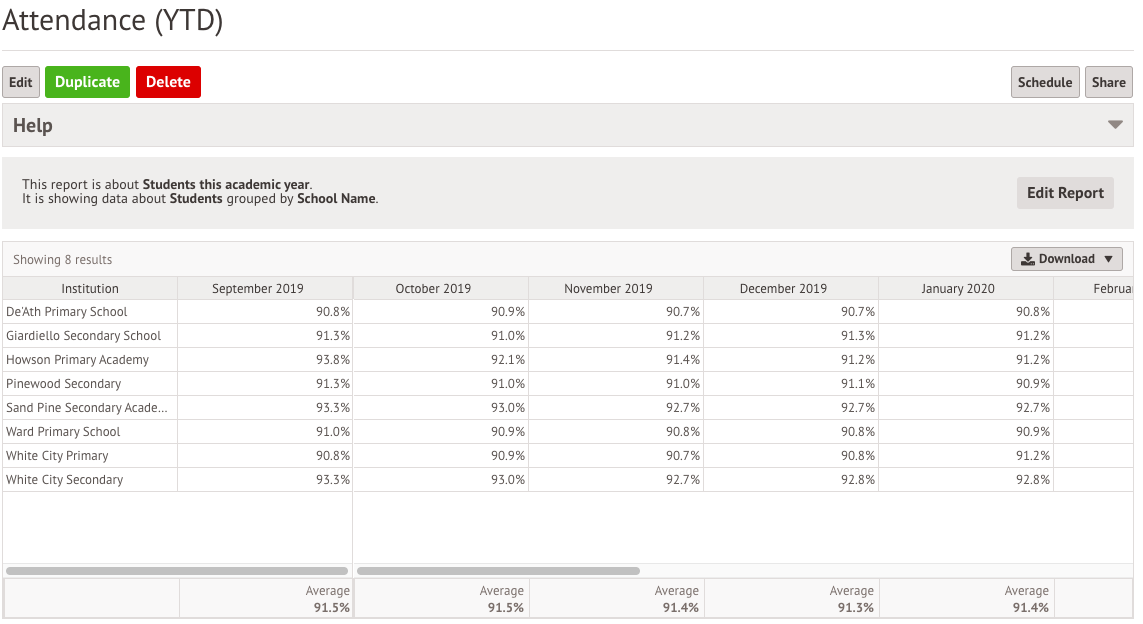 Attainment & Progress
In Analytics > Assessment > Attainment & Progress > Choose Key Stage > Overview Dashboard you can view breakdowns of your assessment data.

In DfE Assessment you can see Assessment data from all your schools for the Phonics Screening Check and End of KS1, End of KS2 or EYFS.

In DfE Performance Data you can see how your assessment results compare to the national average and schools with the same Ofsted rating.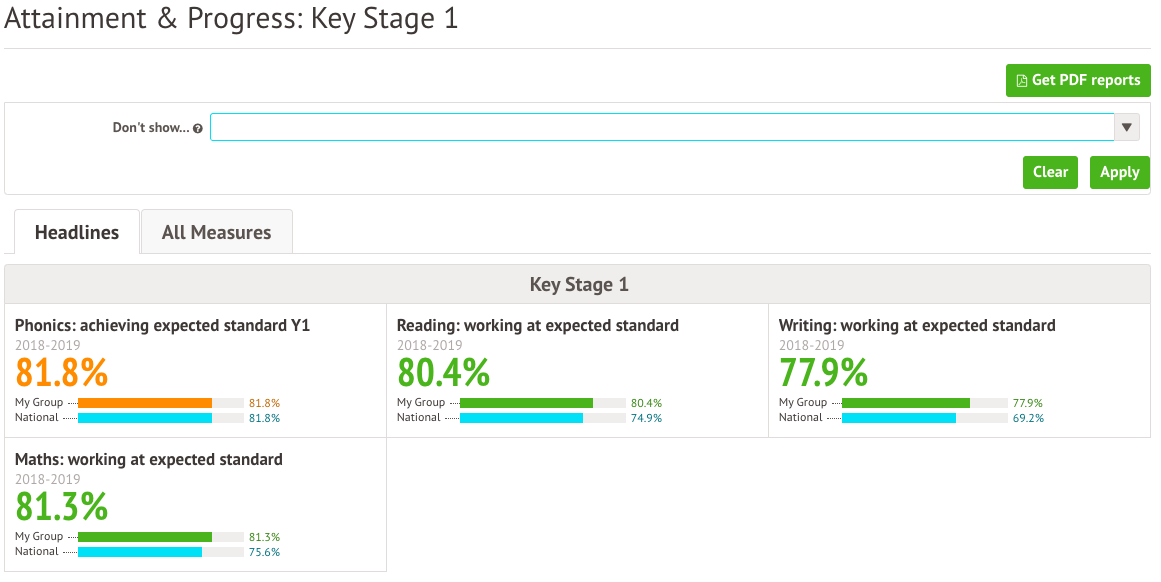 You can click each infographic to view a more detailed breakdown of a variety of groups' data. In this section, your charts will also show your trust average, the national average, and the average for other schools with the same Ofsted rating.