Using the Parent Portal is a great way to increase engagement. It also allows parents to schedule Parents Evenings (known as Guardian Consultations), sign their children up for clubs and trips, make payments and track progress.
Before you switch Parent Portal on for your school, there are a few steps that must be taken to ensure it functions for all users in the way you want it to.
To watch a video demonstration of this process, click here for our Parental Engagement webinar series.
You can download our Switching on the Parent Portal Checklist by clicking the link at the bottom of the page.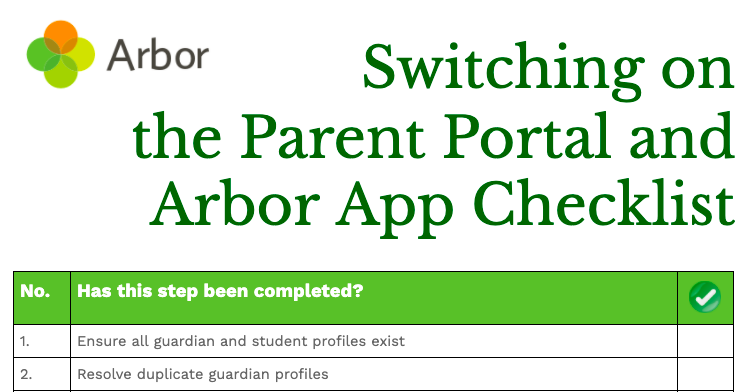 Step 1 - Check your student and guardian details
a. Ensure all Student and guardian profiles exist and are linked correctly
Make sure that all students you want guardians to be able to view on their Parent Portal have been added to your Arbor site.
Then make sure all guardians you want to be able to access the Parent Portal have also been added and linked as a Primary Guardian to the right children. You can do this in the Family, Guardians and Contacts section of a student's profile. Once you have added a guardian to one student's profile, you can then click the guardian to go to their profile and link them to any other students.
Check for any guardians who are not linked to students - when they log in they won't be able to view any child's information. Go to Students > Parents & Guardians > Guardians with no linked students. Make sure these profiles are removed using the bulk actions, or link them to the correct student by clicking their name.
b. Resolve duplicate profiles
If you have a guardian with more than one profile, the Parent Portal will not know which profile to show when logging in and will show an error.
To see how to resolve all your duplicate students, click here.
To see how to resolve all your duplicate guardians, click here.
c. Check email addresses
Check all Primary Guardians have an email address on their profile. This information can be found and any gaps filled in by going to Students > Parents & Guardians > Bulk Update > Guardian Contact Details. This is particularly important, as the email address functions as the username guardians use to log into the Parent Portal.
You must also make sure that the email address used on a guardian profile is not also used on a student or staff profile. If, for example, a staff profile and guardian profile share the same email address, the system will not know whether they are trying to log in as a staff member or a guardian, and an error will show. Therefore, email addresses must be different on every profile.
You can check and resolve any duplicate email addresses using the instructions in this article: How to check for duplicate email addresses and stop users from being logged into the wrong account

If you do want the email address to be logged on a student and guardian profile, simply click into the student's User Details section and click the Disable Account button on the slide-bar so that the email username will only be active for the parent.
Please note: If your school uses the student portal, disabling the student's account will no longer allow the student to log in. You would instead require a separate email username to be added instead to the pupil's profile.

Step 2 - Decide on your Parent Portal settings
Once you have all your students and guardians set up properly, you must decide what features you want to display and what you want to allow guardians to do on the Parent Portal. For example, do you want guardians to be able to make payments for Clubs and Trips, but not Meals, or do you want to show your positive Behaviour Points but not your Negative Incidents? See below for how to implement these settings before you release your Parent Portal.
a. Consents
We have lots of out-of-the-box consents that you can choose to request from guardians through the parent portal. To set which consents should be collected through the parent portal, or to add new consents, click here.
b. Payment Settings
You'll want to make sure parents are able to pay for all the different accounts you need.
Please note that guardians cannot top up Club and Trip accounts as these accounts are not used to keep a balance. Clubs and Trips are paid for when payment is required, you cannot top up an amount to be used at a later date. As such, you do not need to set these account types up.
Take a look at our Payments Guide for how to set up payments in Arbor.
c. Parent Portal Settings
Decide what you want to show on the Parent Portal. Work through each section in this article choosing your settings. These settings are very important to get right, as they determine everything guardians can see.
Choose whether to use In-app messages, whether parents can reply to these and set SMS follow-up settings.
You can also choose whether information can be automatically updated by guardians, or if it needs to be reviewed by school staff first. Click here for what this means for your school.
Step 3 - Turn on your parent portal
a. Turning on your Parent Portal
When you are ready to turn on your Parent Portal follow these instructions to switch on your Parent Portal (and enable the Arbor App too): Enabling access to Parent Portal
b. Check what guardians will see
Parent Portal will be switched on for all Primary Guardians - you can't enable it for only some.
Once you've switched on your Parent Portal, you can check all the settings are right by logging in as a guardian. Once you've been given permission, you can log in to check what the guardians will see and troubleshoot any issues. Take a look at this article to see how.
You might want to invite parents who are staff to log in to test your setup before sending out welcome emails to the whole school.
c. Choose which login URL to use
Before inviting guardians to log in in bulk, you'll need to decide where to direct them to log in. Take a look at this article to decide which link to send out when following step d: Which URL page should users log in from?
d. Send out logins
Guardians aren't automatically notified when your Parent Portal is switched on - you'll need to let them know and send them their login details. To see how to do this, click here.
Contact parents for free through the Arbor App and Parent Portal on the Comms or Perform packages. Your reach depends on parents using your Parent Portal, which you can see following this article: How to track Parental Engagement in Arbor
Troubleshooting
There's a number of reasons why parents may be struggling to log in to the Arbor App or Parent Portal. You can share this article with parents so they can troubleshoot login issues they're experiencing, and to help you determine what the issue is.
You can also use this article to troubleshoot issues from your side.