Finding duplicate student profiles
You may have created an extra student profile accidentally. You also may also have accidentally created duplicate students after importing a CTF and not matching the import to an existing student profile.
Using the data Quality Dashboard to identify duplicate students
You can see a list of potential duplicate students in School > Data > Data Quality Dashboard > Suspected Duplicates > Students. Arbor colour codes the potential matches based on how many fields on both profiles are the same.

Click on a duplicate and decide which student to delete, or whether to merge student A with student B or vice versa. More guidance on which to choose can be found in the Which resolution should I use? drop-down.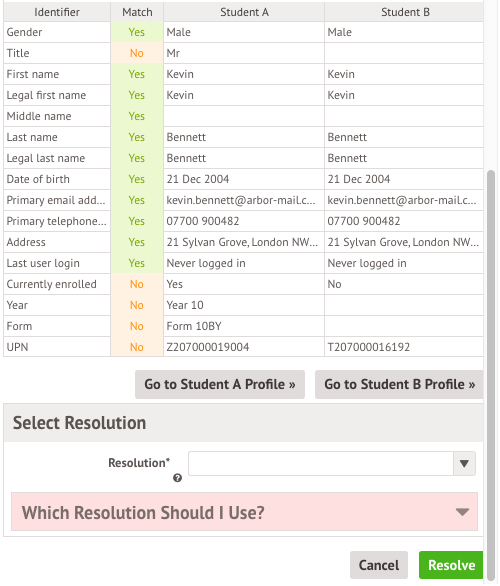 When clicking on a match, you can see in the slide over that the only action you can take is to keep the records separate, for instance, if there are two students at your school with the same name. See the section below for how to resolve the duplicated by merging or deletion.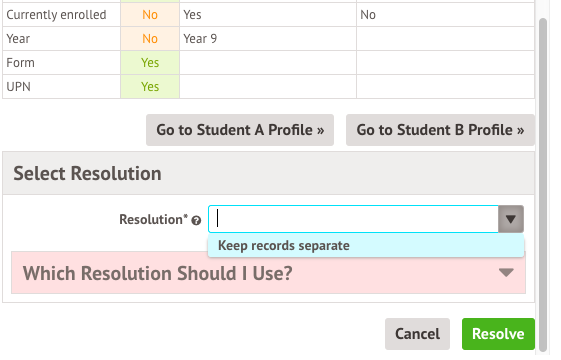 Once you have decided which action to take, click to go to Student A and Student B's profile. Make a note of the Arbor Student ID of both student profiles.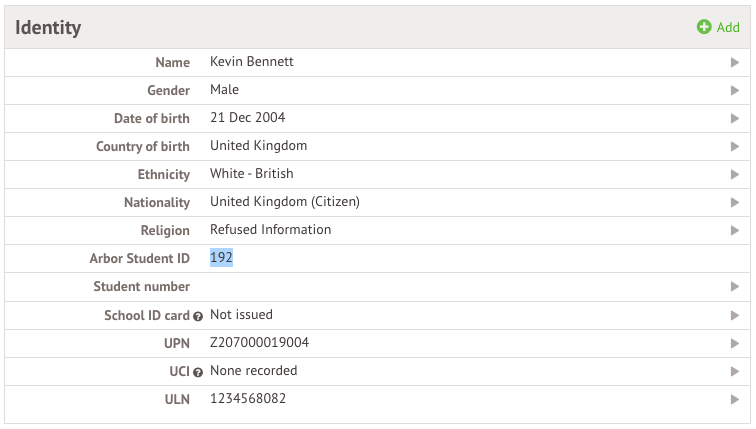 How do I merge or delete the student?
Students who have been enrolled or have been given a future enrolment
For us to delete a student, you'll need to make sure they haven't had any attendance marks recorded on their profile. If they do, you'll need to remove the marks using these instructions. Please note: You should only ever delete a student who never actually attended your school eg. they never arrived and had attendance marks put in by mistake.
To help protect from accidental removal of important student data for your school, we do not allow schools to merge two student profiles together, or to delete incorrect profiles. To merge or delete a student profile, you will need to contact us via email at myteam@arbor-education.com
We will also need to receive written consent from your school's data controller via email to delete or merge any students. This is to ensure the action has been confirmed to be correct by someone else at your school, and that your school takes responsibility for the actions undertaken.
To ask us to merge students, please include in the email:
The URL of the student you wish to keep

The URL of the student you would like to merge with the first student
To ask us to delete students, please include in the email:
The student's name

The student profile URL ((This is the long bar at the top of the screen that usually begins with 'https')

Why you want to delete the student
Deleting an applicant who has never been enrolled
If the student is an applicant and hasn't been enrolled into your school, you can delete them yourself from their student profile.
Type the student's name into your search box and hit enter to go to the master search. Click All results from the left-hand side and click the one that has a note of 'Applicant'.

On their student profile, select Enrolment from the left-hand menu, then scroll to the bottom of the page and click their application.

In the slide over click the orange Edit button, then click the red Delete Application and Student button.


Why not join in the conversation in the Arbor Community?