If a user is being logged into the wrong account, their email address is being used on multiple profiles. Use the instructions below to check if the email address the guardian is using has also been used on a student, staff or duplicate guardian's profile. If it has, you'll need to change the email on one of the profiles so the system will know which account to log into.
You can also see further information in these articles:
Finding duplicate emails
To be able to find profiles that may have the same email addresses on Arbor, go to School > Users and Security and select User List from the left-hand menu.
Download the table as a PDF.

The PDF will download to your computer, so you'll need to open it.

In the PDF file, press your Ctrl/cmd and F keys - this will bring up a search box. In the search box, search for the user's email address.
If there is more than one result, this means there is a duplicate email address. You can use the arrows to find the name of the user with this email address.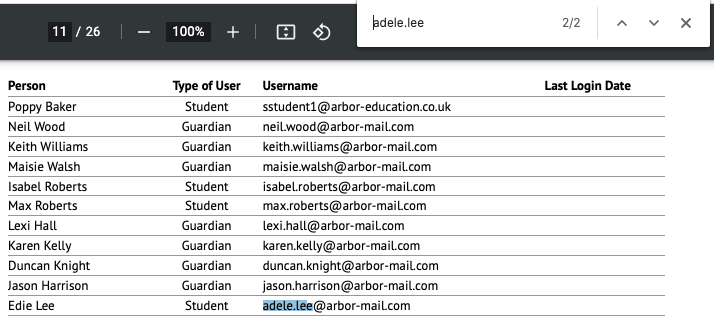 Removing duplicate emails
Now you know which profile has the duplicate email address, you'll need to change or delete that email address on the duplicate profile.
Use the search box to find the profile.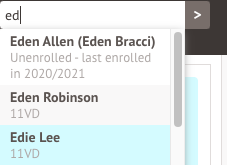 Top Tip: Can't find them using the search box? Click the arrow next to the search box to access the master search. Select All results from the left-hand menu to view all users with this name.

Once you've found the user, click the email address in the Contact Details section of their profile.

You can then edit the email address or delete it.