If you've recently rolled out Arbor, the Parent Portal or Student Portal, you may have people logged into the wrong account, such as guardians being logged into a student account, or staff being logged into the Parent Portal.
Before completing this process, we recommend checking to see if there are duplicate profiles and resolving them. For how to do this see our articles for staff and guardians and students.
Why does this happen?
If a user is being logged into the wrong account, their email address is being used on multiple profiles.
If duplicate email exist, Arbor will try to log you into accounts in this order:
Student Portal (if enabled)
Parent Portal
Staff
Use the instructions below to check if the email address someone is trying to log in with has also been used on a student, staff or duplicate guardian's profile. If it has, you'll need to change or delete the email on one of the profiles so the system will know which account to log into.
Identifying duplicate email addresses
To find profiles with duplicate email addresses, go to School > Data > Data Quality Dashboard > Suspected Duplicates > Emails.
Here you'll see a list of all the email addresses that are in use across multiple student, guardian or staff profiles.

Click an email address to see what profiles the email address has been added to. You can see what type of user they are.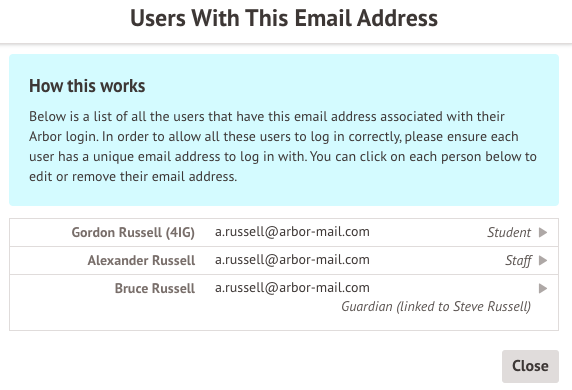 If you have multiple students or guardians with the same name, you're able to tell them apart:
Students will have their current registration form next to their name. Any students without this are not currently enrolled in your school.
Guardians will show what students they are linked to, helping you to differentiate them based on their children.
If you're sure the student or guardian profiles are actually the same person, we recommend resolving the duplicate profiles. For how to do this see our articles for staff and guardians and students.

You can change or delete the email address from a profile right from this page. Click the profile you want to amend.
Change the email address and click Save Changes to amend the email address.
Click Delete to delete the email address.

You'll then be taken back to the slide over, where you can make any additional changes if needed, or close it if you've made all the changes you need to.
If you've made a mistake, you'll need to go to the user's profile directly using the search.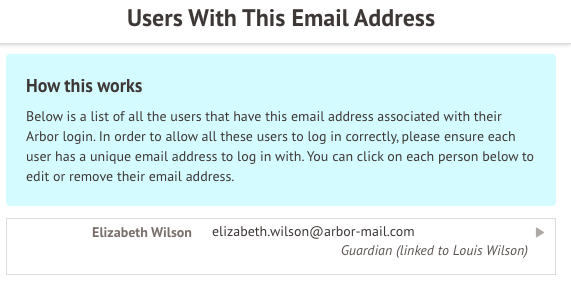 As the email address for one user will have been changed or deleted, it's a good idea to make sure they can still log in. If you've edited an email address, let the user know the new email address they should try logging in with.
When you've deleted a user's email address:
If the person had another email address logged on their profile, this will become the default email address and the email they will need to log in with.
If the user didn't have another email address, their username will default to the non-email username. We'd recommend adding a new email address for them to make sure they can log in across all platforms.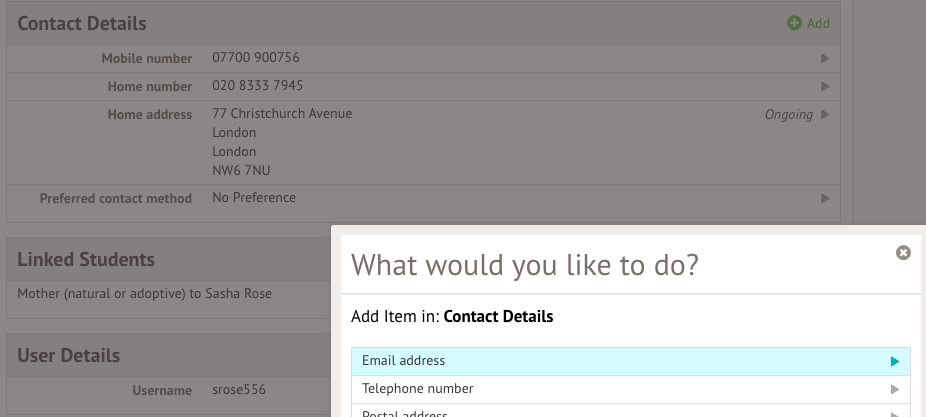 Top Tip: Can't find them in the search box? Use the Global search! Here you can see all current and past users with this name!