Our new tables give you a powerful and easy-to-use spreadsheet, with intuitive features such as quick search, full-screen mode, and column filtering and resizing.
We're always looking for ways we can improve, so if you have any feedback, please submit it here: Improved tables in Arbor
How can we use the new tables?
How do we switch them on?
There's nothing you need to do to switch on our new tables! Everyone who could access tables before will be able to use the new tables from the same places.
Can we switch back to our old tables?
Yes you can switch back to the old tables for now, by clicking the Toggle New Tables switch next to the search bar. If your screen size is small, you'll find this in the burger menu.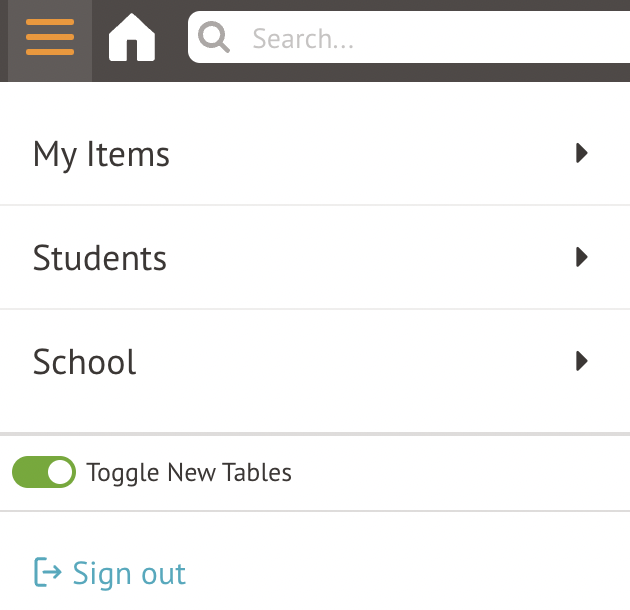 Will the new features appear on all tables on all pages?
You'll see the new tables on most of our pages on the School MIS and MAT MIS from Tuesday 19th July. To enable us to make these updates, there are some tables that will remain in the old format for now, including:
The Students table on the Lesson Dashboard
The Formative Assessment Markbook
The Attendance > Statistics and Bulk Edit Marks Advanced pages (the Standard page will have the new tables)
Tables where you can add additional rows, such as Trip and Club prices, Grade Set creation in Exams, Assessments, Assignments and Observations, and Import pages such as in the New School Year Setup.
We'll be working on upgrading these pages to the new table format over the Summer holidays.
What are the new features?
We've introduced a whole host of amazing new features, and improved some existing functionality.
Additional option buttons at the top
Use the arrow buttons to undo or redo the last action taken.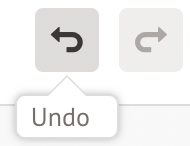 Choose whether to hide any columns using the Hide columns feature - just untick the box and the column will no longer show. Top Tip: Click and drag a column offscreen to hide it too!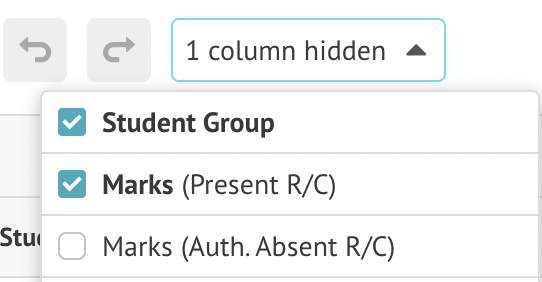 Click the tooltip button to hide or unhide tooltips showing more information when you hover over a field.

Use the cog button to change your text display size and reset your table settings. Top Tip: This won't change any data in the table, just the way it's displayed.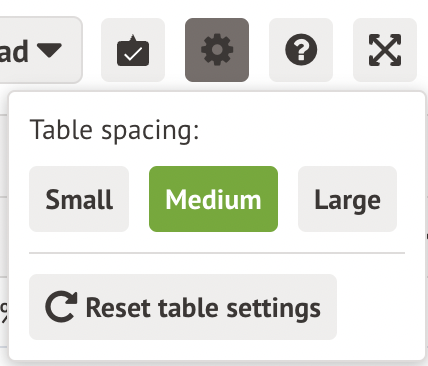 Bring up a full-screen view of your table using the expander.
Search, sort and filter your table
Use the search bar to find specific pieces of data in the table, such as to search for a student's name.

Click the arrow in a column header to open your sorting and filtering options. Use the filter to only show rows with the selected values.

The footer will tell you how many results are shown based on your filter.

Pin this column to the very far left or far right of your table. Pinned columns will always be shown on the screen, so you never have to scroll to see them. Select No Pin to put it back where it originally was.
Click and drag the line between two column headers to resize the column. If you columns are too wide or narrow, select to autosize the current one to the correct width, or all of them. Top Tip: Use the cog button and select Reset your table settings to revert back to the default widths.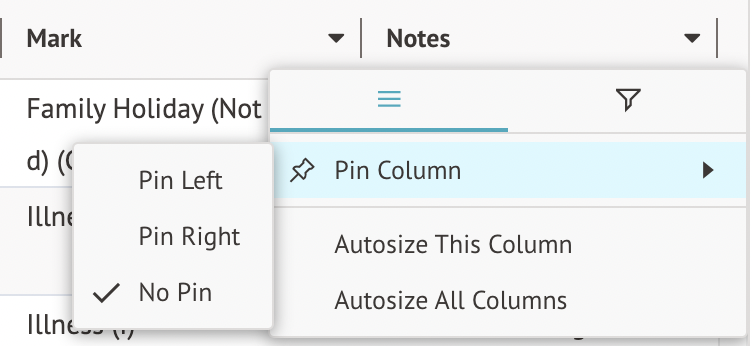 New ways to enter your data
Fill in a field by straight typing and pressing enter to jump to the next cell below. You can also click the pencil icon if you'd prefer to use your mouse.

Copy and paste from any source, across multiple fields.
To copy, select the fields and drag until they are all selected, then use Ctrl+C (Windows) or Cmd + C (Mac).
To paste, select the fields and drag until they are all selected, then use Ctrl+V (Windows) or Cmd + V (Mac).
You might need to agree to share data from your Clipboard with Arbor by clicking Allow in the pop up.

If you enter an invalid value, the value won't save and the field will be reset to blank.
If you paste in an invalid value, there's now no more getting trapped in the editor. Now it'll highlight the invalid value in red, and won't send the data to other areas of Arbor until you fix it.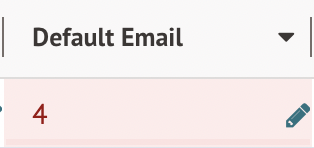 If you refresh the page, close your window or tab, or leave Arbor, the invalid value won't be saved. You'll get a pop-up to confirm you still want to leave the page.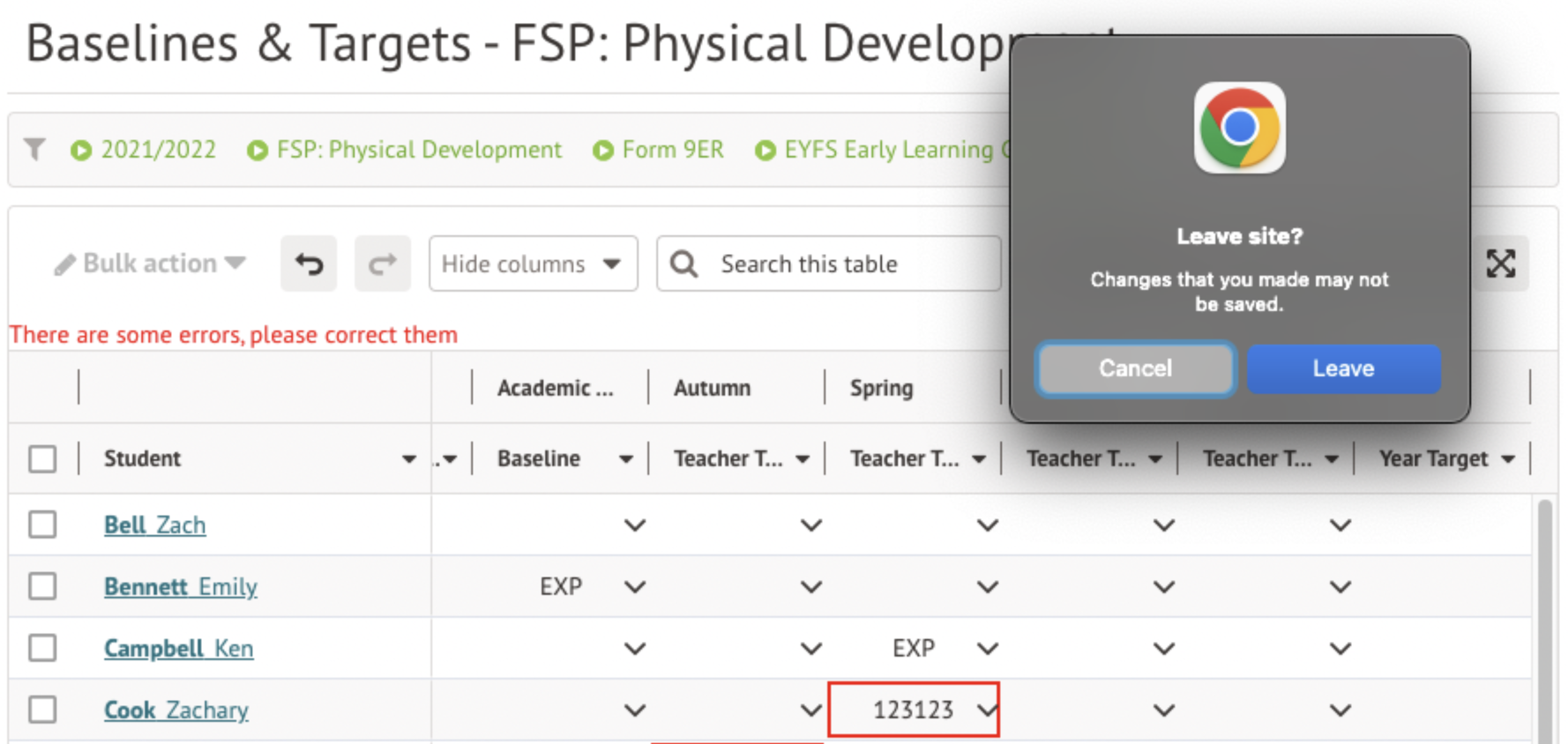 Revamped features you know and love
Tick the boxes next to students to select them to use with bulk actions - you can see more about using this feature here: How and what can I update using bulk actions?
Click and drag both downwards and upwards to select and deselect the rows.
The footer will tell you how many rows you have selected.

You can then take further actions by clicking the Bulk action button.
Download your table into different formats such as Word or PDF by clicking Download - you can see more about using this feature here: What files can I download from Arbor?
Click the column headers to sort from highest to lowest or alphabetically.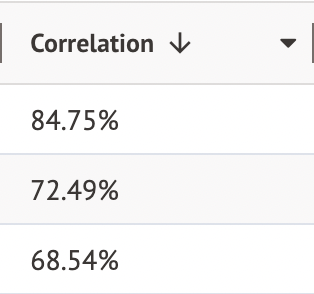 Click and drag the line between two column headers to resize the column. You can also drag and drop your columns into any order you like, and we'll remember them for you for when you return to this specific page.