Wherever possible, permission assignments should come from a business role at the school, rather than Ad-hoc permission assignments.
On Arbor you can add multiple permissions for a member of staff straight from their staff profile.
Go to the staff profile of user you want to add permissions to.
Select Roles and Permissions > Permissions from the left-hand menu, then 'Assign Ad Hoc permissions' in the top right-hand corner.

In the pop up select the permissions that you would like to add to the user.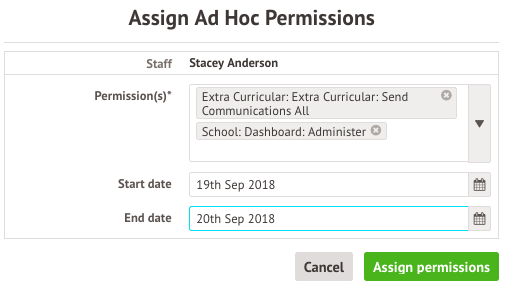 You can add permissions to a staff profile for a temporary period of time (e.g. temporary TLR). When assigning a new permission, business role or ad- hoc role; select an end date rather than leaving the position as ongoing.