Notice for completing the Workforce census
The workforce census only requires a pay scale to be in place for leadership, i.e. leadership staff must have their salary linked to the leadership pay scale. The Leadership team could include the Head, Deputy Head, Executive Head, Assistant Head, Executive Head. In some schools, it could extend to roles such as the head of department/learning/assessment.
You can add all the pay scale for every staff if you wish, or use the 'Custom FTE salary amount' to enter the full-time equivalent salary.
You can ignore the first three boxes and enter the custom FTE salary amount instead for any staff not on the leadership pay scale.
Pay Scales overview
The Pay Scales section will load the pay scales currently being used by the school. The grid of pay scales can be easily downloaded by clicking the 'Download' button. 
Clicking on a pay scale will display the pay scale overview.
In the overview, spinal points and grades can be added onto the pay scale by clicking on '+Add' and updating accordingly.
Setup
To set up the pay scales click on the '+Add' button.
Complete the information for the pay scale: name, effective date, end date, minimum salary and maximum salary.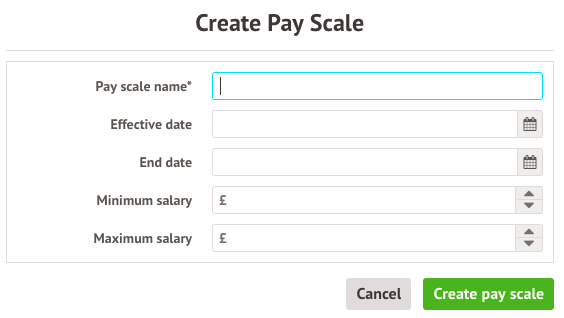 Click the 'Add' button to define the spinal points.

Click 'Set New FTE Salary Values' to enter the desired values.