Step 1 - Add the assessment to your Assessment Framework
An Assessment Framework includes all the supporting information that makes up an assessment, such as the grades that are used or the name of the assessment. You can also manage grade point scales and grade sets, assessments that can be added to the Assessment Policy and the marksheet settings such as which columns should be shown.
Go to Students > Assessments > Assessment Framework > Assessment Catalogue.
Click Create new assessment.

From the Create New Assessment page, select summative assessment.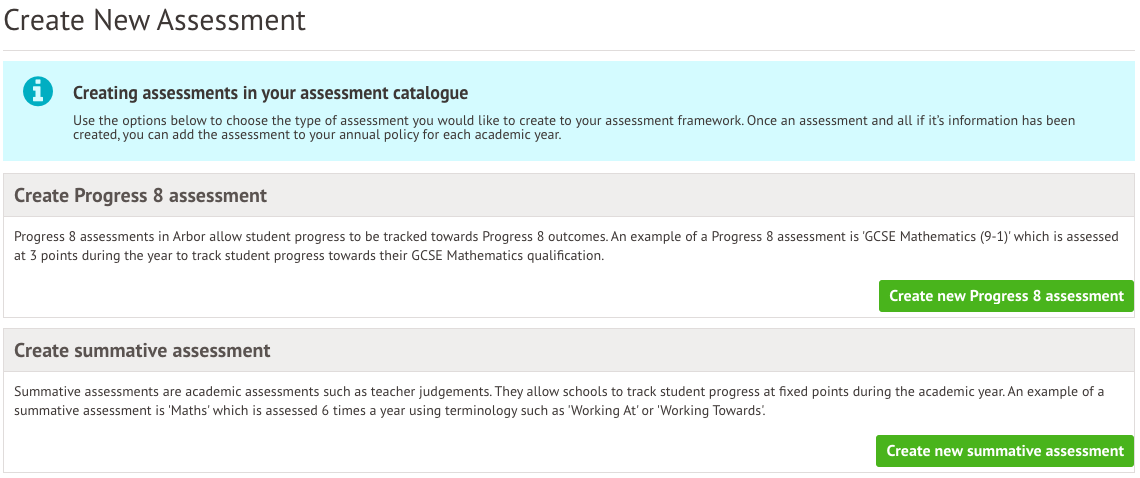 On the Add Summative Assessment page, you can choose from the 'out of the box' Arbor assessments or create your own.
Using EYFS assessments? You can add them all at once by selecting Foundation Stage and clicking the Add All button!

If you are creating your own assessment, please ensure that you have already created any grade sets that the assessment will use. You can do this by clicking the grey Manage grade sets button.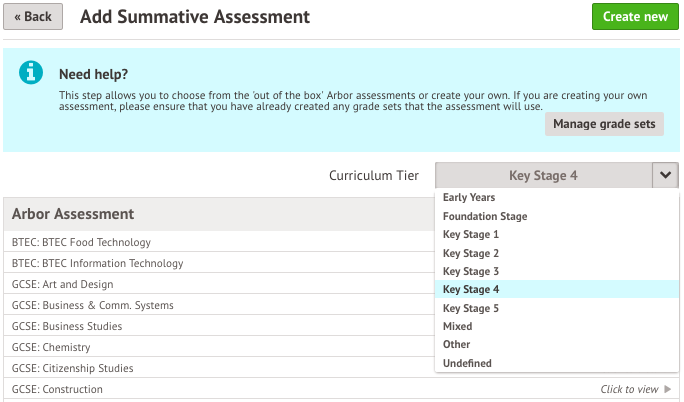 In this example, I am setting up a Maths KS4 summative assessment, so I need to check that the grade sets have been set up. Clicking on Manage grade sets, I can see that there is already the correct Grade set present.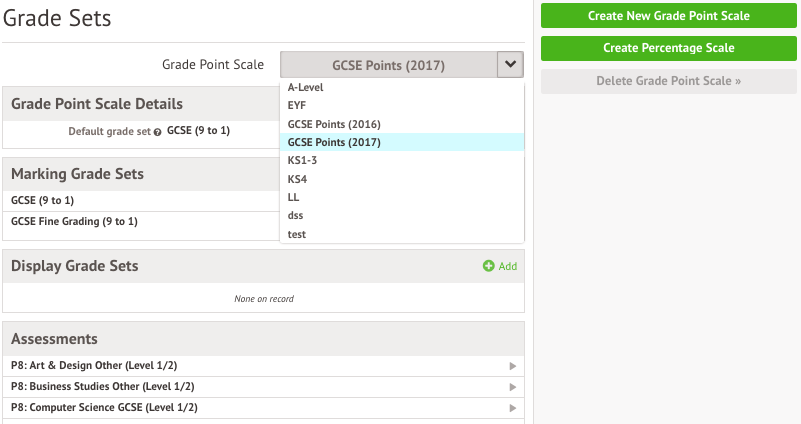 If you don't see the Grade Scale you want to use, you'll need to set one up. See how to do this in this article.
Once you are happy with your grade sets, return to the Add Summative Assessment page, and click the Add New button to start the Add new Assessment Workflow.
In step 1, define the name, subject and Key Stage of your assessment, including whether or not you wish to use strands.

In step 2, choose the grade set of your assessment. Choose the Grade point scale from the drop-down menu, then select the Grade Set from the list then click Next.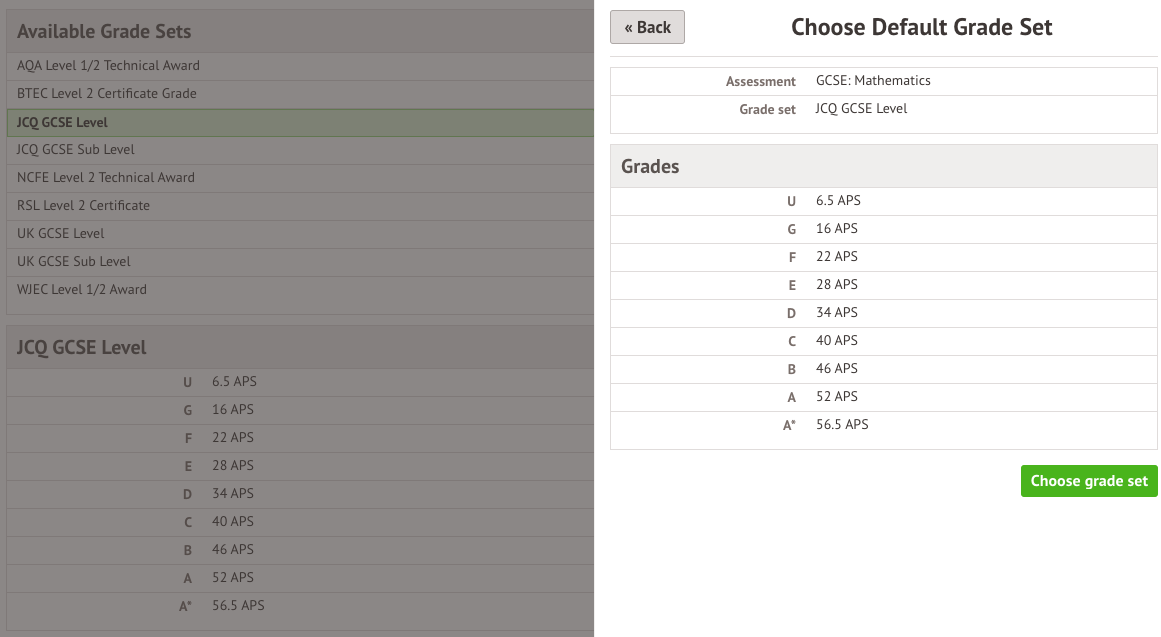 In step 3, you can create your strands.
If you did not choose to create strands as part of the previous step, you will not need to complete this part and will instead be taken to the final step to confirm your setup.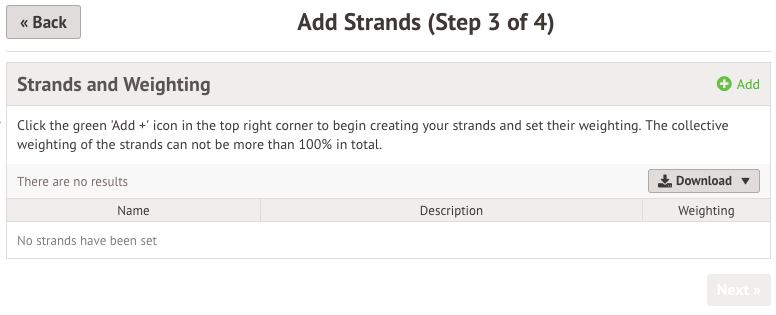 Click +Add to add strands and define their weighting. Tick the box to set each of the strands with equal weighting if needed. This is particularly useful for strands that are, for example, each worth a third. Once happy with your strands, click Save changes.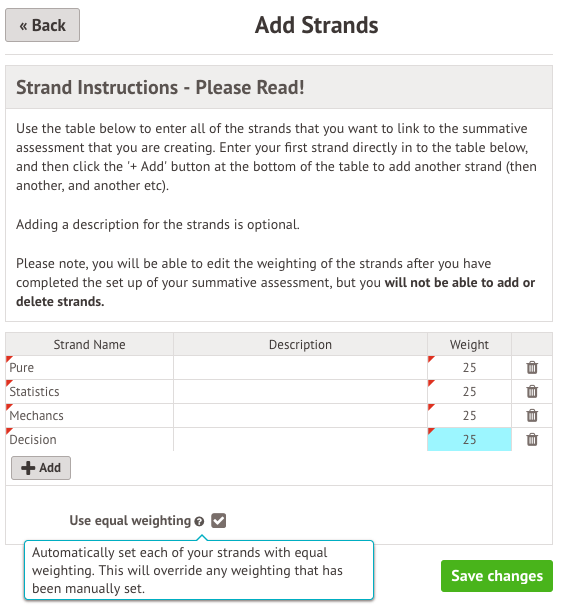 Please note: If decide you no longer want to use strands in this assessment at this point in the process, clicking the bin icon on all the strands and clicking Save will not be effective. Instead, please use the Back buttons to navigate back to step 1 and untick the strands box.

Once you have completed your setup, click Next.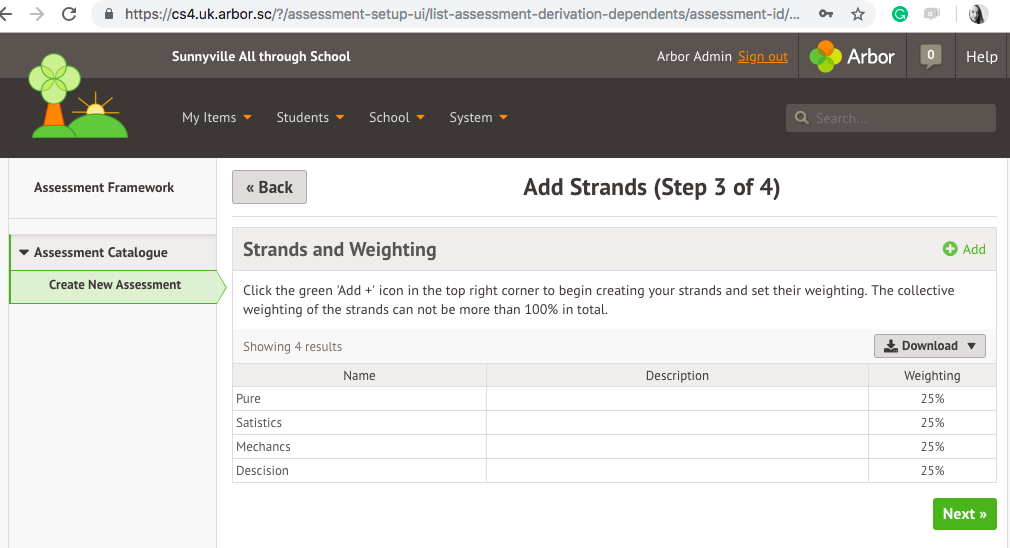 Step 4 is then to review your settings. Once happy, click Complete setup.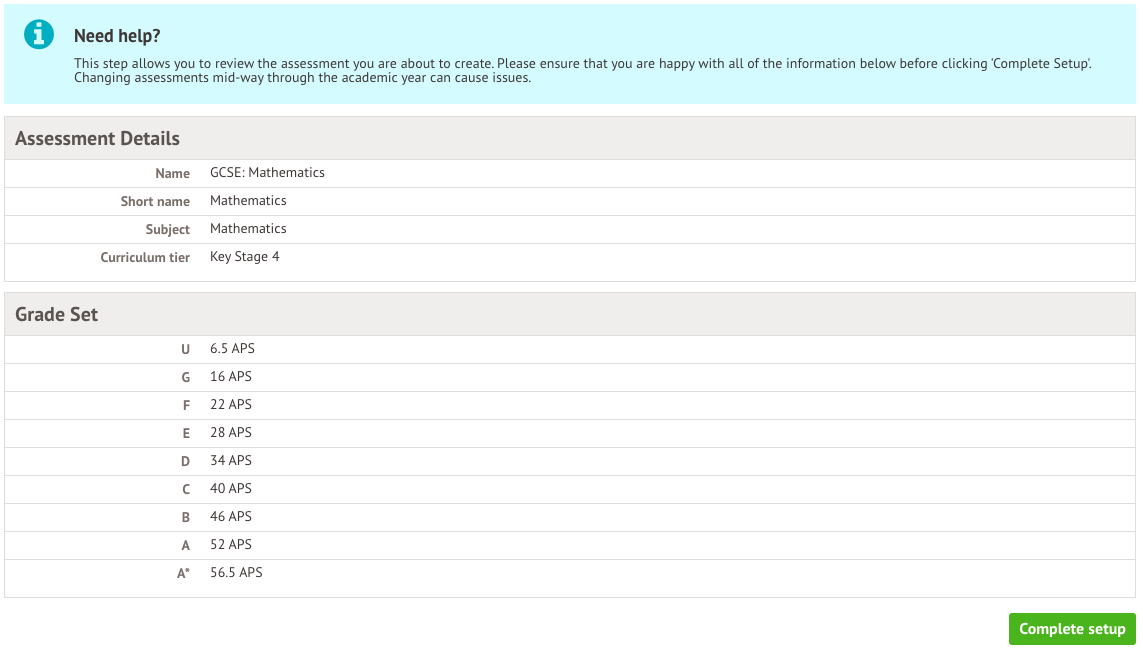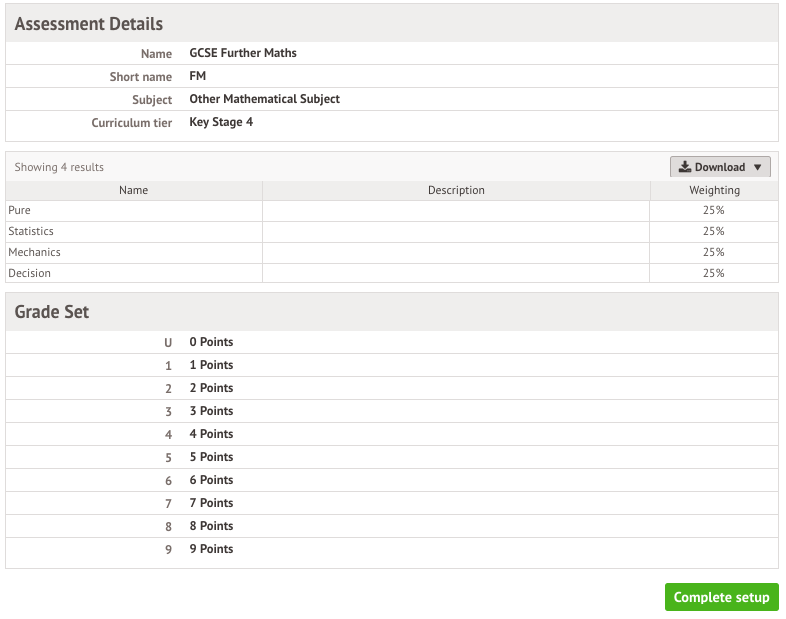 You have now created the Assessment! The next step is to add the assessment to your Annual Policy for the school year.

Step 2 - Check your Assessable Courses
Go to Students > Assessments > Annual Policy > Assessable Courses.
Check the correct course that the summative assessment is a component of has been set up to be assessed this academic year. You can edit this list by clicking the green Bulk Set Assessable Course Button, and ticking or unticking the courses. This determines what assessments appear on the Manage Assessments page.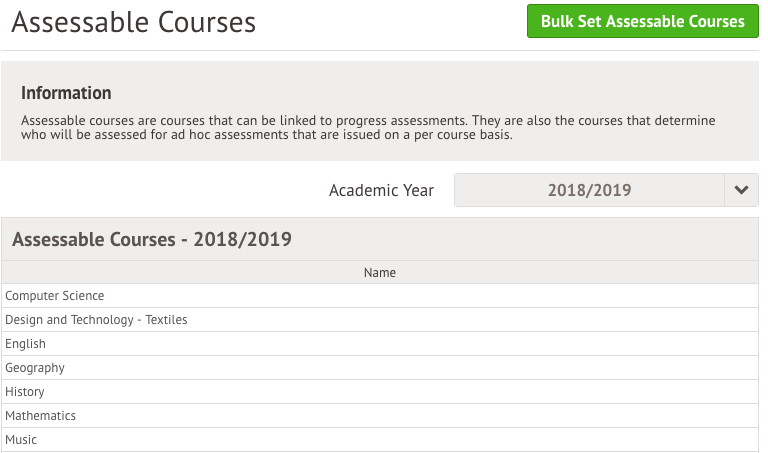 Step 3 - Add the assessment to your Annual Policy
Once you have defined your Assessment Framework, you will be able to create your Annual Policy for the academic year. The Annual Policy includes all aspects of assessments that are specific to an academic year, such as which assessments students are taking and Data Collection dates. In this section, you can also manage your available assessment periods, assessable courses, curriculum expectations, and schoolwide targets for the year.
Go to Students > Assessments > Annual Policy > Manage Assessments to complete all set up of your assessments for the academic year.

To add new assessments to your policy, click the Add assessment to year policy button. You can then select an Assessment type, and select which assessments to add to your policy. Then click Next.

On the next page, select the groups of students you would like to include in the assessment, how often the assessment will be taken, and add any courses to be linked. Then click Add assessment(s).

Once assessments have been added to your policy, you can click an assessment on the Annual Policy > Manage Assessments page to see and edit the information about an Assessment.