You can create a staff Probation Period and record reviews against that Probation. You can then keep track of staff who are currently in their Probation Period, staff who have had their Probation Reviews, if they have passed or failed their Probation, if they need to extend the Probation period and notes to support why.
Adding a staff Probation
Navigate to the staff profile of the staff member you would like to add a Probation Period for by using the search bar or the School > All Staff > Browse Staff page.
Go to the Contract section of their Profile from the left-hand menu.
Click +Add in the Probation section and a slide over will appear where you can end a start date, an end date and a decision.
Once you click Save changes, the Probation will be saved.
You can edit any of the information by clicking the field you would like to change and updating the slide over. you can also extend the Probation Period end date in this way.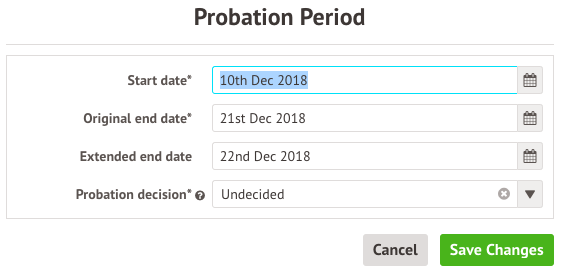 If you set your end date to be in the past, and you have input a Probation Decision other than Undecided, no further action is required.
If your Probation end date is in the future, you can return to this page to amend the Decision at any point. You can also easily update upcoming or undecided Probations using the Bulk update feature. Take a look at the section on Managing Probations in bulk below for instructions.
Adding a Probation Review
Once you have added a Probation, you can schedule a Probation Review or add information regarding a past Review by once again clicking +Add in the Probation section.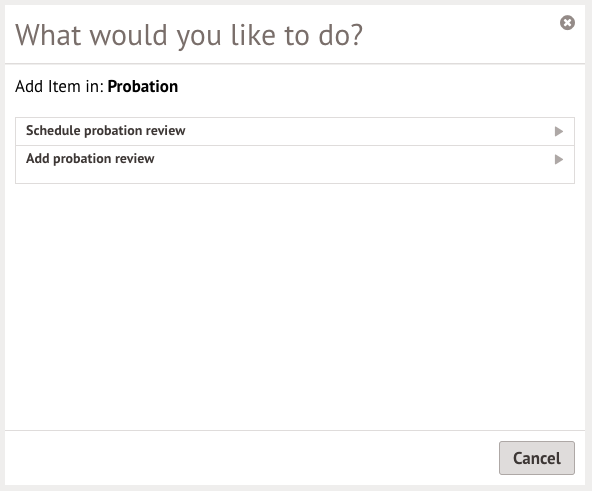 After choosing to schedule a Probation Review, you will be able to add a date for when the Review needs to take place. Please note, the Review date must be between Probation Period start and end date.
This will then update the Probation and add one scheduled Review.

If you choose to add a Probation Review, you can enter details of the Probation Review that has taken place.
Reviews can also be edited by clicking into a Review. If the outcome is to carry on the probation period then the end date can be extended.
If the Probation Decision is updated when adding a Probation Review, the decision will automatically change everywhere unless the tick box is unticked.
Managing Probations in bulk
Go to School > All staff > HR Admin > Contracts and click the Probation Periods tab.
This page will show any Probations with upcoming end dates, and any Probations that have passed but have not been provided with a Probation Decision.
Click the name of the staff member to bring up a slide over where you can edit their Probation information and decision. Click Save Changes when you are happy with your changes.
To complete actions in bulk, click the tick boxes next to the names of the staff members you would like to update, then click the Bulk action button to select to bulk update end date or Decision.