Before you begin using communications in Arbor, check your settings so everything is sent from the right place to the right people.
Make sure communications can be sent
To send Mail Merge communications as themselves, the school or others, staff will need to have the right permissions and be a Permitted Sender.
Step 1 - Check your school has an email address and phone number logged
If staff will be sending SMS or emails on behalf of your school, your school needs to have an email address and phone number logged.
Certain system emails are also sent from your school's email address, such as:
Make sure your school has an email address listed on the School > School Details page. This is the email address that automatic communications are sent from.

Step 2 - Check staff permissions
Staff will need to have the right permissions to be able to send communications from different areas of Arbor. Here are the permissions needed to do each action:
Send to students on a club or trip - Extracurricular: Send Communications
Send to students and guardians from Communications > New Mail Merge - Communications: Administer
Send from the lesson dashboard or other pages where you can choose which individuals to message using the bulk actions - Send and administer school communications: Administer
View all school communications and see replies to SMS and In-app messages - View school Communications: View
Complete any other communication setup - Send and administer school communications: Administer
Not sure which permission is needed? Go to School > Users & Security > Permissions and press your Ctrl+F (Windows) or Cmd+F (Mac) keys to search the page! You can then click the permission to see who has this permission.

For example, only those shown in Permissions > View School Communications > Users will be able to see replies in the All School Communications section.
To allow more people to send and view communications, you can either give them another business role or give them an ad-hoc permission.

Step 3 - Check staff are permitted senders
To send different communications, as themselves, the school or others, staff will need to be a Permitted Sender of the communication type they want to send. To check the settings, go to School > Communications > Setup > Permitted Senders Setup.
Here you can see and edit who can send each type of communication. To see how to do this, see this article.
Please note that even if someone is not a permitted sender and does not have communication permissions, they may still be able to send communications in some areas in Arbor. For example, following up with guardians from the Absentees By Date or Quick Follow-Up page. We recommend training your school on which methods your school is allowed to use.
Setting up your communication types
Set up templates
Check all the communication templates you want to use have been set up using this article. You can add templates you want to use frequently or tweak the preset templates used for features that send out messages like Attendance Follow-Up, Behaviour Incident Workflows and Sending exam timetables. You can also add pre-set headers and footers for letters here.
Top up your credits
While emails are free to send, there is a small processing fee for SMS. To keep costs down for schools, messages are pre-purchased in bundles of SMS Credits. The larger the credit bundle, the cheaper each credit becomes.
Top up your SMS credits in Arbor to be able to send text messages from the School > Communications > Setup > SMS Billing page. To see how to top up click here.
Check your SMS settings
Once you've topped up your credits, set the signature that'll appear at the bottom of texts from School > Communications > Setup > SMS Settings. Try to keep this as short as possible to ensure texts cost as few credits as possible.
You can also choose to notify a member of staff in Arbor when there is a reply to an SMS message.

Check staff roles
The role written on a staff member's contract determines what role shows for them in their signature when sending an email.
Check that all staff have the right job title set on their contracts using these instructions.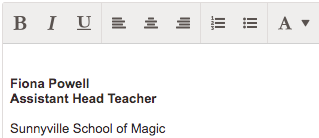 Get staff to add a written signature
Ask staff to log in and upload their personal written signature they can use as a merge field from My items > My account to insert as a merge field in emails. Full details here.

Check your in-app message settings
In-app messages are an easy way to communicate with guardians for schools on the Comms or Perform Packages who have enabled the Parent Portal. You can see full details on how to manage them here.
Check your settings from School > Communications > Setup > In-app Message Settings, where you can choose whether to allow guardians to reply to in-app messages, who should be notified and how, and whether to automatically send follow-up emails or SMS to unread in-app messages.

Make sure the right people will receive the communications
Check contact details
Make sure guardians and staff members have an email address (this is also their username for logging in). You can update emails from School > Data > Data Quality Dashboard > Contact details or use our Bulk import student, guardian or staff email addresses feature. Make sure their main email address is marked as the default on their profile.
Add a phone number to their profile so you can send SMS to them.

Check guardian-student relationships
Make sure the right guardians are Primary Guardians - they'll receive comms such as attendance follow-ups and detention emails. Double-check each guardian is linked to all of their children to be able to switch between them on the Parent Portal or Arbor App.
Sometimes if a guardian had another child who used to attend, there may be duplicate profiles for them. Make sure you merge or delete these to save texts and prevent missed messages.

Set up and switch on the Parent Portal and Arbor App
Have guardians log in to Parent Portal or download the Arbor App and enable push notifications to allow them to receive in-app messages. See our article Switching on Parent Portal.
Prevent emails from going to junk
If you have enabled the email spoofing protection features of DKIM and DMARC on your domain, this may cause emails sent using Arbor to appear in parents' junk folders (Often parents using Gmail or Hotmail services). Setting up DMARC or adding an SPF Record will help prevent this.
What's next - creating and sending communications
You can set up communication drafts to come back to and send later, or follow our guidance here for the different communication types: Email, SMS, letter, labels and phone calls.
You can see this article for how to send communications from other areas of Arbor, or share this article with your teachers: Send communications to your class as a teacher
You can also find answers to common questions about communications here: Communications FAQ