When a member of staff is absent it is easy to assign staff members to cover lessons.
Just go to School > All Staff > Cover.
Navigate to the 'Unarranged' tab.
Check the box next to the lesson you would like to assign cover for.
Click on the pencil and select the option 'Arrange cover'.
Select a staff member to cover the lesson. The drop-down menu will show you which staff members are available and which staff members have previously covered lessons.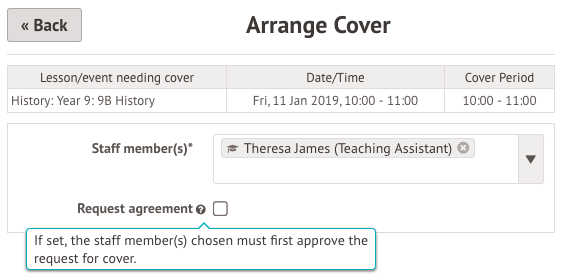 Click the 'Arrange cover' button.

When back to the main menu check the 'Arranged' tab to view covered lessons.


🙌 Top Tip: When assigning a staff member to cover a lesson, don't check the box that says 'request agreement' as the cover will not be assigned until that staff member agrees.
For more information, you can watch a video about this topic here.
Haven't found what you're looking for? Check out our video playlists. Want to learn more? Join one of our webinars.