When a member of staff is absent it is easy to assign staff members to cover lessons.
Just go to School > All Staff > Cover. Navigate to the 'Unarranged' tab.

Click on an individual lesson to assign a member of staff to cover the lesson. You can select from Available teaching staff that have provided cover previously, All Available teaching staff and Unavailable teaching staff.
🙌 Top Tip: When assigning a staff member to cover a lesson, don't check the box that says 'request agreement' as the cover will not be assigned until that staff member agrees.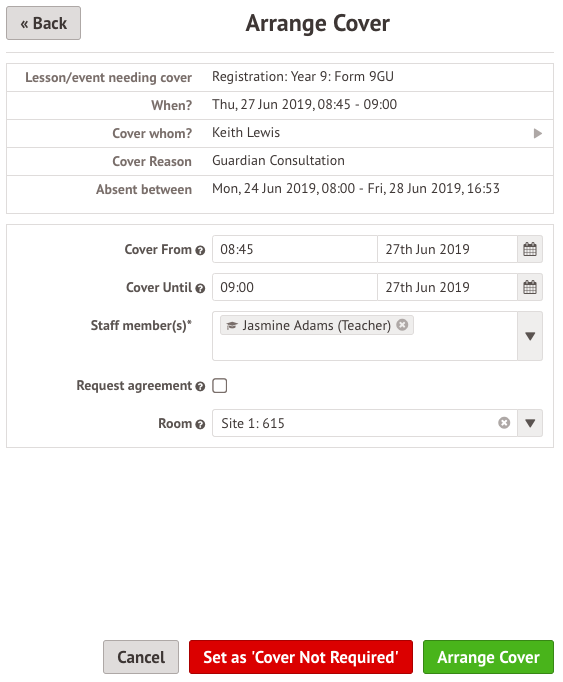 You'll be able to see any teachers who are unavailable in the Staff members dropdown menu. You can still select 'unavailable' staff, and then arrange cover for the clashing events if required.
Select multiple unarranged cover lessons using the left-hand checkboxes to assign cover in bulk.
Setting as 'Cover Not Required' means staff may be absent but cover may not be required for their lesson. Use this option to flag this lesson as not requiring cover - it will then be moved to the third tab on the page, 'Cover Not Required'.
Choose who will cover the lessons, then click Arrange Cover.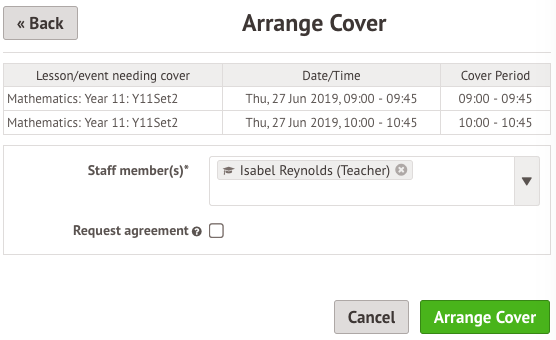 Any clashing cover arrangements will be highlighted.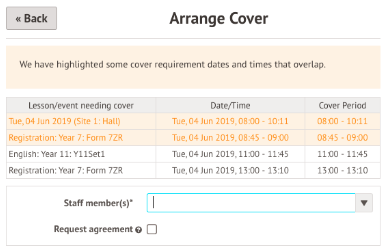 When back to the main menu check the 'Arranged' tab to view covered lessons.