Why do we need to provide verification documents?
You could be asked to provide additional identification documentation, such as proof of address or an ID verification document (detailed below). This is because Know Your Customer (KYC) regulations in Great Britain require our payment provider to verify that schools are making authentic transactions.
If the document(s) is not provided when requested, the card payment account for a school will be marked as unverified. This will shortly result in your school being unable to process card payments until the document(s) is provided. If you were no longer able to process card payments because of this, just submit the documents and the card payments functionality will become available again.
When might we see this banner?
If your school needs to provide these details to verify your school's card payment account. This is to prove that the details you've provided during setup match those on documents issued, to prove identity.

If the details you already provided for verification were not adequate and you need to resubmit. The document may not fulfil the requirements, or the details on the document may not match what was recorded during setup.
If a staff member with the Finance: Administer permission sees a banner on their Homepage they need to click the button in the banner. They'll be taken to a page where they'll be able to submit this information.

What information could be requested?
For Identity verification, you'll only need to provide details verifying the details that were input during the initial card payments setup. These might include:
The school's name and address

Your representative's details - This is usually the person who set up card payments on your school site

Your controller/owner's details - These are the people who are the lead controllers of your school's data, such as the headteacher or MAT leads
Not sure who your representative or controller is? Go to School > Payments > Setup > Card Payments > Accounts for Card Payments. Click the account and you'll be able to see your representative and controllers in the slide over.
If your representative or controller/owners have changed, you'll need to contact the Arbor Support Team if supported by Arbor, or your Support Partner if not supported by Arbor.
School controllers'/owners' or representative's ID
If your school has processed a large number of payments totalling a large sum of money, you might be asked to provide additional Photographic ID for your controller/owner, in addition to the Representative ID you provided during setup. If you did not submit the representative's ID during setup, or the ID was not readable, you will have to submit the representative's ID
If ID verification of the representative is required, you'll see this page. Just upload the document then click the Submit button.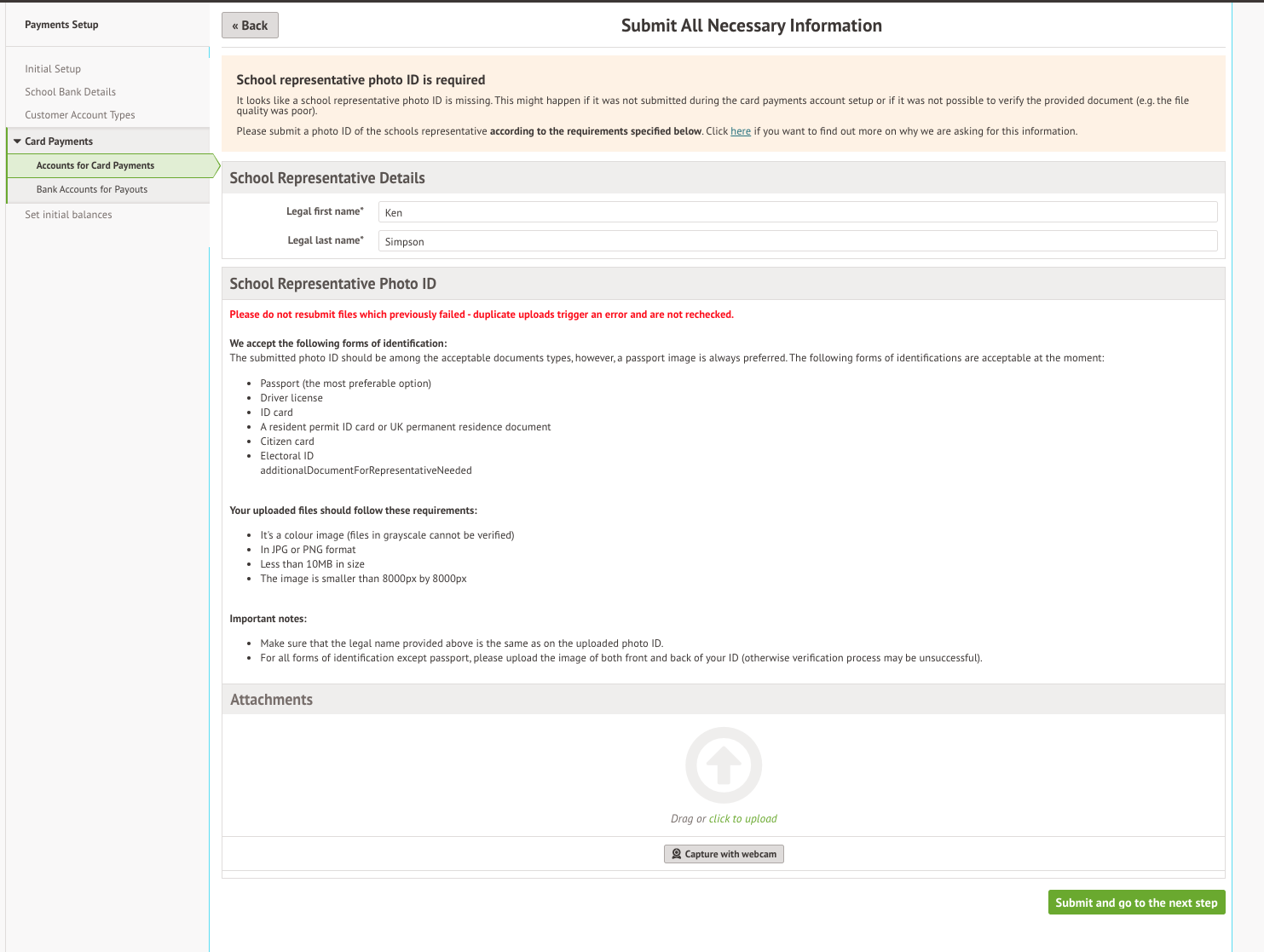 Proof of address
You might be asked for a document proving the address of your controller/owners or representative to help further verify that they are who you say they are.
The following types of documents are acceptable:
Utility bill

Bank statement

A letter of correspondence issues from a government institution

An identity card if you have not already uploaded this as your proof of identity document
It must also follow the same formatting requirements as any other ID documents submitted (see the requirements here).
If proof of the representative's address is required, you'll see this page. Just add in the details then click the Submit button.
Proof of school name and address
As an extra layer of security, our payment provider might request that your school verifies the school details you provided during the Card Payments setup.
If proof of school name and address is required, you'll see this page. You can edit the school's name and address here if the details we have are incorrect.
Then just upload the document then click the Submit button. Reviews can take up to 24 hours for our payment provider to complete. Please note, the details on the verification document must match the school name and address specified during the card payment setup or the new details you've added on this page.
We recommend using one of these documents:
Your school's Ofsted inspection report (you can get this from here). Just type in your school's name or URN (find this in School > School Details) and click on your school to download the Full inspection report (a shorter report won't be sufficient).

Utility bill in the name of your school

Bank-issued document in the name of your school

Companies House Document

Charity Commission Document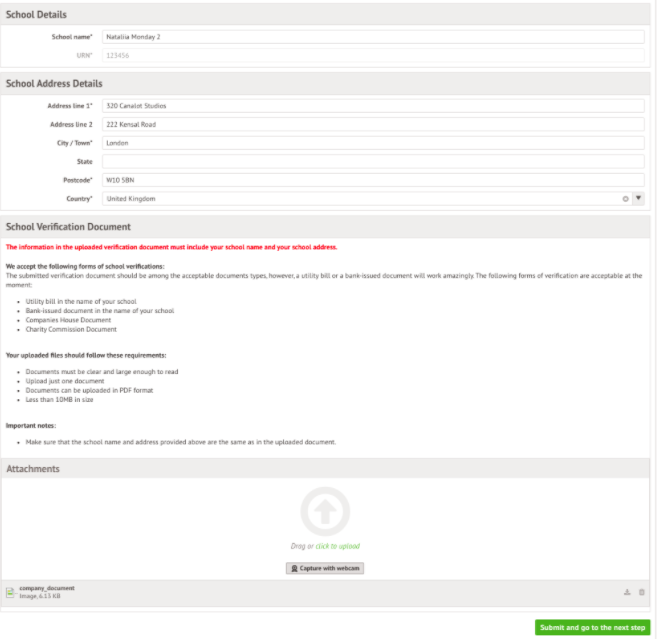 Other details
If you've provided all the specified required details, but our payment provider cannot verify your account, we'll get in touch with them to resolve the issue. All you'll need to do is to contact us, and anyone with the Finance: Administer permission will get a reminder of this in a banner on their Arbor Dashboard.
Identity verification FAQ
Why is identity verification required?
Identity verification is important and is legally required as part of Know Your Customer (KYC) regulations. These laws require us and our payment provider (Stripe) to collect and verify information of all our card payment account holders - click here for more details on how our payment provider complies with Know Your Customer (KYC) regulations.
What is the verification process?
Arbor collects the required information from your school and provides it to our payment provider.

Our payment provider then verifies the information. If verification fails, the submission is manually reviewed. Then the account is manually verified, or rejected if the information cannot be verified.
Why do you ask for the school controllers/owners and representative's details (name, address etc.)?
The Know Your Customer (KYC) regulations in Great Britain require us to collect and maintain this information. This is then submitted to our payment provider to verify its authenticity.
The information you provide will not be used for any other purposes than identity verification.
Do I have to provide a photo ID?
You must provide photographic identification such as a Passport or Driver's License to verify that you are who you say you are.
We are bound by Governmental guidelines to check who our customers are by asking them to provide their name, date of birth and photograph on an official document which confirms their identity.
Because of this, you must provide a photo ID during the card payments setup process to be able to complete the process and use card payments in Arbor.
Is my data safe with Stripe?
Arbor uses Stripe as a payment provider and creates a Stripe Connected Account for your school when you start using the card payments functionality.
Stripe takes privacy and security very seriously. The Stripe Privacy Policy explains how and for what purposes they collect, use, retain, disclose, and safeguard any personal data provided by Arbor.