Go to My Items > My classes and click on Assignments in the correct class.
You will be taken to the class' Assignment Overview page where you can see submission information on all assignments for this class.
Select the Assignment you wish to amend from the Assignments section.
To add marks or change the assignment status, click the green Markbook button.
Bulk changing submission statuses
Please note: You won't be able to change submission statuses in bulk if you have allowed students to submit their assignments via Arbor. See Creating an assignment.
All submission statuses on lesson overview and in Student Portal will say 'Waiting for the student to submit' (whether students can submit through the Student Portal or only in person) until it is marked by the teacher.
In the marksheet, you can change the status of submissions.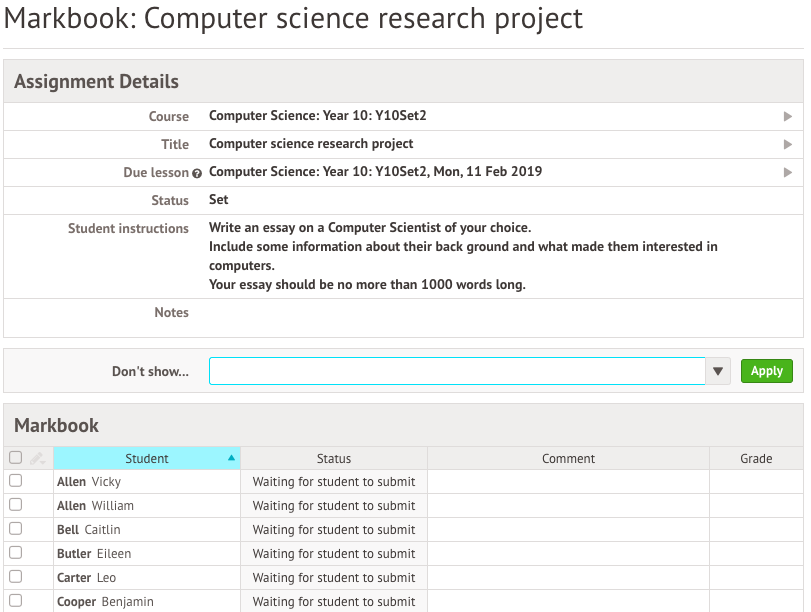 To change the submission status, click the tick boxes next to the students who have submitted their work then click the blue pencil icon.
If you mark them as Submitted, the status will then change to Submitted - requires marking if you have selected during setup that a mark is required.
Once a mark has been added, the status will change to Marked.
If during setup you did not choose to assign the assignment immediately, the initial status will be set to In planning.
Once the submission deadline has passed, you can also change the submission status to Submitted - Late or Not Submitted.
If you chose to allow students to submit via the student profile during setup, when a student fails to submit before the deadline the status will change to Late.
Adding marks and comments
Once a mark has been added, the status will change to Marked.
To add a mark, just click into a cell in the Grade column and select the grade.


To add a comment, click into a cell in the Comment column and add your text, then click Ok.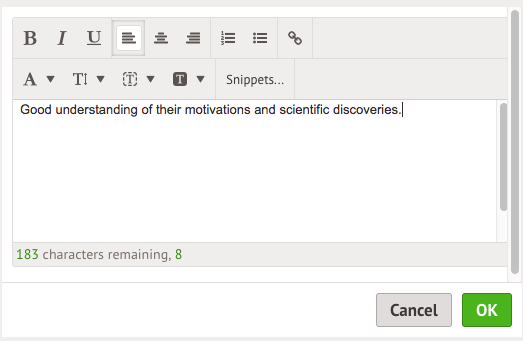 You can filter marking statuses. Click the Don't show field, select the statuses to not include, then click Apply.
Scrolling down to the bottom of the student list, you can add any documentation - useful for uploading a scan of the student's work!

Editing individual details
Click on a student in the markbook table. You will see a slide over containing information about their assignment.
To change any of the details for this student only, click the orange Edit button.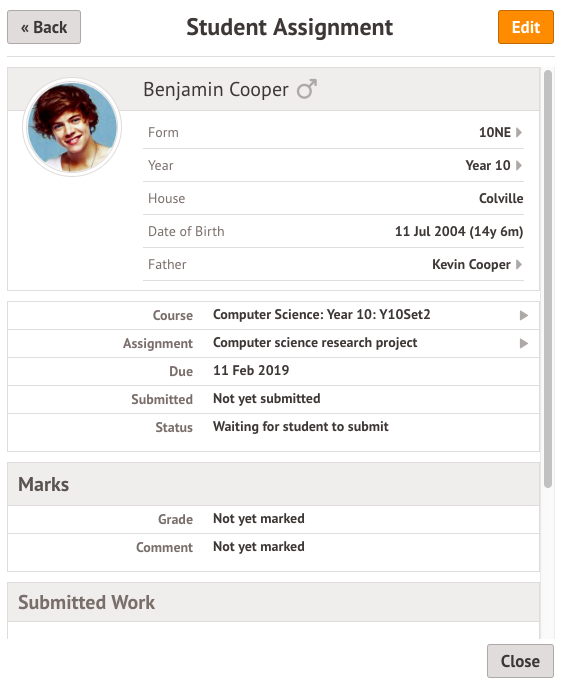 You can edit the submission status or marks for this assignment. You can also change the submission deadline for this student's assignment by clicking the green Change Due Date button.
You can also do this from the main class Assignments Overview page by clicking on the student whose information you would like to amend.